The Evolution Of The Triathlon Wetsuit
Heading out the door? Read this article on the new Outside+ app available now on iOS devices for members! Download the app.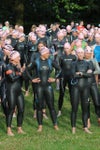 Written by: Sara McLarty

The evolution of triathlon can be summed up in one word: wetsuits. A slide show of triathlon competitors in wetsuits from races in the 1980s, '90s and '00s would provide a great visual representation of where this sport came from and where it is going. Evolution is sometimes hard to prove because people demand firsthand accounts of the changes. Well, even new triathletes have witnessed the speedsuit craze, the perfect example of the creation of a new species. I have even observed my own mentality towards thick black, body-hugging neoprene change during 19 years in the sport.
The wetsuits worn in the very early races were surfing suits because there was no other choice except freezing. The material wasn't designed to go fast or to be buoyant. It was just designed to keep surfers' body temperatures out of hypothermia range. Triathletes swimming in chilly waters basically put on a body-shaped sponge before the race, as the suit would soak up water as soon as the athlete got in the water. Fortunately for everyone racing today, there were a few small companies that saw the potential for a specially designed triathlon wetsuit.
Within a few years, the starting lines at cold-water triathlons were lined with people in shiny and slick wetsuits from triathlon-specific companies like Quintana Roo, De Soto, Orca and Blue70 (formerly Ironman). The hydrodynamics were improved, flexibility and comfort were considered in the design, and the speed of removal was drastically improved.
Choosing a wetsuit is a daunting task for any triathlete. Today's wetsuits come in different sizes and shapes, various thicknesses, reverse or regular zippers, one- or two-pieces, long- or short-course, price levels, and spout various claims about being "the fastest" and "the best." Unless the economic downturn has not affected your bank account, the average triathlete only needs one wetsuit in her garage.
Let's start with the size and shape issue. I remember a great piece of advice from my early years in the sport. A junior coach once told my parents, "The water is either going to be cold enough for a full suit or too warm for any suit." I wanted a sleeveless suit because any athlete coming from a swimming background was terrified about the constricting shoulders that wetsuits of the '90s had. We took his advice, and I adjusted my mental view by practicing in the suit and tugging lots of extra arm-fabric up to my shoulder area.
Every governing body in triathlon has a rule that dictates the maximum thickness of neoprene allowed in a wetsuit. The thicker the neoprene is, in millimeters, the more buoyant an athlete will be in the water. Thinner neoprene is more flexible. Today, companies such as Orca make suits with various thicknesses so athletes can benefit from both flotation in the hip area and great flexibility in the shoulders and elbows.
Only a few years ago I witnessed another evolution in wetsuit design: the reverse zipper. Historically, wetsuits zip down for removal. The advantages of the original design include being able to zip yourself up, having the string/strap located near your neck and the ability to re-zip during a race if something came apart. With zippers going down to zip up and up to zip down, the consumer has yet another decision to make. This new design makes getting out of the suit a few seconds quicker but it can also make getting the suit on by yourself almost impossible. Blue70 wetsuits with reverse zippers can be faster to remove because the string/strap is easier to pull, but they require help to zip up before the race.
A few companies, such as De Soto, have designed a two-piece wetsuit. These are perfect for creating a custom fit. Some athletes have uncommon body shapes that don't fit in standard sizes. And now that triathletes are classifying themselves into race distances, such as long-course or Olympic, the wetsuit companies are following suit, literally. Orca has designated some suits as better for long swims or shorter events including Olympic- or sprint–distance races.
Finally, there is price. Today's economy makes this even more important to triathletes. Most wetsuit companies cater to the novice athletes. Smaller brands like Nineteen and Synergy have suits that don't break the bank but still get the job done on race day. Orca, Blue70, Zoot and others also make entry-level suits if you want an inexpensive suit that still has the history of performance and top-of-the-line technology.
My answer is always the same when people ask me which wetsuit they should purchase. I tell them to get the one they are most comfortable with, in terms of fit, range of movement and price. That is how I chose my current suit, the Orca Alpha. I tested a variety of suits from multiple companies and this one stood out as the best and fastest. Finally, my scared-swimmer mentality was put to rest because the wetsuit evolution had produced a suit without any feeling of constriction.
I don't know if there is one wetsuit out there that is faster or better than all the rest. I believe it is all about the athlete inside the suit and how comfortable he or she is swimming fast. Take the time to consider all the factors when choosing your first or next wetsuit, but most importantly, get in the suit and swim!