Tested: New Balance's BOA-Equipped FuelCore Sonic
The super-quick, easily-adjustable tightening system has only had limited appearances on run footwear—until now.
Heading out the door? Read this article on the new Outside+ app available now on iOS devices for members! Download the app.
While BOA lacing technology has been around on cycling shoes for a while, the super-quick, easily-adjustable tightening system has only had limited appearances on run footwear—until now.
We were excited by BOA's announcement in June that they would be working with mainstream shoe brands like Asics and New Balance to put their technology on a wider variety of running shoes. Quick, consistent lacing is always awesome for triathletes. Now we get an early look at how the BOA system actually works on New Balance's new FuelCore Sonic racing flat.
The Tech:
Rather than simply slapping an existing BOA dial, guide and filament onto a pair of popular running shoes, BOA made some (important) changes: Foregoing the guitar string-like filament that's found on most of BOA's cycling options, the new running shoe-version of has a fabric lace that allows for lighter weight and better durability, the retention system is also woven, and the new L6 dial is lower-profile. Pull the dial back, and the "lace" goes loose; push it in, and crank it down to tighten.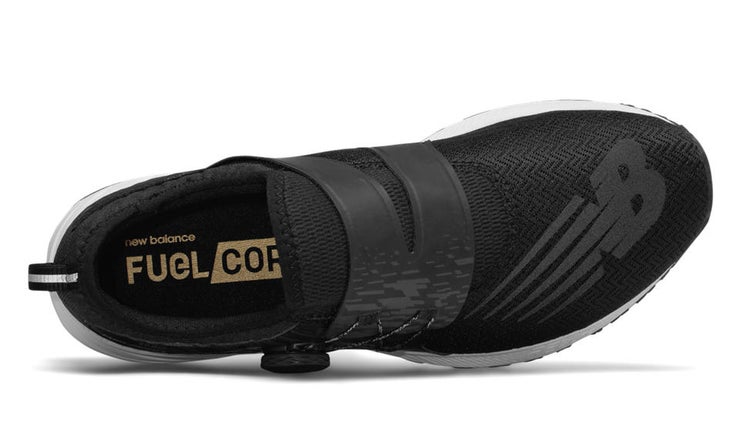 Keep It Simple, Stupid:
Upon unboxing, it's obvious that the FuelCore Sonic is a very different-looking shoe. Without traditional laces—and the laces' necessary accoutrements—the shoe resembles something a little more velcro-y than what we're used to. The good news? With less "stuff", there's less opportunity for rubbing and chafing—super important for barefoot running and for keeping the shoe at a thrifty advertised 8.5oz weight with a small dial. The bad news? They're not exactly fashion-forward, though to be honest, I actually did get a few compliments, so what do I know?
The Fit:
I can't overstate this: The BOA system did a better job at uniformly tightening the upper than I've been able to do with 30+ years of practice. I went wild with the dial but found absolutely no tightness hotspots. Still to this day, when I tie my shoes, my regular laces get caught, or the top is way tighter than the bottom. Once again, the machine beats the human, and the BOA laces felt smooth, even and obviously quick. I loved being able to crank down the dial, but then easily, incrementally back off the dial pressure later in the run—a must for anyone who has experienced the over-tight excitement of T2 or the horror of swollen marathon-feet. Trying to untie and retie in the middle of a race is both horrifyingly frustrating and nearly impossible to do properly.
The fit was good, but not perfect. The way the FuelCore was set up didn't extend the laces too far down the forefoot, so the toebox was given a pretty wide berth. It worked well for me—I have a pretty wide forefoot—but it could be an issue for those with very narrow feet. I also had some early issues with my arch/knee caving inward. Clearly this is a lightweight, low-support shoe, but I've raced with shoes that have had the support equivalent of a flip-flop, and I've never had the same issue. Fortunately, the inward movement seemed to go away after a few miles, so I'm not sure if it had to do with the lateral-side BOA mounting area loosening up or just the shoe's foam. Either way, it was fine after a few runs and didn't cause any actual pain.
The Verdict:
This is a great shoe, tailor-made for triathletes. Yes, Zoot has had a BOA-enabled option for a few years, but now that big shoe brands are on board, BOA has made some necessary upgrades to their system. I loved the low-profile dial with a rubberized coating for wet-triathlete T2 paws, and I loved the low-seam, highly breathable upper that the BOA system allowed for. It also goes without saying that the tightening system was great at getting the laces super tight, super loose (duathletes take note!) or anything in-between.
A few things that were slight misses: The lack of support was not unexpected, but I had hoped for a slightly supportive option coming from such a veteran brand with a tradition of stable shoes. Also, though the heel loop was a good thought for quick transitions, it wasn't placed in the perfect spot, and the small, loop-less tongue was actually pretty tough to get on quickly at first. Just like anything, with a little practice I was a pro in no time, but with wet feet, slippery hands and adrenaline, I could see the struggle becoming a little more real on race day.
All in all, the New Balance FuelCore Sonic is a great shoe and the BOA system is a huge upgrade over traditional laces. While it's not a perfect setup yet, I think most triathletes will find the FuelCore Sonic solves a lot of big problems and leaves only a few tiny ones to iron out in later iterations.
Newbalance.com; MSRP: $109.99