Interbike Day 0: 4 Fun Finds from the Outdoor Demo
The Nevada desert held a few secret gems on the eve of Interbike.
Heading out the door? Read this article on the new Outside+ app available now on iOS devices for members! Download the app.
The Nevada desert held a few secret gems on the eve of Interbike.
'Twas the night before Interbike, when all through the house, not a creature was stirring, not even a mouse. Except a few creatures were stirring. Out in Bootleg Canyon—just about 30 miles east of Vegas, where for the last year, maybe ever, the annual bike geek utopia known as Interbike was just about to begin. Held in conjunction with the big, bad bike show is a far less glitzy event: the outdoor demo. While originally touted as a place for Interbike attendees to try the latest and greatest in off-road, road, and tri bikes, today's scene is pretty different. We ventured deep into the desert, braving wind and heat and dusty, crusty mountain bikers to uncover a few tri-related nuggets on the otherwise silent day before of Interbike.
Raleigh Stuntman iE
At the 2017 edition of the outdoor demo, the offerings were 95 percent off-road, and the large majority of those off-road bikes were e-bikes. While e-bikes may have no place in a triathlon, their popularity amongst the general cycling (or cycling-adjacent) population cannot be ignored. The Raleigh Stuntman iE stood out amongst the crowd as a rugged, gravelly, do-it-all e-bike that actually very closely resembled something a real roadie might ride.
Integrated into the downtube is a very stealthy Class 3 Brose motor that provides pedal assist up to 28mph. With a four- to six-hour charge time, and a 60 to 80-mile range in low-assist mode (half of that at high output), the Stuntman iE would be a great option for a training partner that can't hang with all the watts or maybe someone looking to do some long-distance riding from point-to-point. Pictured at top is a custom version of the Stuntman made for Raleigh ambassador and former pro cyclist Rahsaan Bahati. Expect to see the Stuntman and the updated version, the Tamland (pictured above), around December.
$4,399; Raleighelectric.com
Alto CT311 Disc
Though the demo was pretty dirt-heavy, one product held the tri-candle through the gusts of dust, the Alto CT311 disc wheel. Founded three years ago by three college roommates (pictured here, Alto CEO Bobby Sweeting), Alto has recently expanded its proudly U.S.-made line of wheels with a very interesting disc offering.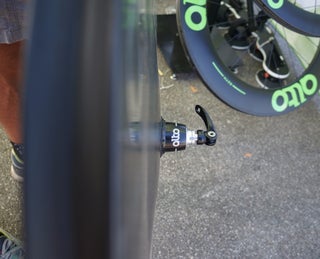 The C311 uses a lenticular design that closely resembles the frontal profile of a spoked wheel. The advantage is that lateral forces—like hard cornering—are handled better than a common flat-profile disc. In other words: the speed of a disc, the cornering of a spoked wheel. While they're not the first brand to offer a lenticular disc, other brands simply use a carbon skin over spokes while the CT311 is a solid construction. The C311 (available in clincher or tubular) also has a wide 25mm rim width for use with wider tires that have recently become much more popular.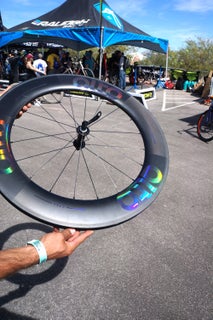 Alto also makes a 86mm front wheel (the CC86 and CT86) that pairs perfectly with the C311. Not only are the accompanying fronts smooth rolling, but we saw in person that their rainbow decals are tri-bling certified. Available now, all Alto wheels are also part of their ambitious rental program that lets riders pay $100 for a 10-day use. If renters decide to buy the wheel, Alto credits the rental fee, plus an additional $100 for each time the specific wheel was rented previously.
C311 tubular – $1,990; C311 clincher – $2,090; CT86 Tubular – from $865; CC86 Clincher – from $910; Altocycling.com
Ryders Roam Sunglasses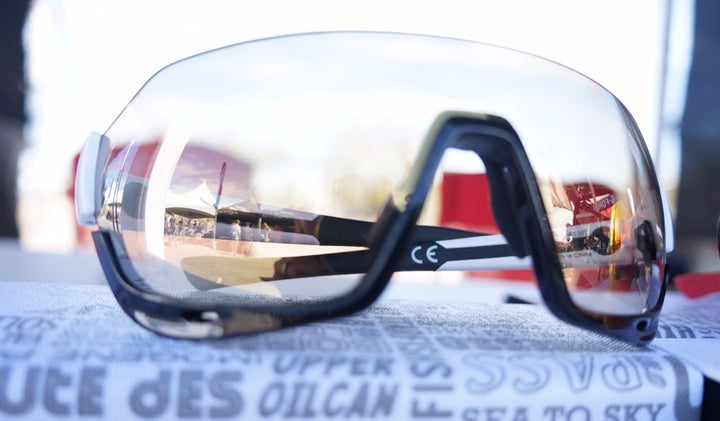 Another diamond in the demo rough was an outside look at Ryders' Roam sunglasses. Fueled by an acquisition by the brand Essilor (makers of Transition lenses among other optic tech), Ryders' latest, ambitious line of eyewear seems to throw everything at their lenses. The Roam sports Ryders' FYRE lens technology that features photochromatic properties (like Transitions), a unique mirrored technology that's rarely found on photochromatic lenses, and a very impressive, no maintenance anti-fog coating.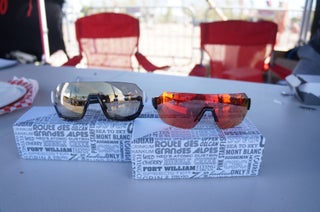 Ryders wrapped these new lenses in a convertible frame that goes from half-coverage to no-coverage (great for deep aero positions) in a matter of seconds. Much like having two pairs of sunglasses for the price of one. The image quality of the FYRE lense is best described as hi-def and looks on par with other brands' most clear offerings. Available now.
$239; Ryderseyewear.com
Pardus Gomera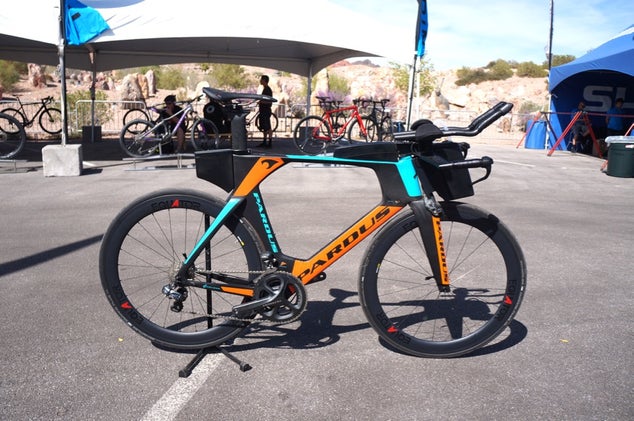 Like a mirage appearing out of the blustery desert, there stood one, single tri bike out in Bootleg Canyon. The Pardus Gomera is the strange offspring of Chinese manufacturer TaiShan Sports—a brand that makes everything from bikes and bike parts to wrestling equipment, gymnastics equipment, weightlifting equipment, and way much more. They are also the carbon producer for many of the popular tri brands that we all love so much (reps wouldn't let us disclose who their customers were, but these were massively popular companies). Pardus is their new "house brand" bike after years of producing products for other labels.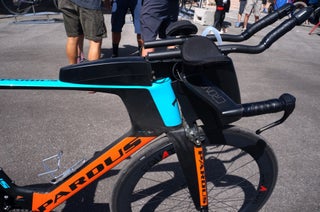 At first glance, the Gomera looks like a copy of many of the superbike designs that major brands are already offering, yet Pardus says it's less of an imitation and more of an effort in learning from the engineers that have been sending them designs to build for years.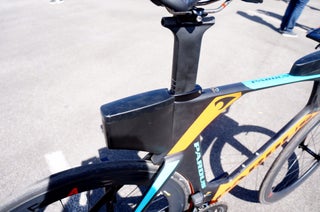 2017 marks the first year that Pardus has had offices in the U.S., and while they don't have any available footprint in U.S. retailers yet, spokesmen assured us that the goal is to get into independent bike shops as soon as possible. While this makes availability a question mark, the appearance of a bike like the Gomera signals a possible shift in Chinese brands towards the U.S. 
$5,800 (as pictured); En.parduscycle.com
Be sure to check back this whole week for continued coverage of Interbike at Triathlete.com.