Tri'd And Tested: Shimano Di2 $4,530
Heading out the door? Read this article on the new Outside+ app available now on iOS devices for members! Download the app.
I was skeptical about the Shimano Di2. I really was. Why complicate cable-actuated shifters that already work brilliantly by adding expensive electronics that might be ruined by a poorly placed drop of water?
Written by: Aaron Hersh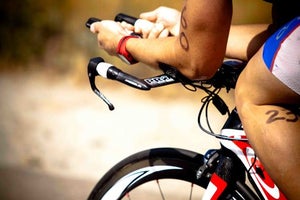 After I logged some miles on a bike equipped with Shimano Di2 you can now consider me a convert. Not just a convert, actually, but a missionary preaching the greatness of Di2. It's nearly impossible to mis-shift. The servo motor that drives the rear derailleur can fight through any awkward shift you throw at it. The front derailleur can throw the chain from small ring to big in the middle of an all-out sprint. This astounding performance is credited to the powerful shifting action, elimination of cable friction and intelligent derailleur motion. But Di2 offers more than just flawless shifting.
Multi-position Shifters
When cyclists talk about the difference between triathlon and time trial bikes they mention things such as UCI regulations and race duration. They overlook the most significant difference: A triathlon bike is the athlete's primary bike, not a rarely used specialty machine. Riding without shifters in hand in groups, up and down hills, on busy streets and around tight corners is a major issue that triathletes deal with daily. Shimano solved this problem by integrating shift buttons into the brake levers as well as the bar end shifters. Both shifter sets function identically and can be used interchangeably. No more reaching to shift, no more cornering in the wrong gear.
Practicality
Although Di2 has only been available to the public for a few months, Shimano has been testing it in the world's harshest races for years.  It has survived the Tour de France, Kona and the mud bath known as Belgian cyclocross. Shimano asserts that the Di2 is so water resistant "It can be used at the bottom of a pool."  But I didn't try it.
Shimano says the lithium ion battery will last 1,000 miles per charge and about 500 total charges. That is a lot of saddle time. If charging the battery slips your mind for a month or two and it starts to lose power, front shifting will be the first thing to go. When this happens, the rear derailleur will still have enough juice for about 50 shifts before it dies completely and fixes the chain in the current gear. The derailleur doesn't drop to the smallest cog.
The only drawback to Shimano's seemingly flawless system is price. And it is seriously expensive. A complete road kit goes for $4,640 and a triathlon set is $4,530. Brutal.
Performance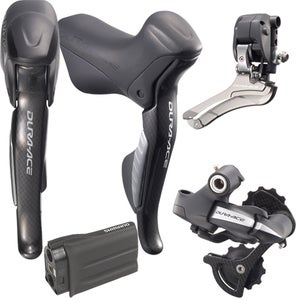 Di2 commands this astronomical price because it is a genuine leap forward in shifting technology.  It eliminates the need to think about the shift. Press the button and it happens. The derailleurs are programmed to auto trim, which means they automatically adjust how far they move to make the shift based on the gear combination. Combine this with Shimano's industry-leading chain ring and cassette design and shifts are so smooth that they can be made grinding up a hill or sprinting to a street sign.  Gears never grind. The quiet hum of the motor is the only clue the gears have shifted.
Mechanical shifters depend on smooth cable motion to execute precise gear changes. If a little sports drink drips into the housing it creates friction between the cable and the housing and shifts become unreliable. This problem is gone, obviously, since Di2 has wires instead of cables.
Expensive components don't usually make a bike faster. They can save a few grams, sharpen shifts and improve braking, but these upgrades don't make a bike significantly faster. Di2 shatters this conventional wisdom about components because it allows the cyclist to produce power every moment of the ride.
Even though Di2 has two motors and a battery, the entire system is only 68 grams heavier than mechanical Dura Ace. If Shimano can eventually sell an electronic shifting system for $2,000, it's game over. For the mean time, the price of admission is so high that most people won't be able to reap the benefits of electronic shifting. But if the additional coin that it takes to jump from mechanical Dura Ace to Di2 is in the budget, Di2 delivers and then some.