Should We Be Worried About Motor Doping?
Motor doping has been the rumor-du-jour in the cycling peloton for years, but what exactly is it, and could electric-assisted bikes be making their way into triathlon?
Photo: Fabrice Coffirini/AFP
Heading out the door? Read this article on the new Outside+ app available now on iOS devices for members! Download the app.
It's dirty, but it's absolutely not a secret that doping exists in the triathlon world in many forms.
Whether for age groupers or pros, the tendency of individual competitors to reach further and further to hit a target time or goal after months and months of training can easily become a slippery slope to dope. Since 2011, 31 athletes have had sanctions brought against them by Ironman—including two already this year.
There have been myriad cases of positive EPO tests among the world's triathlon competitors, along with a parade of other substances officials have banned for giving an unfair advantage to those who take them. The World Anti Doping Agency needed 24 pages in their 2023 roundup of prohibited substances just to list them all.
And, as we learned in our six-part series on doping in triathlon, that might just be the tip of the iceberg.
But chemical doping is not the only thing that keeps officials and clean athletes up at night. As technology improves, the ability of racers to cheat using mechanical elements or motors could even further complicate an already murky and difficult issue. In an interview with Triathlete following the doping positive of pro triathlete Colin Chartier, cycling legend and drug whistleblower Greg Lemond cited motor doping as "a big risk" in the peloton.
What is motor doping?
Motor doping, also referred to as mechanical doping, occurs when a competitor uses a device, like a concealed motor, to artificially increase the acceleration or speed of a bike. There have been allegations of motor doping in professional cycling going back more than a decade. But confirmed cases are quite rare.
The most notable case of motor doping happened in 2016 when officials found a hidden motor inside Femke Van den Driessche's bike ahead of the 2016 UCI Cyclocross World Championships. The discovery resulted in a six-year ban from the sport and a fine of more than $20,000. The incident ignited a tremendous backlash. Cycling legend Eddy Merckx even chimed in at the time calling for a lifetime ban on those caught using motors.
Perhaps the biggest question to come from the scandal, though, was how many others may have used motors, but flown under the radar?
Whether motor doping stands to become a prolific threat to triathlon or more of an overhyped boogeyman has yet to be seen. Officials, however, are well aware that it is possible, and have already been making rules and policies to address it if found.
Mark Turner, Commissioner of Officials for USA Triathlon since 2021, said the sport of triathlon is constantly evolving, and athletes are always looking for ways to gain an advantage. The work of USA Triathlon and other race officials, he says, is to ensure that the advantages that are found fall within the rules, and do not reach the level that they are unfair.
Clearly, a motor would fit into that latter category. But how can officials sniff them out?
Turner said that for triathletes, bike inspections are common. On the morning of a race, officials check for basic things like brakes, bar end caps, and other mechanical elements to ensure all the bikes that take the field are legal.
Concealed motors, however, constitute a bit more complicated of a problem. They can be hidden away in downtubes, hubs, or other spaces that are invisible to the naked eye.
Hiding motors in bikes
In normal e-bikes, motors can be mounted in rear hubs, or in the seat tube of a frame. Early e-bikes usually had batteries that mounted to the exterior of frames. Some have even been disguised as water bottles. These were usually very bulky, unsightly, and tremendously heavy. But the recent renaissance of e-bikes has seen manufacturers across the board design bikes with batteries mounted inside the downtube of the frame, making for a sleeker profile that more closely resembles a solely pedal-powered machine.
There already are a few e-bikes that look extremely close, if not indistinguishable from normal bikes.
Goat Bike's Vivax motor is one example of a motor that can easily be hidden in a frame. The motor drops into a bike's seat tube, and and connects with a gear at the bottom bracket where it connects with the cranks, providing propulsion. According to Popular Mechanics, it could pump out anywhere from 100 to 150 watts—a substantial boost that could push even a mediocre rider into a very fast bike split.
As manufacturers continue to refine their battery and motor designs to get even slimmer profiles, it's fully possible that we'll see bikes that look exactly the same as their strictly mechanical counterparts.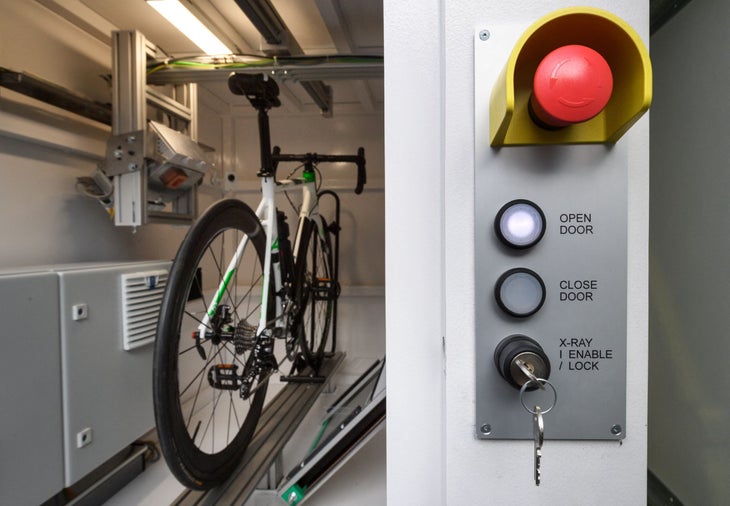 The rules on motor doping in triathlon
There's nothing inherently wrong with designs that conceal motors inside frames. A lot of riders and commuters want a bike that doesn't look like a bulky e-machine. The problem is when someone uses that tech claiming to be on a normal bicycle.
"Obviously, they're intended to be concealed if someone's trying to gain an unfair competitive advantage, and we're not going to know," Turner said. "What we as USA Triathlon would do is follow the lead of our international governing body, World Triathlon, as they develop plans for looking at how you examine a bike."
World Triathlon Competition Rules state that athletes' bikes will be checked in transition zones. Section 36.3.7 of the World Triathlon rulebook says athletes may be asked to remove their chain wheel axle to allow officials to check for a motor.
"If a motor exists, the athlete will be referred to the Head Referee for a decision. The Head Referee will disqualify the athlete and refer the case to the World Triathlon Tribunal for possible further penalties," the rulebook says.
The Union Cycliste Internationale (UCI), already has implemented a mobile x-ray device in the professional road peloton that can give officials an image of the internals of a bike within five minutes.
But even then, whether a rider has a motor tucked away somewhere could still potentially escape officials, especially as bike companies continue to refine e-bike technology and work to place more components inside bike frames or wheels.
In cases where the officials are unable to identify a motor beforehand, Turner says it's up to fellow athletes to raise a collective eyebrow.
"It's up to someone to protest," Turner said. "Let's say an athlete on a particular type of course has historically averaged 24 mph, and everyone observes that, 'ait a minute, in this latest race, that athlete averaged 30 mph.' Well, maybe there's something going on there. If someone were to lodge a protest, and illegal equipment is the grounds for launching a protest, then further examination would be done."
A motor would obviously result in a disqualification from the particular event at which it is found. Further punishment including suspensions or bans would also be likely, but exactly how long would be subject to discussions among race officials and those from larger governing bodies like USA Triathlon, and Ironman.
A motor would obviously result in a disqualification and further discussions about additional discipline including possible suspensions or bans.
But while motors are a point of concern, Turner said there still is not enough evidence to prove that they are a real problem in the triathlon community.
Despite motor doping becoming a hot topic of late, Turner said he is not aware of a single confirmed incident of motor doping in a USA Triathlon-sanctioned event. Likewise, Ironman does not list any motor-doping incidents in its list of sanctions.
"I think the vast majority of our constituents are seeking to abide by the competition rules. They want fair play," he said.
But for anyone who feels otherwise, even getting a little extra push from an illegal motor would definitely be expensive from the get-go, and could end up costing an athlete everything they have ever worked to achieve.