Forward Thinking: The Evolution Of The Triathlon Bike
Heading out the door? Read this article on the new Outside+ app available now on iOS devices for members! Download the app.
Nearly every triathlon bike in the Triathlete Buyer's Guide is built around a common design element that was considered radical as recently as a decade ago: They all have steep seat tube angles. Road bikes traditionally have been built with a slack angle, but changing that one design characteristic revolutionized the way we all ride in the aero position. This is how the first bike with a steep seat tube angle came to be, and how the design eventually gained popularity.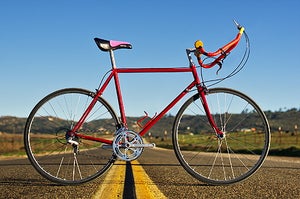 Richard Bryne is widely recognized as the first person to create a bike with a steep seat tube angle, specifically for races against the clock. Here is his story of how the idea came about:
The idea originally germinated when I met a guy with a prone recumbent HPV. It was a belly down, streamlined recumbent with a shell encasing the rider. I had been classically trained in cycling, and those things looked like freak show machines when I first saw them, but after riding one a few times I thought, "Wow, I can go so much faster in these things." I realized if I could go so much faster in one of these aerodynamic machines than I could on a normal bike that there was a lot of meat left on the bones.
I wanted to see if there was a better position than the traditional bicycle geometry so I studied where that traditional position came from—and found nothing. There was no significant reason to ride a 72-degree seat tube angle. The only resource was a 100-year-old book on frame design that said the 72-degree angle came from a desire to have the bike handle in a certain way. I didn't care about handling. I was only interested in speed.
At the time, I was training Jim Elliott for a 24-hour track record attempt, so I came up with a geometry that I thought would work better for him. I built this machine called the Ouiga bike. It's a completely adjustable stationary bike with resistance that allows you to change the rider's relationship to the bike, similar to a modern fit cycle. Steepening the seat tube allowed Jim to ride in a more aerodynamic position with his back flat and allowed him to put out more power. Using that machine, I found that Jim's preferred seat tube angle was 81.5 degrees. Of all the people we put on that machine, and it was at least 100, I don't think anyone said they felt best at anything less than 79 degrees.
We trained for months building up to his record attempt on this new bicycle with an 81.5-degree seat tube angle. Before Jim's attempt, Lon Haldeman had the 24-hour record, which was 454 miles. Jim rode 502.3. After Jim shattered the record, I knew I was onto something, so I started Scepter Bicycle Company in 1984 with Bill Holland. A bike with a steep seat tube angle was such a nontraditional idea and cycling was such a traditional market at the time, so we could only convince a handful of people to try it. I sort of beat my head against the wall for a while, but got the clear indication that people in the cycling world thought I was an idiot. It didn't go anywhere. Triathlon hadn't really started yet. It was just sort of getting off the ground and I didn't understand the sport well enough to jump in it. After failing with Scepter, I moved on from the steep seat tube concept.
Bryne's failure to spread the idea is where Dan Empfield, widely viewed as the father of the modern triathlon bike, steps in. Here's Empfield's take:
I was entirely naive of anything that Richard Bryne did prior to conceiving my own designs. I invited Ralph Ray, who was coached by Bryne, over to my house in 1988 and we each had a new idea to tell the other about. It turned out to be the same idea that we had each conceived of separately. The only difference was that Ralph's idea of a steep seat angle was really steep. He though the bike should have a 90-degree seat tube angle. My view was that it should be more like 80 degrees.
My design had nothing to do with any testing I did, any special knowledge I had or, really, anything that came out of my own brain. Rather, all of us who were riding Scott DH aerobars at the time, the first mass-produced aerobar, were trying to figure out the most effective way to ride those bars. Mark Allen's solution was a set-forward seat post, like the Profile Design Fast Forward seat post. Paul Kiuru's idea was to take a setback seat post and turn it the other way. All these guys got their saddles up to 78-80 degrees of seat angle. My only invention, if you want to call it that, was to take the saddle position already being used by Allen and Kiuru, and use the frame rather than an altered seat post to position the saddle in this self-selected position. Then, I changed the rest of the bike's geometry so it handles well with this new seat tube angle. And those were the bikes.
Conceptualized in 1988, the first time one was ridden was in the Desert Princess Duathlon in January 1989, and the first real notice came when I gave one to Ray Browning for Ironman New Zealand in March of 1989. Browning blew the field away, and that raised a lot of eyebrows. That is when we started selling them. What I had that neither Ralph Ray, Richard Bryne or anyone else had, was that I was in the business of selling triathlon products to retail outlets. I just happened to be the guy that was able to execute it. I was in the triathlon business, the manufacturing business, in the bike business and selling products to bike shops. That's the advantage I had over anyone else. One way or another, bikes still would have gotten to where they are geometrically, because if three of us independently thought of the idea, someone was going to come up with it.
Q: Cyclists have been racing against the clock for a century, so why did three people come up with the idea at the same time, in the late 1980s, when it hadn't been thought of before?
I came up with my idea because I was riding an aerobar, but I had a problem riding it efficiently. If you're going to ride with an aerobar, which essentially turns a road bike into a front recumbent, you're going to need a geometry that supports that position. Richard came up with a version of the aerobar himself and the steep seat angle because those two things work together. The aerobar allows the rider to efficiently support his upper body when riding a steep seat tube angle, and the steep seat tube angle allows his hips and legs to function efficiently when hunched over on an aerobar. Aerobars and steep seat tube angles were invented at roughly the same time because each doesn't work well without the other.
Empfield took his bike with a steep seat tube angle and successfully marketed it under the Quintana Roo bike brand, which still thrives today. It took about 15 years, but this design is now almost universally accepted and ridden by the overwhelming majority of triathletes.
By Aaron Hersh