Ask a Gear Guru: What's the Best Triathlon Watch?
We wade through the e-weeds to find the best watches for tri.
Heading out the door? Read this article on the new Outside+ app available now on iOS devices for members! Download the app.
There used to be a time when the absolute best triathlon watch was the Timex Ironman. Remember that one? So many triathletes bought it simply because it was our watch—it said so right in the name. Don't worry, Timex's tried-and-true start/stop/lap/time workhorse still exists, but now we've got smartwatches more powerful than a 15-year-old home computer.
Today's best triathlon watches do heart rate with or without a strap, run pacing, mapping, bike functions, tri functions, brick workouts, smartphone notifications, open-water swimming, run power, and way way way more—heck a few of these marvels of modern technology can even act as a de facto coach and training partner. (Some also act like they require a computer science degree to use.)
But not all watches are created equal, and not all are the best watches for triathletes. While some do running super well, their biking functions are an afterthought; while many of today's smartwatches do pool swimming at least reasonably well, only a few handle the open water with ease. Want to use your watch all day for race day? Yes, there's a watch for that, but if you go super long, the list gets even shorter.
Below we've broken down some of the best triathlon watches in a wide range of prices—whether you want ultra simple, like the Timex Ironman, or something that could potentially drive your Tesla remotely (with a future software update, of course).
Garmin Forerunner 945
Tri Functions
Running, Cycling, Open-Water Swimming, Multisport
TL;DR
Does all the things always, but you might need to take out a second mortgage
Best Triathlon Watch: Why It Makes the Cut
I did a video review of this one recently, and I used it again at the Santa Barbara Tri in August for my video training diary. This is the watch you get and use until you lose it or break it or someone swipes it from you. Honestly, I would be hard pressed to even imagine what else Garmin could pack into a new model–the Forerunner 946 or the Forerunner 955 or whatever comes up next. Without giving a 10,000-word diatribe on what this thing can do, I'll hit the tri highlights on why this is one of the best triathlon watches (bonus: it's very small):
Running: All GPS functions (pace/mile, distance, elevation, etc.), mapping, cadence, ANT+/Bluetooth footpod connectivity (for power), advanced pre-programmed workouts, and wayyyy more
Cycling: All GPS functions (speed, distance, elevation, etc.), mapping/routes, ANT+/Bluetooth device connectivity (external power meters, speed/cadence, etc.), advanced pre-programmed workouts, and more
Swimming: Open water GPS functions (pace/100, distance, etc.), stroke count, stroke efficiency (SWOLF), stroke type (pool only), pool workouts, ANT+/Bluetooth device connectivity (heart-rate monitor), and more. It also connects to the FORM heads-up display goggles that'll allow you to see your pace, distance, stokes, and more live.
Multisport: Preset multisport activities (with or without transitions) like triathlon and swim/run; user-creatable multisport activities for brick workouts, etc.
Other fun Stuff: Smartphone connectivity for Android and iOS notifications, onboard music via Bluetooth-compatible headphones, calendar, weather, GarminPay (think ApplePay), Strava live segments, built-in heart-rate monitor, heart rate variability tracking, and a TON of coaching capabilities
Claimed battery life:
Smartwatch Mode: Up to 2 weeks
GPS Mode with music: Up to 10 hours
GPS Mode without music: Up to 36 hours
Suunto 5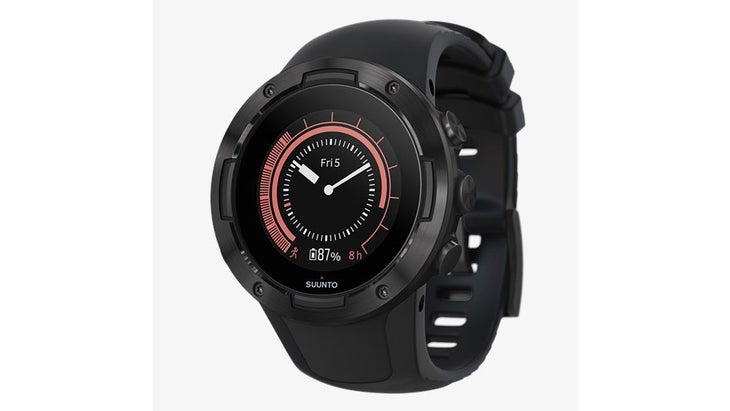 Tri Functions
Running, Cycling, Open-Water Swimming, Multisport
TL;DR
High-end features, mid-range price
Best Triathlon Watch: Why It Makes the Cut
Suunto's mid-range multisport offering is one of the best triathlon watches because it packs all of the ultra high-end features of something like the Forerunner 945 into a great watch at almost half the price. While no one can argue that $330 is cheap, it certainly doesn't require a visit with your accountant. The big win with this bigger-sized watch is getting the host of Suunto preloaded activities (it's a lot) alongside their renowned accuracy. While the interface isn't as infinitely expandable via updates and apps as the Garmin, or as compatible with external sensors, for those who don't like to get waist-deep into the intricacies of training minutiae, this is best triathlon watch for the middle ground. The only big caveat? The Suunto 5 is NOT ANT+ compatible, so check to be sure your external devices work with Bluetooth. The big multisport mentions:
Running: All GPS functions (pace/mile, distance, elevation, etc.), routes, cadence, Bluetooth footpod connectivity (for power), marathon time predictor, and more
Cycling: All GPS functions (speed, distance, elevation, etc.), Bluetooth device connectivity (external power meters, speed/cadence, etc.), and more
Swimming: Open water GPS functions (pace/100, distance, etc.), stroke count, stroke efficiency (SWOLF), stroke type (pool only), pool workouts, Bluetooth device connectivity (heart-rate monitor), and more
Multisport: Preset multisport activities
Fun Stuff: Smartphone connectivity for Android and iOS notifications, training load and recovery, and more
Claimed battery life:
Smartwatch Mode: Up to 2 weeks
GPS Mode: Up to 40 hours, depending on settings
Polar Vantage M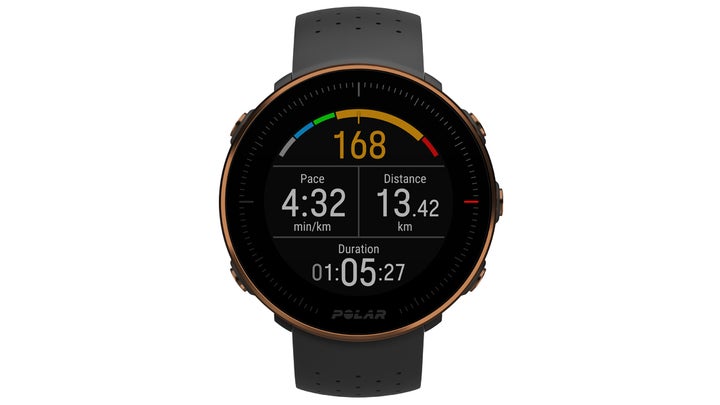 $280, Polar.com
Tri Functions
Running, Cycling, Open-Water Swimming, Multisport
TL;DR
Crazy amount of value, price sweet spot for triathletes
Best Triathlon Watch: Why It Makes the Cut
As someone who's used this watch for a while, I'm still amazed that Polar can price one of the best triathlon watches for under $300. It's bigger brother, the Vantage V, is still a killer watch with great value for built-in running power and a touchscreen at $500, but the Vantage M is a high-tech sleeper. For about the cost of a tri entry (ugh), you get a fully-featured multisport watch with a shocking battery life and a footprint (or wristprint?) that is light and manageable. In fact, ladies should take note as the Vantage M gets high marks on the "cuteness" scale from my lovely wife. There's not much to dislike about this watch except that the smartphone notifications are a recent add that are still a little buggy and the GPS accuracy for speed/distance is not nearly as pinpoint as the Garmin or Suunto (but the built-in heart rate is arguably better, per Polar's area of expertise). The major tri highlights:
Running: All GPS functions (pace/mile, distance, elevation, etc.) cadence, Bluetooth footpod connectivity (for power), built-in coaching programs, and more
Cycling: All GPS functions (speed, distance, elevation, etc.), Bluetooth device connectivity (external power meters, speed/cadence, etc.), and more
Swimming: Open water GPS functions (pace/100, distance, etc.), stroke count, stroke efficiency (SWOLF), stroke type (pool only), pool workouts, built-in heart-rate monitor while swimming, Bluetooth device connectivity (heart-rate monitor), and more
Multisport: Preset multisport activities
Fun Stuff: Smartphone connectivity for Android and iOS notifications, training load and recovery, a HOST of built-in coaching metrics, calendars, and plans, and more
Claimed battery life:
Smartwatch Mode: Up to 2 weeks
GPS Mode: Up to 30 hours, depending on settings
Coros Pace 2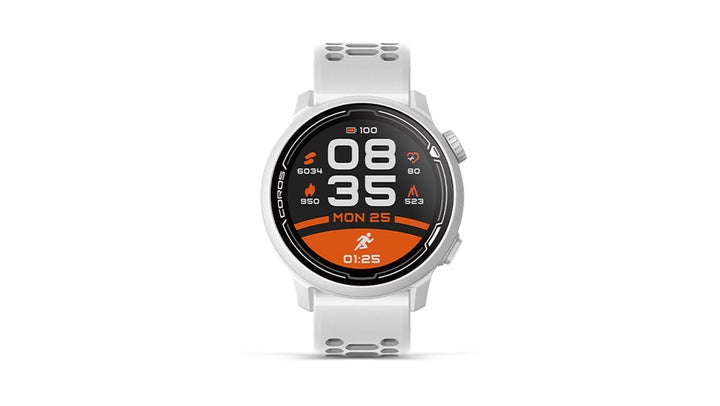 Tri Functions
Running, Cycling, Open-Water Swimming, Triathlon
TL;DR
A crazy crazy value in a super lightweight watch that does nearly everything a triathlete would need for training/racing
Best Triathlon Watch: Why It Makes the Cut
This watch is an absolute category killer. We've written about it ad nauseam, and a few of our editors probably have a Pace 2 on their wrists as you read. While it's light on lifestyle functions (it still does a great job with smartphone notifications), it's workout capabilities are on par with watches that cost twice as much. Shockingly, the Pace 2 is once of only a small handful of watches that has built-in power measurement for running—one of those functions that's awesome to have, even if you don't buy it for that reason. The battery life is solid, the screen is easy-to-read, and the new digital dial on the side is a great way to navigate the menus. No joke, Coros could charge another $100 and this would still be a great option for those who like a super low-profile and lightweight smartwatch for working out.  The major tri highlights:
Running: All GPS functions (pace/mile, distance, elevation, etc.) cadence, onboard power measurement, Bluetooth/ANT+ footpod connectivity (for external power), stride length, built-in running workouts, and more
Cycling: All GPS functions (speed, distance, elevation, etc.), Bluetooth/ANT+ device connectivity (external power meters, speed/cadence, etc.), and more
Swimming: Open water GPS functions (pace/100, distance, etc.), stroke count, stroke efficiency (SWOLF), stroke type (pool only), pool workouts, built-in heart-rate monitor while swimming, Bluetooth device connectivity (heart-rate monitor), and more
Triathlon: Swim to bike to run
Fun Stuff: Smartphone connectivity for Android and iOS notifications, training load and recovery, some INCREDIBLY advanced post-workout analysis via the smartphone app, and more
Claimed battery life:
Smartwatch Mode: Up to 20 days
GPS Mode: Up to 60 hours, depending on settings
Timex Ironman Classic 50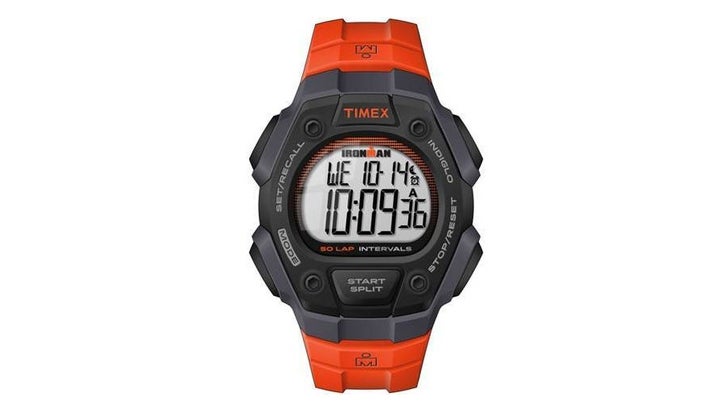 Tri Functions
Swimming, cycling, open-water swimming, multisport
TL;DR
It has a stopwatch, it never dies, it always works
Best Triathlon Watch: Why It Makes the Cut
Ok, so this might seem like a joke, but real talk: Sometimes simple is best. The best triathlon watch for someone who loves to measure everything always is not exactly the best triathlon watch for someone who wants to just go for a swim or a bike or a run and know how long it took. There's something to be said for a watch whose battery life can be measured in decades. And if you're someone who's had a watch die overnight causing you to miss a race-morning alarm and subsequently result in an all-out sprint LITERALLY through Times Square (where you ejected a bottle while running reds and riding the wrong way down Midtown one-way streets) to BARELY make the start of the New York City Triathlon, you might find value in something that always works no matter what. (Not saying this was me, but…) The feature list is short, but you know what you get with this one:
Running: It has a stopwatch, it saves 50 lap splits, it has two interval timers
Cycling: It has a stopwatch, it saves 50 lap splits, it has two interval timers
Swimming: It has a stopwatch, it saves 50 lap splits, it has two interval timers, it counts 99 laps
Multisport: Same as above
Fun Stuff: Three customizable alarms, two time zones, dated "training log" with best lap, average lap, and total time, and freaking Indiglo (if you don't know, you should…)
Claimed battery life:
Longer than your own