Stoltz, McQuaid Remain Perfect With Southeast Victories
Heading out the door? Read this article on the new Outside+ app available now on iOS devices for members! Download the app.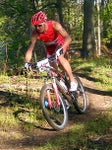 Another state, a wildly different course, yet the same result as Conrad "The Caveman" Stoltz and Melanie McQuaid roll to their third straight regional championship victories, this time at the XTERRA Southeast Cup at Oak Mountain State Park in Pelham, Alabama.
At about the same time the endurance community celebrated the life of cycling and triathlon great Steve Larsen (who passed away on Tuesday) with memorial rides and runs in his hometown of Bend, Oregon, many of Larsen's friends in sport were riding and running in honor of him in the southern woods of Alabama today.
Leading the charge was Stoltz, who said "the technical parts are usually my strengths, but today I couldn't focus. I did feel like I had amazing strength today though. This was a great victory for Steve."
Many of the riders dedicated their efforts today to Larsen and his family, including Stoltz and McQuaid.
"Steve was such a huge inspiration for me coming from a mountain biking background. I felt really strong today," said McQuaid. It was certainly a day where XTERRA athletes could find inspiration all around, as even the sports all-time winningest athlete Jamie Whitmore (cancer survivor/battler) came out from California to be one of the race announcers. In addition, TEAM 413 Gracerunner ministries held a sunrise service before the race and all paused for a moment of silence in Larsen's memory."
The race started with Evans coming out of the water first for the fourth straight year here, but Stoltz caught him quickly and entered the run with a big lead that he never relinquished.  Josiah Middaugh was second off the bike, then Dan Hugo and Mike Vine together in third and fourth.
"Conrad was out of sight today and was ahead from the start," said Middaugh. "I tried to close the gap, but he had a great race today."
The men finished Stoltz, Middaugh, Vine, Hugo (the same top four finishers in each of the first three Cup races) with Nico Lebrun in 5th for the second weekend in a row.
In the women's race Melanie McQuaid was the first out of the water (Christine Jeffrey missed this race with a strained calf) and never trailed thereafter.
"I had a great day today. I am much better without a wetsuit and I got a good start on the bike. I was really lucky to have Casey Fannin around me, and we were going back and forth until I started to climb. The last couple of climbs on the run took everything I had. I was happy with the perfect weather, the people cheering in the woods, and the TT tires I rode on."
Renata Bucher was second into the bike-to-run transition but still more than three minutes behind McQuaid, followed by Shonny Vanlandingham and the speedy Lesley Paterson who leapfrogged past the two in front of her and into second place for the second year in a row here in Pelham.
"The women's race is getting really exciting, and I won't always be on top. We definitely have to make sure we watch out for Lesley in the future," said McQuaid.
Also of note Emma Garrard passed Jenny Smith to finish in 5th place, the first podium placing in her pro career.
XTERRA Southeast Cup
Shelby County, Alabama
May 23, 2009
Men
1. Conrad Stoltz 2:04:27
2. Josiah Middaugh 2:05:19
3. Mike Vine 2:06:58
4. Dan Hugo 2:08:07
5. Nico Lebrun 2:09:07
Women
1. Melanie McQuaid 2:23:52
2. Lesley Paterson 2:26:33
3. Renata Bucher 2:28:46
4. Shonny Vanlandingham 2:29:03
5. Emma Garrard 2:32:11
For complete results, click here.
Race recap courtesy of XTERRA.