Kelly Williamson Gears Up For Sunday's Rev3 Costa Rica Triathlon
Inside Triathlon senior editor Jennifer Purdie interviews pro triathlete Kelly Williamson about her upcoming Rev3 race in Costa Rica and what's on the schedule for the 2011 season.
Heading out the door? Read this article on the new Outside+ app available now on iOS devices for members! Download the app.
Inside Triathlon senior editor Jennifer Purdie interviews pro triathlete Kelly Williamson about her upcoming Rev3 race in Costa Rica and what's on the schedule for the 2011 season.
Triathlete.com: What is unique about the Rev3 Races?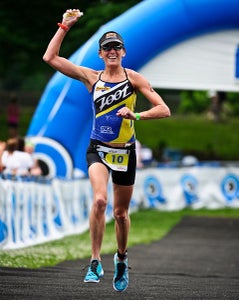 Kelly Williamson: You get a different feel at the Rev3 events. In 2010, I did Knoxville and Quassy and they both had amazing transition setups and were very family friendly. At Knoxville, my hotel backed up to the finish area. I was able to walk out my door and take a five-minute stroll to transition. In Quassy, the course was incredible. They (the race directors) have done a very good job of encouraging the entire family to get involved and offer various distances. Anything new and different is always good for the sport; it keeps everyone growing.
Triathlete.com: This is your first triathlon of 2011. Why did you choose Rev3 Costa Rica to start off the year?
Williamson: I like the timing of this event, mid-February. It is early, but it's not right in the middle of true down time. Had it of been a month prior, I would have not even considered it. My training kicked back into gear in early January, so this is a good little "test" of where my fitness is pre-season. And let's be honest, it's not a bad way to get to see Costa Rica for the first time either.
Triathlete.com: Can you walk us through a weekly training schedule during one of your hard weeks?
Williamson: Sure, though hard weeks vary at different times of the year. On average, if I am in full training mode for 70.3s or Ironman events, my weekly routine looks something like this –
Monday is usually rather light, a 4km swim, a light spin and a short gym session for core work.
Tuesdays are often hard days, including a challenging bike (2-3 hours) and an interval run session, sometimes a swim.
Wednesdays are dialed back, often a 4-5km swim and a recovery ride.
Thursday is another hard day, often hitting a focused bike and run workout, maybe hill intervals on the bike and longer running tempo efforts.
Fridays are light, a short 3km or so swim, recovery spin (or no bike at all) and maybe a short gym session.
Weekends I like to do the usual long bike (4-6 hours) and off bike run (30-45 minuntes) and just a long run on Sundays.
I write my own training plan and my husband (Derick, who coaches for Durata Training) oversees it and gives me small recommendations for tweaks.
In general, I stick to a few rules: 1) hard days hard, easy days easy; 2) quality over quantity; and 3) listen to my body–if that means a key training day becomes an off day because I am wiped out, then so be it.
Triathlete.com: Have you done any special training preparations for this race that are different from others?
Williamson: Not really, I ran the Houston Half Marathon at the end of January, so I have been doing a lot more cycling the past few weeks and really just trying to get back to the triathlon routine over the run focus I did for a few weeks in January.
Triathlete.com: What is on your calendar for 2011? What goals do you have for yourself this year on the racing circuit?
Williamson: I am planning on San Juan 70.3 in March, then California 70.3, Lonestar 70.3 and Ironman Texas in May. Beyond that, nothing is terribly set in stone; as we all know, a lot hinges on how an Ironman goes. Ideally I'll be able to secure a spot to Hawaii with those early season races and be able to do some more 70.3s this summer. I'd like to go to the 70.3 Worlds in Las Vegas as well, and I'm very excited to see that it has moved to a hillier course, which will make it a more "valid" World Championships.
Triathlete.com: Do you have anything touristy planned in Costa Rica?
Williamson: It's great that my husband Derick will be coming with me. He actually has a handful of athletes racing, so for him this is also a vacation/business trip. I want to get some use out of the bikini I ordered for Hawaii that arrived to me just after the trip. He wants me to learn to surf. I'd like to zipline. If there are any good local Costa Rican beers, I am sure we'll have to try those, too.
Triathlete.com: Anything else to add?
Williamson: Yes, please check out Jenny's Light (Jennyslight.org). If you have not heard of it, it is a non-profit that was started by fellow athlete Becky Lavelle, in honor of her sister Jenny and her baby Graham. Their mission is to improve and save lives by increasing awareness of all perinatal mood disorders including postpartum depression. Becky and this organization are doing very good things for these disorders that are more common and prevalent than I think most people realize.