Kahlefeldt Takes World Cup Opener In Mooloolaba
Brad Kahlefeldt led a gold-silver Australian finish at today's Mooloolaba ITU Triathlon World Cup.
Heading out the door? Read this article on the new Outside+ app available now on iOS devices for members! Download the app.
Brad Kahlefeldt led a gold-silver Australian finish at today's Mooloolaba ITU Triathlon World Cup. Teammate Brendan Sexton overcame a 15-second penalty and out-sprinted France's David Hauss for second place as both men made the World Cup podium for the first time in their careers.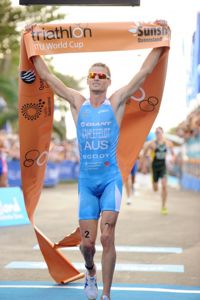 "You have to enjoy these days because it might be a long time between drinks on this circuit because it is quite strong," said Kahlefeldt at the finish area. "Certainly I had a bit of a look back with one kilometer to go, then 500 meters to go, then with 100 to go I took a quick glance behind and could certainly enjoy it a bit."
Today's win was Kahlelfeldt's third in Mooloolaba and the seventh World Cup title of his career. He ties Courtney Atkinson, Greg Welch and Simon Lessing for sixth most all-time.
A full field of 75 men sprinted into the choppy water of the Pacific Ocean for a tough one-lap 1.5km swim. Denmark's Jens Toft led the field out of the water, followed closely by a flurry of other men including the major players including Javier Gomez, Atkinson and Kahlefeldt.
Once onto the 40km bike course, most of the field came together. On the third of seven laps, Frenchmen Laurent Vidal and Aurelien Raphael broke away and built a 20-second lead but couldn't sustain it for very long. Then about 65 men were riding within 15 seconds of each other.
With two laps to go, Toft, Stuart Hayes and Attila Fecskovics made a strong push and created a 39-second gap over the rest of the field. The trio held that lead going into the second transition and were the first to hit the 10km run course. The main group that still contained Gomez, Kahlefeldt, Atkinson, Ruedi Wild, and Hauss was more than a minute down.
Hayes surged to the lead early in the run but was reeled in by the midway point by the stronger runners. At the bell lap, Kahlefeldt and Hauss were leading by about seven seconds with Atkinson, Gomez, Wild and Sexton trailing. But down the final finish chute, Kahlefeldt kicked into another gear and powered to the line at 1 hour 51 minutes and 53 seconds, leaving Sexton and Hauss to battle for second. Sexton passed Hauss for second in the final meters for his best career World Cup finish.
"A podium in my home country with my family here to see, I can't ask for anything more," said Sexton after the race.
Gomez came across in fifth place while Atkinson finished sixth and Hayes faded to eighth.
Mooloolaba ITU Triathlon World Cup – Men's Race
March 26, 2011 – Mooloolaba, Queensland, Australia
1.5km swim, 40km bike, 10km run
1. Brad Kahlefeldt (AUS) 1:51:52
2. Brendan Sexton (AUS) 1:51:55
3. David Hauss (FRA) 1:51:55
4. Ruedi Wild (SUI) 1:52:07
5. Javier Gomez (ESP) 1:52:16
Race report provided by ITU. Click here for complete results.