Race Through Time: Why This Guatemala Triathlon Should Be on Your Race Radar
For long-course racers seeking adventure, history, and mystery, head south to the Gran Jaguar half iron-distance triathlon in Tikal—a Mayan UNESCO World Heritage site in Guatemala.
Heading out the door? Read this article on the new Outside+ app available now on iOS devices for members! Download the app.
For long-course racers seeking adventure, history, and mystery, head south to the Gran Jaguar half iron-distance triathlon in Tikal—a Mayan UNESCO World Heritage site in Guatemala.
"Hey kids, remember that all-inclusive swim-up bar we went to when you were nine years old on our tri family vacation?" said no parent ever. With races popping up in all corners of the globe—and destinations ranging from the mundane to the über-luxurious, there exists a long-course event that takes racers in a memorable passage backwards through time and history.
The home of the Gran Jaguar long-course triathlon is located near the small town of Flores in a rural section of north Guatemala—surrounded on three sides by Belize and Mexico. Relatively remote by land, this area on the edge of a massive reserve is not only the home to the birthplace of Mayan civilization in Tikal, but it also serves as the eventual last stand of the Mayan civilization on the small lake island of Flores. Here, triathletes get the unique opportunity to race from the fall of the Mayans around Flores island back to the genesis of their civilization amongst the ruins of Tikal.
Mayan Civilization 101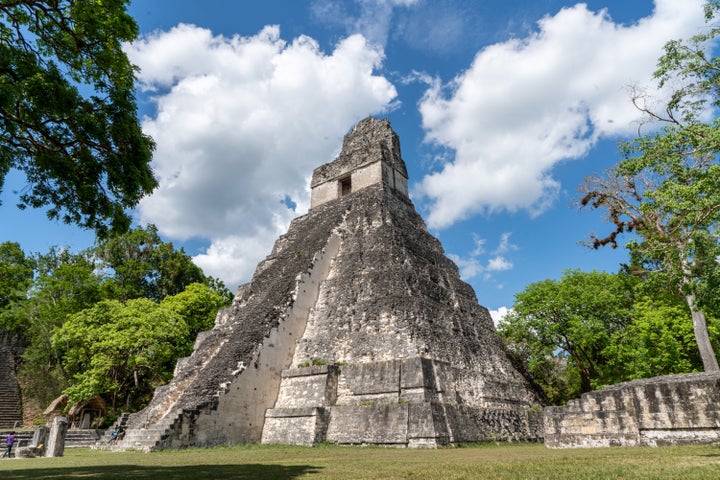 First, a lightning-round history lesson for those who tuned out during their elementary school's Mayan civilization unit: Largely scattered and agricultural through the early period of the Mayan people, actual complex cities began to appear around 700-800 BC. An example of this type of structure can be seen in Tikal at the "Mundo Perdido" or "Lost World" pyramid. From there, the Mayan world grew rapidly, and the height of the estimated 10,000 to 90,000 inhabitants in Tikal occurred around 700-800 AD. One of the largest and most advanced of the discovered Mayan cities, the area around Tikal is home to roughly 3,000 structures—many of which are still waiting to be uncovered.
No one knows exactly why the Mayan civilization faced such a sharp decline in the ninth century—theories include massive deforestation, political instability, disease, overpopulation, and more. This is to say, the jungle essentially ate the once-great Mayan civilization whole, until it was rediscovered in the mid-19th century. Since then, only a small fraction of the structures that used to cover a once-deforested region near Tikal have been cleared and reconstructed—some tower over 230 feet into the sky. This leaves triathletes with even a moderate interest in history, a keen sense of adventure, or an active imagination a unique opportunity to race inside the mysterious site.
The Race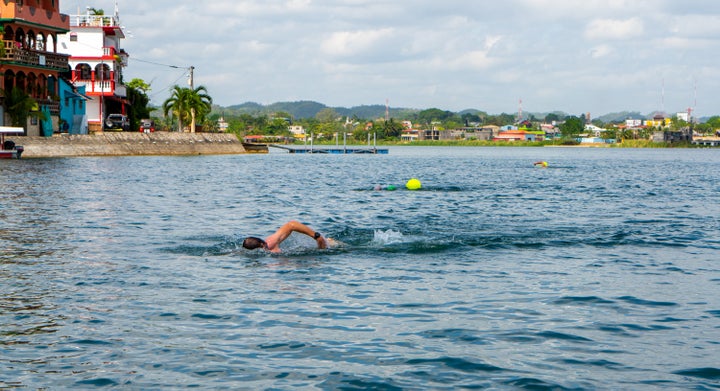 The race, set for Nov. 23, itself begins with a 1.2-mile swim around this final bastion of the Mayan people in Flores—before the Spanish ostensibly conquered the Mayans and relegated them to the outskirts of Latin American life in the late 17th century. The clear, comfortably warm waters of Lake Petén Itzá feature a large loop around the small city with views of colorful buildings that host local restaurants and shops.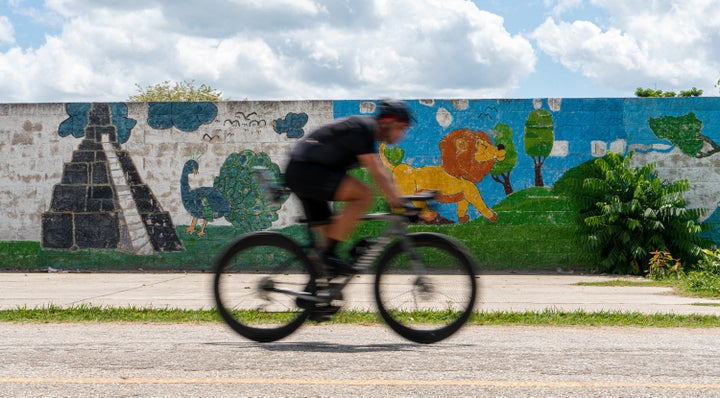 From there, the rolling bike course winds its way through a showcase of the current culture of rural northern Guatemalan life. Riders fly past striking local churches painted in immaculately bold colors, murals created by area schoolchildren, and graveyards with roofed above-ground tombs in unique colors signifying the characteristics and hopes of the deceased. On surprisingly excellent and quiet roads, race participants spend 56 miles (and roughly 1,800 feet of climbing) passing through tiny roadside towns.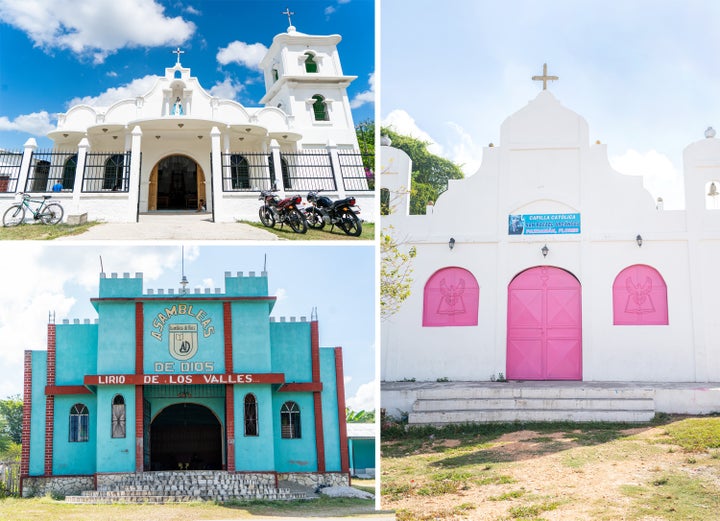 After about 35 miles of rollings hills, with a small out-and-back that turns around at a giant ceiba tree—the national tree of Guatemala—athletes begin a climb that gains 700 feet in approximately three miles as they soon approach the gateway to the birthplace of the ancient Mayan civilization. Passing through the archway to Tikal—an UNESCO World Heritage site—triathletes are instantly transported from modern-day Guatemala to a canopied preserve with one of the largest excavated pre-Columbian Mayan centers in the world.
After exiting T2, runners do a nine-mile out and back on the road to Tikal before finally settling into the crown jewel of the entire course—a four mile loop within the temple sites themselves. Winding through smooth, hard trails that are almost entirely shaded from the sun—with temperatures generally in the mid-60s to mid-80s in November—organizers have arranged event photographers at key spots along the run course to capture the unique final leg.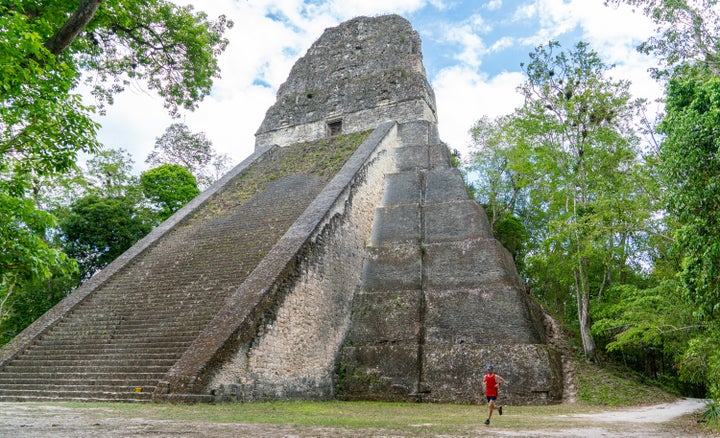 Triathletes finish in the shadow of the most recently restored temple on the site, Temple V, and then get free range of the park to rest, recover, and closely explore the many structures with friends and family. If the whole experience sounds too good to be true, remember that the race maxes out entry at 500 participants—due to the sensitive nature of the course. In fact, race organizers say they don't want 2,000 racers, but that a quarter of that would best preserve the intimate and adventurous spirit of the event.
Get There
Though a trip to Guatemala may not feel familiar to many North Americans, direct flights from Los Angeles (five hours) and Miami (under three hours) to Guatemala City are much quicker and more available than one would expect. From Guatemala City, expect a full physical transfer with luggage to a one-hour flight to Flores (we don't recommend the 10-hour drive). The below lodging options are all within five to 30 minutes from the Flores airport.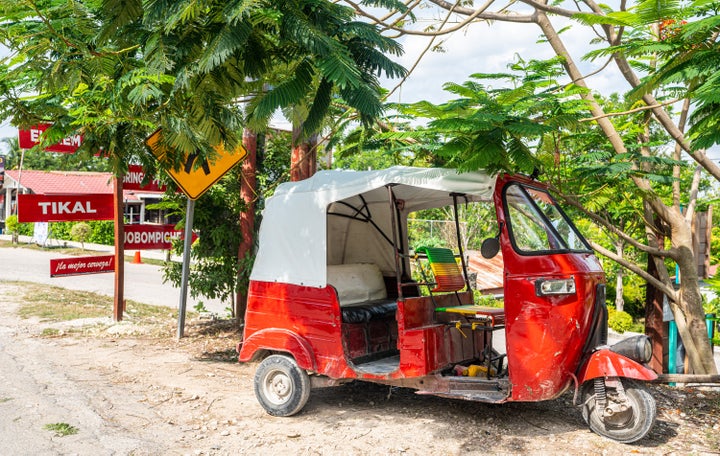 Triathletes should strongly consider an all-inclusive option that not only saves time and hassle with transferring planes, luggage, and gear, but also ends up costing the same as if planned piecemeal. Race organizers are offering packages—arranged by triathletes for triathletes—that will make the trip effortless from local check-in to arrival at the hotel in Flores.
While You're In Flores
Stay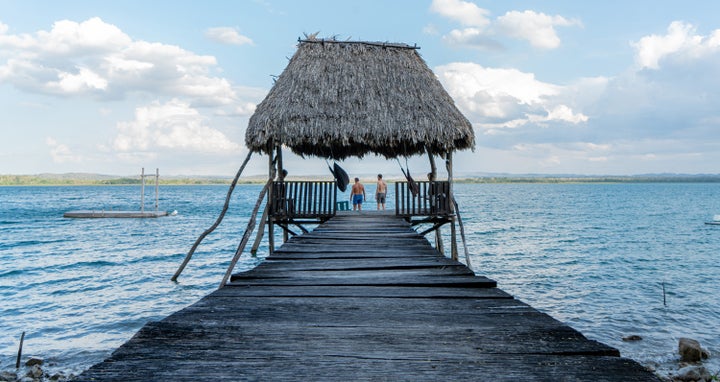 Gringo Perdido
Located roughly halfway between T1 and T2, this central triathlete-focused location is a unique Guatemalan gem. Featuring rooms that range from open-air group experiences perched right on Lake Petén Itzá to smaller open-air bungalows dotting the shoreline to more luxurious accommodations with air conditioning, private jacuzzis, and more. Gringo Perdido is eco-tourism at its best and most varied.
Pro Tip: Miles of nearby trails, gorgeous, calm and crystal clear water access, and miles of quiet roads make pre-race training (or a separate training camp) ideal at this spot. The Gringo Perdido's owner, Eduardo "Chiqui" Cofiño (a five-time Kona qualifier and Guatemalan celebrity of sorts), and his son, Estuardo Cofiño are both triathletes, so expect expert local multisport advice.
Insider Info: For an off-the-menu treat, order the Santa Maria tea, a hot beverage brewed with leaves picked right off the plants near where you can enjoy a lakefront meal; on-site homemade bread, cookies, and cheese made just miles away are also on the menu.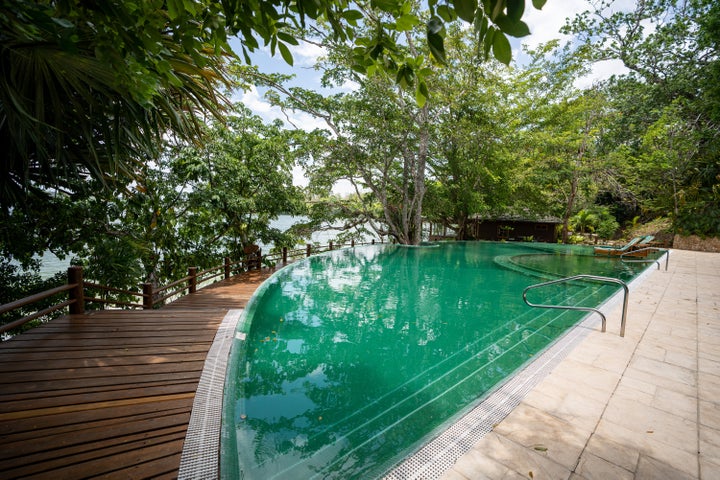 Las Lagunas
Located closer to race start and T1, Las Lagunas is more of a luxury experience with huge, extremely private rooms literally perched above the waters of Lake Petén Itzá. Here, guests should expect to be greeted by a warm English-speaking staff upon arrival with an iced hibiscus drink and treated like royalty from day one. High-end amenities like in-room hot tubs, an infinity pool, gated road access, and a panoramic picture window at the impressive on-site restaurant truly has everything a triathlete would need and more.
Pro tip: The Las Lagunas Spa has full-service spa facilities with massage, sauna, steam room, plus more for post-race recovery. The resort's restaurant is also one of the best in the area—try their smoothies for breakfast, espresso anytime, and steak for dinner.
Insider info: Post-race (or whenever you deem fit), order a small tumbler of Zacapa 23 rum—a dark, after-dinner-style rum that has been prized in Guatemala for years, but has recently become an international high-water mark for rum lovers. Order it neat, and expect a light-bodied cognac flavor.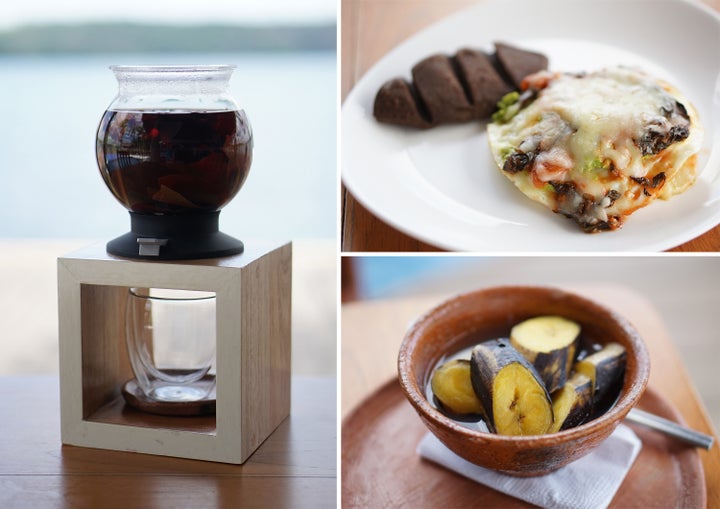 Hotel Maya International – Located a few hundred feet away from race start—and right at T1—the location for the Hotel Maya can't be beat. Guests can jump off the dock into the clear, warm waters for a pre-race swim, safely ride on nearby roads, and run in the nearby town of Flores. Rooms are on the mid-to-luxurious end of the spectrum.
Pro tip: Expect to find one of the best breakfasts in the area, where guests can dine right on a dock on the lake with delicious local favorites like the Ranchero Maya alongside a staggering breakfast beverage menu.
Insider info: Try the mind-boggling blended juices, one of the many coffee offerings—with countless brewing options performed at a cart next to your table—and their unique artisanal teas, like a hibiscus-brewed concoction steeped in a glass dripper as you eat.
See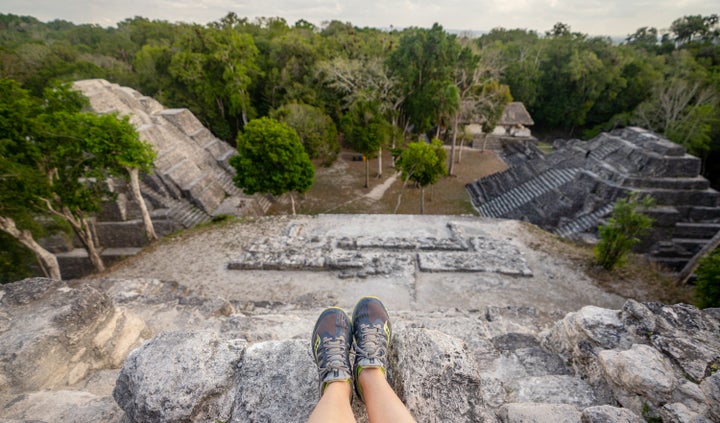 Yaxhá
While Tikal is the most obvious draw for the area, the lesser-known Mayan site Yaxhá actually serves as a more private tour of Mayan temples and pyramids as they are being uncovered. About an hour and a half from Flores, the final bumpy six miles up to the site reveal a park with far fewer patrons that truly helps visitors better visualize the Mayans as they might have existed over a thousand years ago.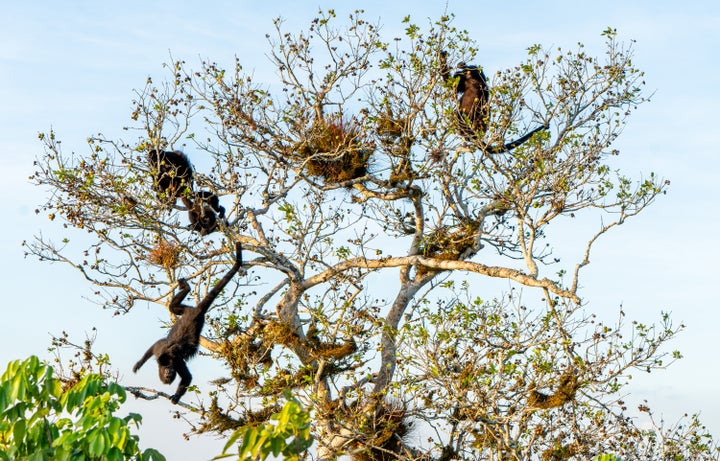 Pro tip: Yaxhá provides visitors with more options to climb the pyramids and temples, and fewer people means more up-close interactions with local wildlife like spider monkeys and howler monkeys that fill the air with a Jurassic Park-like roar.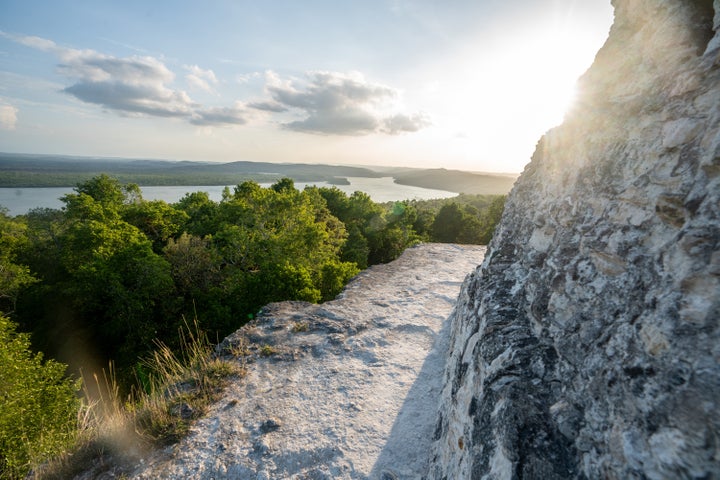 Insider info: Head to Yaxhá in the early afternoon, and time the end of your visit by climbing Temple 216 for a gorgeous sunset above Lake Yaxhá. Trying to view the same spectacular scene at a site like Tikal might bring lots of company, but the privacy of Yaxhá means you'll have only a few fellow sun worshippers.