Andy Potts, Rebeccah Wassner Take Philly Triathlon
Americans Andy Potts and Rebeccah Wassner took the titles today in the seventh running of the Philadelphia Insurance Triathlon.
Heading out the door? Read this article on the new Outside+ app available now on iOS devices for members! Download the app.
Americans Andy Potts and Rebeccah Wassner took the titles today in the seventh running of the Philadelphia Insurance Triathlon.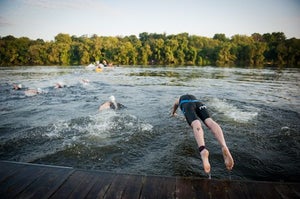 The race took place in practically perfect racing conditions in beautiful Fairmount Park. Potts, who is originally from Hershey, Penn., and grew up in Princeton, N.J. (about a 30-minute drive from Philadelphia), raced in front of family and friends, since this was the closest to his hometown he's ever raced. "I couldn't be happier to just put on an awesome show for friends and family and fans of triathlon," Potts said. He solidified his lead in the Toyota Cup standings, with his first-place finish at the Cap Tex Tri and second-place finish in South Beach. Rebeccah Wassner edged out Alicia Kaye in the run to take her fourth title here in Philadelphia.
The swim was a 1500-meter, point-to-point downstream swim in the Schulkyll River, and Andy Potts was first out of the water, winning the swim preme. About five seconds back was Cameron Dye, and about 30 seconds behind was a large group that included Matty Reed, Stephen Hackett, Greg Bennett, Andrew Starykowicz, Andrew Yoder and Holden Comeau.
On the bike Potts and Dye battled closely, and at the end of the first of two loops, Dye was just seconds ahead of Potts. The two had grown the gap on the chase group to more than a minute. Despite having a small mechanical on the second lap of the bike, Dye entered T2 about 11 seconds before Potts, with the chase group of Bennett, Reed and Yoder about 1:30 behind.
At the two-mile point in the run, Dye was still holding onto the lead, with Potts just a few yards behind him, and Bennett and Reed gaining to just 45 seconds back. By the four-mile point of the 10K run, Potts had taken the lead and started pulling ahead, while Reed and Bennett started closing in on Dye. Potts held onto his lead for a win in 1:46:05, a new course record, and Reed out-sprinted Bennett in the final 400 yards for second place. Dye held on to finish in fourth. After the race, Potts' first time racing in Philadelphia, Potts had been impressed with the course setup. "I'm surprised it's not written about more because it's such a good course," he said. "Four lanes—it was a completely closed course, so we didn't compete with pedestrians, recreational people, cars, nothing."
Since the pro men and women all started together, McLarty had no problem staying with the pro men. She was just was with Matty Reed and fourth overall out of the water, giving her a 1:45 lead over Amanda Stevens, who was second out of the water. Rebeccah Wassner and Alicia Kaye were both more than two minutes behind McLarty starting the bike.
By the halfway point on the 40K bike, McLarty still had the lead, but Rebeccah Wassner was less than a minute behind her, with Kaye, Laurel Wassner, Stevens and Lindsey Jerdonek not far behind. By T2, Rebeccah Wassner and Kaye had caught but not dropped McLarty, and all three women entered T2 together. After the race, Kaye commented on the race course: "The nice thing about Philly is so many of our bike courses are sort of out and back, flat, and it's nice because it's technical and it's hilly. … That's why the Wassners did so well—they're such great hill-climbers."
At mile two of the run, Kaye led Rebeccah Wassner by a few seconds, and the duo had pulled away from McLarty. Jerdonek was only a minute down on the leading pair. Rebeccah Wassner took the lead by mile three, and her sister Laurel was starting to gain on them. "I've been injured all season," Rebeccah said, "so even a mile into the run, I wasn't sure if I could do it. I think my will took over. … I was running with Alicia, and I pulled ahead, and then I just set the pace a little slower because I wasn't really sure what I could do. I didn't know I could run three miles, let alone six." Rebeccah Wassner took the win in 1:59:36, 30 seconds ahead of Kaye, who's fresh off her win over both Wassners at the DC Triathlon last weekend. Laurel Wassner finished in third, just 11 seconds behind Kaye.
Philadelphia Insurance Triathlon
June 26, 2011 – Philadelphia
1.5K swim, 40K bike, 10K run
Men
1. Andy Potts (USA) 1:46:05
2. Matty Reed (USA) 1:46:47
3. Greg Bennett (USA) 1:48:48
4. Cameron Dye (USA) 1:48:23
Women
1. Rebeccah Wassner (USA) 1:59:36
2. Alicia Kaye (USA) 2:00:06
3. Laurel Wassner (USA) 2:00:17
4. Nicole Kelleher (USA) 2:01:59
(Times listed are unofficial.)