Project Podium: Can The Men's U.S. Triathlon Team Be Turned Around?
Parker Spencer is a young coach with a huge job: helming USAT's ambitious plan to get the U.S. men's team racing back on track.
Heading out the door? Read this article on the new Outside+ app available now on iOS devices for members! Download the app.
When John Farra arrived at his new job at the high performance general manager for USA Triathlon, he sat down to a desk full of resumés. It was 2018, and Rocky Harris, USAT's new CEO, wanted Farra to work on a project to develop male triathlon talent in the U.S. This was the beginning of Project Podium.
Harris was proud of the robust talent on the women's side of things: Gwen Jorgensen had just won gold; Katie Zaferes and Kristen Kasper were third and fourth respectively in the ITU rankings. "We've had much greater success for whatever reason with the women, and we can speculate all day about why that is," Farra says.
The next generation of female athletes looked promising too. Now that triathlon is an NCAA sport for women, there's a whole set of 18-22 year olds nipping at Zaferes and Kasper's heels.
American men, however, don't have that.
While male junior racers have been setting blazing times in high school, they're leaking out of the development pipeline during their college years, says Farra. Most talented athletes are snapped up by NCAA track programs, which grant them free or cheap tuition in exchange for running fast and turning left.
Upon graduation, re-entering the sport is hard. "You miss those four years, and maybe they're not as important physiologically, but you miss out on those racing experiences and skills," says Tony Smoragiewicz. He would know: He ran for the University of Michigan intending to do some tris on the side. "It was too much," he says, of balancing his coursework, life on the track team, and extracurricular workouts. Four years later, he's trying to make up for lost time.
Harris hashed out a plan to patch the pipeline. The result is Project Podium, an intensive development squad based at Arizona State University. The men selected for Project Podium get free or low-priced tuition to the school, but they're not actually on a collegiate team. That means they can race internationally or take lighter course loads if needed.
The deal with ASU was this: The team would have use of the school's athletic facilities, but USAT would pay the guys' coaching, housing, and travel fees. Harris got the deal signed. But then he needed Farra to take on the next step: Hiring the coach, which is why, when Farra arrived at his first day in his new job, his desk was covered with applications.
Farra knew his colleagues had a lot of ideas on how a development coach ought to look. One faction would only appreciate a coach who had been an Olympic athlete themselves. Another would want him to select the most prominent coach his budget would allow.
He threw both these ideas out of the window. For one thing, Farra had his Olympic moment as a Nordic skier, and he didn't feel that it had made him any more competent as a coach. And most of the "big name" coaches are currently working with squads abroad. "This is a uniquely American concept. This is not a normal squad program we're trying to launch," he says, adding that, to keep with the made-in-America theme, he wanted an American coach. "I thought, let's see who the next coaches are out there in the pipeline who could evolve with this project."
There was one candidate who seemed especially promising. His name was Parker Spencer. He was young—just 28—but it was also clear that he had an ability to develop young talent. As the head coach of the Liberty University triathlon team, he'd taken athletes to the ITU World Championships several years in a row. He'd also worked his way up from a volunteer to the director of coaching operations at Endorphin Elite, a Virginia-based triathlon team.
Best of all: He was a U.S. coach through and through, which meshed with Farra's vision for this uniquely American program.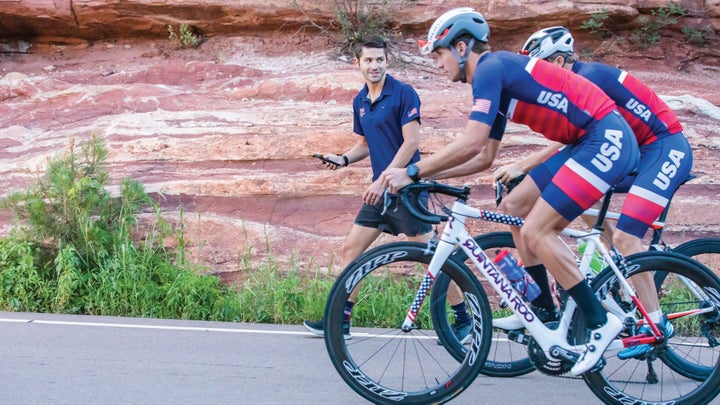 Start 'Em Young
There's a typical trajectory that most coaches follow. First they race. Then, when their bodies break down or just won't go as fast or they get sick of hovering at two percent body fat, they coach. Spencer, however, has taken his own path. He's a fast triathlete—he's competed in several ITU age group world championships. However, while Spencer was competing as a middle distance runner at Liberty University, he realized that he likely lacked the talent to be the best of the best.
Instead of chasing that uncatchable rabbit, he decided to help someone with a real chance at gold. "I realized that if I started coaching at 20 or 21, I could accomplish so much more than if coaching was a second career," he says.
He's accomplished a ton for a person under 30. (And he says his list for what he wants to do by 40 is even longer.)
This is not the first, but the second time Spencer has created what is in essence his dream job. That's a remarkable thing when you consider just how hard it can be to make a living in triathlon. When Liberty University hired him to build its program in 2015, the program was small enough that the school only needed him part time. But he had a vision of a much larger operation, with athletes chasing ITU points while attending school. A few years later, he'd built the program he'd envisioned, with athletes competing internationally. He was also heading up Liberty's cycling and swimming teams—and yes, now he was full time.
At ASU he's doing it again. The 2018–2019 school year was Project Podium's first full session. It was also Coach Spencer's inaugural season in such a high-profile program. It's been an adventure—and a learning experience—for everyone
There's a lot of pressure: The future of American men's Olympic racing rests on Spencer's shoulders. "We wanted to cause a change for 2024 or 2028, or really, 2020 if we're honest, because we're not very patient," Farra says. Parker feels the weight of the goal and the timeline. "I wish I could tell you I didn't feel the pressure, but hands down it is an incredible responsibility, and you have a lot of eyes on you. And the triathlon world has a lot of critics." Oh, and he knows folks talk about his age and question his experience—he's even heard the comments with his own ears. "I started coaching when I was 19, and 10 years later, I am still the 'young coach.' While it is something I am very aware of, I do my best not to let it bother me," he says. He thinks the results will do the talking for him.
Farra believes he made a perfect choice. "The daily training environment when you're coaching three sports is a cruel and inhumane coaching environment, in my opinion," Farra says. A big-shot coach might phone it in and send an associate to supervise the second session of the day. Spencer, however, has never inched at the quantity of the workouts he must both design and attend. Plus, "Parker came across as someone without an ego, and the best coaches I've ever worked with have started with that. They ask more questions than they have answers," Farra says.
Listening intently to your athletes is especially important when they're young: When the heavy training volume is new, their changing bodies sometimes betray them, and they're adjusting to life away from home. Here, Spencer's youth is an asset. He remembers this transitional period in his own life because it wasn't that long ago.
The team members like having a coach who didn't enter the sport before the advent of the wheel. "He can relate to us," says Austin Hindman, 20, who transferred from the University of Missouri to join the team last year. His teammate Tony Smoragiewicz adds that he likes that Spencer isn't old enough yet to adhere to the "because we've always done it like this" mindset. "I think some coaches get stuck in their ways or too used to what everyone else is doing," he says, adding, "I think he [Spencer] brings a different perspective."
Other coaches should take note: Austin Hindman and Luis Ortiz both just qualified for the world championships in Lausanne, Switzerland. And Tony Smoragiewicz has earned a spot at the Olympic test event, which is a step towards earning his place at the 2020 Games. He also won his first-ever ITU World Cup medal with a silver in Cape Town last February. And several of Project Podium's members are beginning to climb up the ITU series rankings—the highest is around 40th and, for perspective, the top 140 are an elite group eligible for the Olympics in 2020.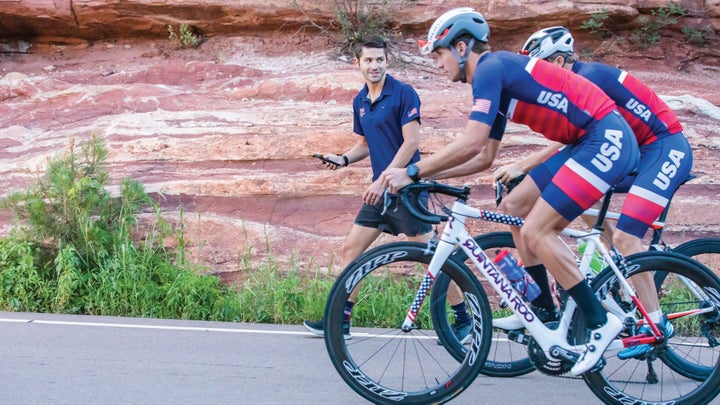 Travel Woes, Training Woes, and Everything In Between for Project Podium
Even with his fresh perspective, youthful energy, and some good results in his cap, it would be lying to say this whole first year of Project Podium has been a breeze.
First they had to select the team. Farra says that actually, it wasn't that hard. "We said, OK, who are the top junior men in this country, and the hard part wasn't identifying them. The hard part was convincing them to leave the programs they were in," he adds. Going forward, though, the selection process will be a much heavier lift. "The harder part now is really starting, because now you have all these young high school boys who are saying I want to go to Project Podium. I mean we're talking 100 emails he's getting regularly. It's a lot," Farra says.
Once they recruited this year's team and got them moved to Arizona, the guys started training together. That's when the first setback happened: During the team's very first week, a distracted driver hit three of the teammates, causing several broken bones. Spencer worried that it was an inauspicious start. However, "In an odd way it actually brought our team much closer," he says, adding, "It was not the ideal team bonding moment, but in reality that is exactly what it was."
Then there were the inevitable headaches that come from having seven guys—all of whom are technically competing against each other—living in one house. Things got a little dirty from time to time, says Spencer. Occasionally people got on each other's nerves. In the end, it was just a bit too much of a fishbowl, so Spencer is breaking things up this year. "We felt that while the athletes all get along well with each other, it is important for life balance as well as their recovery to have a little more separation," he says of the living situation for Project Podium, adding that he's on the hunt for a few apartments. Plus: No kitchen should ever have to take the abuse of seven dudes in their early 20s all cooking post-workout meals at the same time.
And, of course, any time you shuttle half a dozen guys and their gear across oceans in pursuit of ITU race points, there are going to be mishaps. There was a race that required a 15-hour flight where one team member was "puking his guts out," Spencer says. Then, of course, the rest of the team got the bug. Spencer tried his best to do right by them. "I found the medical delegate for the race right away, and he helped me through the entire process with each individual," he says.
He got the fluids and tried his best to get them ready to race. A few members raced well, but Spencer had to comfort a few others who just hadn't recovered. Two days after arriving back in the U.S., the bug took him down too.
There have been podium near-misses, and at tires, and other equipment mishaps. Spencer had to have a heart-to-heart with one of his team members after a string of bad races. That's always hard, but Farra has made it clear that there's an expectation of performance on this team. If someone isn't cutting it, Spencer will have to have those tough conversations.
Mostly though, this year has gone remarkably well—so well that Spencer has had to readjust his goals upward. "When I first took the job, my goal was to have a World Cup podium by year two, and then Tony did this in Cape Town," he says. Now he really wants to have an athlete with medal potential at the 2024 Games, though, "Tony has the opportunity to help us do that in 2020 and be four years early," he adds, a likely reference to the newly added mixed relay event.
"One year in, I could not be prouder of my athletes and everyone who has played a role in helping us accomplish what we have so far," Spencer says of Project Podium, adding, "We have a long way to go, but we are headed in a great direction."
Farra says that he has no regrets on which résumé he moved to the top of the stack back in early 2018. "Parker's had some challenges that I wouldn't wish on any first-time coach in this kind of high-performance environment, but I just feel like he's met the challenge and is not braggadocious." Even better, he says, "These guys are appreciative and making us proud."
And that's the best result that anyone at USAT could hope for.