Nice's Youngest Competitor is Proudly Following in His Father's Footsteps
18 year-old Nicholas Catullo's memories of his senior year in high school will include an unforgettable trip to race the Ironman World Championship with his father, Chris.
Photo: Courtesy of Nicholas Catullo
Heading out the door? Read this article on the new Outside+ app available now on iOS devices for members! Download the app.
All the familiar elements mark 18 year-old Nicholas Catullo's senior year of high school in McKinney, Texas: the final chapter of varsity sports, prom incoming quickly, weighing college choices for next year, and punishing swim-bike-run workouts to prepare for a World Championship course this fall in France.
If it feels like things departed from the typical senior year experience at the end of that list, that's just fine with Catullo. The young triathlete is not your typical 18-year-old, and he knows it. The calm, easy air he speaks with carries confidence beyond his years, and a palpable self-assuredness hangs around him.
Then again, perhaps any teenager would feel that self-assured after receiving a spot at the Ironman World Championships in Nice before even receiving a high school diploma.
Adding to the young man from Texas' confidence is his training partner – his father, Chris, who's finished 16 Ironman races himself, including last year's World Championship in Kona. The two will race together in Nice, where Nicholas will be the youngest athlete competing in the field of over 2,000 athletes.
This wasn't the original plan when they signed up to race Ironman Lake Placid together. The true goal for Nicholas was simply to race with Dad in a full Ironman. The pair went into the weekend wanting to experience every aspect of an Ironman event, soak everything in, cross the finish line, and hear those magic words together: "Nicholas Catullo, you are an Ironman."
"I told myself when I started my training that no matter how good the day is or how bad the day is, I'm going to walk during the last mile [to take it all in]," Nicholas says, displaying an emotional awareness beyond his years.
Nicholas did, in fact, pause for a moment at mile 25. Thoughts raced through his head – the long morning workouts, the sacrifices made, the doubters. The tears flowed momentarily as he thought about the past two years of training with his father. Then he got back to work, because he knew his Dad was waiting to greet him at the finish line. Nicholas Catullo became an Ironman alongside his father, his goal achieved.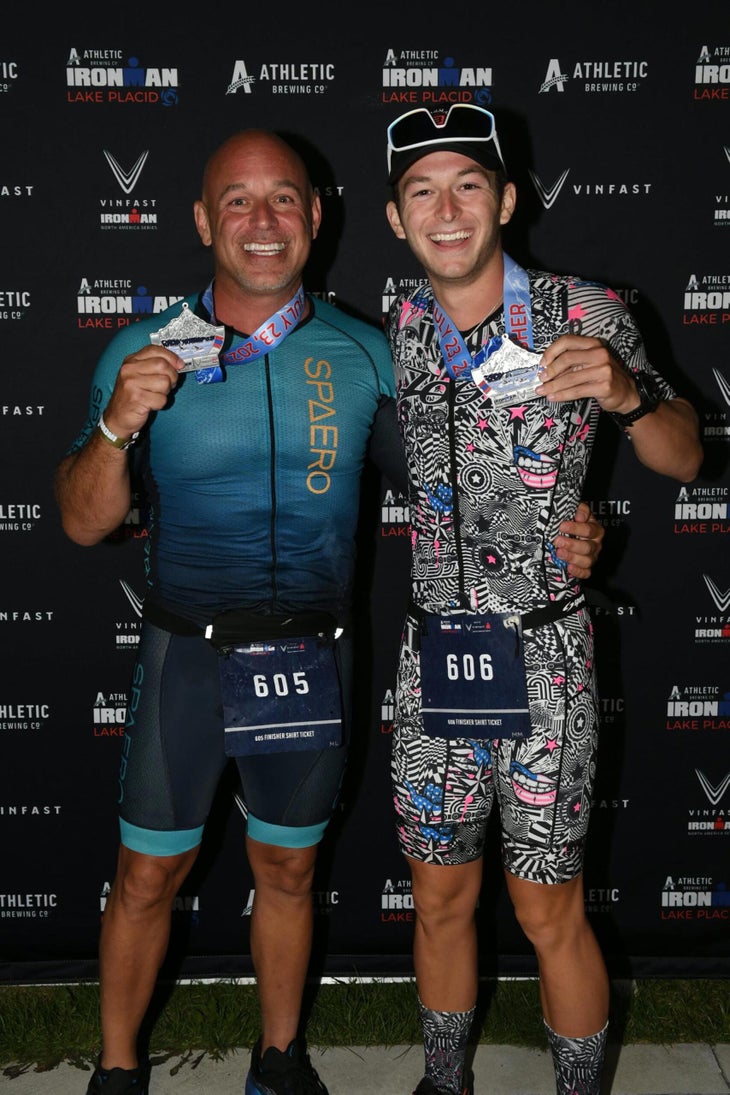 The next day, Nicholas and his father Chris attended the post-race awards banquet "just for the fun of it." Having already competed in an Ironman World Championship in Kona in 2022, the elder Catullo was quick to let folks know he intended to give up his qualifying spot in Nice and allow those further down the list the opportunity he'd enjoyed – that is, unless his son also qualified.
The banquet started, and within just a few moments, Nicholas heard his name. The athletes ahead of him had turned down their spots, and a chance to race in Nice was his. He looked at his dad and smiled. There was no hesitation. Father and son would be racing side by side again in just a few short months.
Nicholas is quick to admit that he never had aspirations further than completing an Ironman, nonetheless to qualify for or race at the World Championships.
"Ironman has always been the dream. It's always been my goal since I saw my Dad do it in 2011. I never thought I'd do it this early," he asserts. Adding in a World Championship slot, alongside the father who inspired him, is simply the cherry on top, and he is fully aware it's an opportunity he might not have again.
"I don't know if I'll ever be back to a World Championship," Nicholas says. "It's tough enough to qualify."
As he gears up for a race most 18-year-olds have never heard of, Nicholas balances all the stressors of being a high school senior and a member of the school's cross-country team with his triathlon training. Afternoon cross-country practices follow solo morning swims, getting permission from his multisport-minded head coach to skip a team run every once in a while in order to sneak in a long bike session after school. It's all a delicate act for Nicholas, but one he handles flawlessly.
His goals for Nice? "Keep a smile on my face, meet some cool people, and enjoy it with my Dad," he affirms. And of course, cross the finish line.
Just before he hits mile 25 at the Ironman World Championship in France as an 18-year-old high school senior, Nicholas once again plans to stop for a moment. He'll look around at the historic streets of Nice, the electric crowds, his fellow competitors. Maybe he'll catch a glimpse of his mother Shanon, the Catullo boys' biggest fan, in the crowd. He'll soak it all in.
Then he'll get back to work, cross the finish line, and hug his Dad – just like they planned.
Vive la France! Visit our Nice Central hub for news, analysis, history, photo galleries, and so much more – new stories added daily from our team on the ground at the men's 2023 Ironman World Championship.