Triathlete's Big Monthly News Digest: July 2023 Edition
Get caught up on the most-read and most-discussed stories of July 2023 in our Big Monthly Digest of triathlon news.
Photo: Gregory Shamus, Daniel Karmann, Eric Lagerstrom, Triathlete
Heading out the door? Read this article on the new Outside+ app available now on iOS devices for members! Download the app.
July was supposed to be a quieter month for triathlon news – a little bit of a hiatus from the dramatic first few months of the triathlon season before things really ramp up on the race calendar. That was definitely not the case. (Does it ever slow down in triathlon anymore? Perhaps that's why we like the sport so much.) From a retirement announcement from the biggest CEO in the sport to the amazing accomplishment of someone who decided 102 Ironmans weren't enough, July was one triathlon news hit after another. Let's recap.
Quick hit: July 2023 headlines
Ironman CEO Andrew Messick retires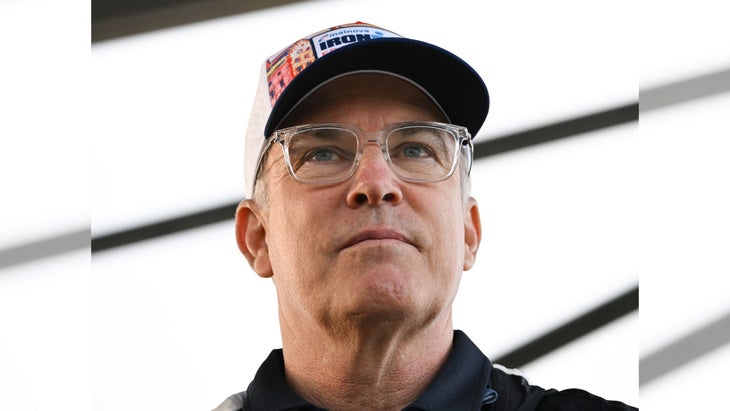 The biggest news of July: Andrew Messick, CEO of Ironman for 12 busy years, announced he will be retiring in the near future. To many, this came to many as no surprise, following a huge year of headlines for Ironman – arguably some of the biggest they've ever had, and not always in a good way. Clearly, the weight of the position was substantial, and the decision was partly due to Messick not feeling like he had the energy to steer the company for the next five years, as he told Triathlete in this surprisingly candid interview. Whether you love him or loathe him, there's no denying Messick made a lasting impact on the triathlon world, overseeing the organization to over doubling its participation numbers from 137,00 to 295,000 during his time there – much of that due to his focus on growing 70.3 races. Messick will remain with Ironman until a new CEO is found, and will continue being on the Ironman board after that.
Challenge Roth sells out in 40 seconds
Here's to hoping that you had a premium internet connection and that your credit card didn't ask to verify your purchase, because Challenge Roth – that mega race that has seen some of the fastest-ever iron-distance times – sold out in just 40 seconds. Posting the evidence on social media, Felix Walchshoefer, CEO of the Challenge Family, celebrated another incredible year of 3,500 individual and 650 relay team slots disappearing in the blink of an eye.
Why does this happen, you might ask? Well, the "triathlon party of the year" in the small, German town of Roth, tucked away in the Bavarian countryside attracts upwards of 300,000 spectators and gives its participants an experience they will never forget as they take part in the largest triathlon in the world.
Super League is back with a bang Blu
Back for its fifth and fastest year, the Super League Championship Series has announced a new additions to the athletes expected to race, and it's packing some serious star power. Kristian Blummenfelt, the man who's won almost everything in triathlon, will somehow squeeze Super League into his incredibly packed schedule. In August and September, Blummenfelt will race all of the biggest races on the circuit: both PTO tour races this fall, the Paris test event, the Ironman 70.3 World Championship, and now the Super League series. I'm not quite sure how this is possible, but if anyone could pull it off – it's Blummenfelt. The only thing missing from the list is the Ironman World Championship, and at this rate, it would surprise no one if he decided to jump in, just for fun.
First Super Sprint & Mixed Relay World Championship Hamburg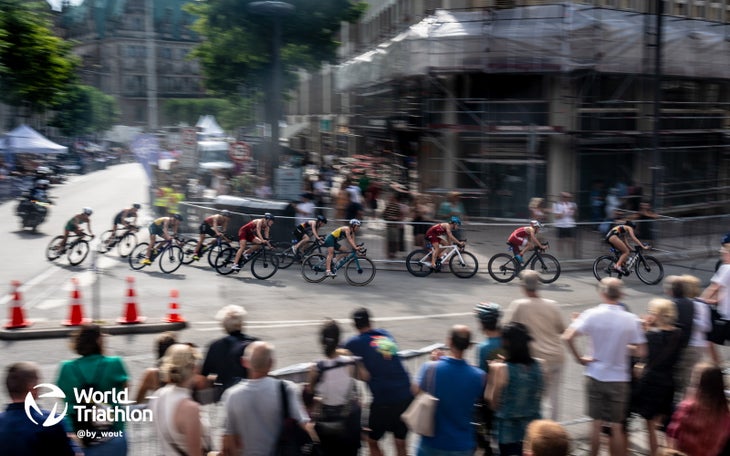 Perhaps learning from Super League's short-course successes, World Triathlon hosted its first-ever Super-Sprint World Championships, featuring fast and furious elimination-style racing where professionals battle round after round in hopes of competing for the title. The best professionals went to Hamburg for some Type II fun, along with 2,500 age-group athletes, all competing in the super-sprint and mixed relay events. According to many reports, the event was a huge success, and it looks like we'll be looking forward to many more of these events in the future years.
Paula Findlay and Eric Lagerstrom are engaged
Paula Findlay and Eric Lagerstrom, the triathlete pair with one of the biggest followings on instagram, have long been an "it" couple in the sport. So when the news came out that finally Eric made the move to his knee (I'm not sure if he did, I added that for flair), the crowd went wild. And by "crowd," I mean "followers – the pair racked up 23,000 likes and over 1,300 comments on their Instagram post announcing their engagement. Lagerstrom and Findlay have been together for quite some time and developed a large community behind their brand, That Triathlon Life, which includes a podcast, YouTube channel, and merch line – all while dominating the pro racing scene.
Lionel Sanders and Sam Long join forces
Two of the biggest rivals in the sport (maybe not to them, but to most of us watching) have figured out their differences and joined forces. Lionel Sanders and Sam Long have been relative neighbors for quite some time, both residing in the training hotspot of Tuscon, Ariz., yet they had never before shared a ride or run, which seems even more odd, considering how alike they are in terms of their bike-run ability. Long cited the reasons for this on his Instagram including the fact that both are self-coached and his personal need to beat Sanders.
It will be exciting to see if this new collaboration boosts their results in the second half of the season. They are both on the start list for the PTO U.S. Open on August 4th. With Sanders having just become a father this year and Long's first baby due any day now, it seems like they can both learn from and support each other in more ways than one.
Sean Conway does 105 iron-distance triathlons in 105 days
View this post on Instagram
Ever wanted to do a triathlon the day after you just completed one? Yeah, neither have I. But apparently, that's a thing for Sean Conway, who set out break the ridiculous record for most consecutive days of iron-distance racing, set at 101 by "Iron Cowboy" James Lawrence in 2021. Conway was looking for a way to garner attention for his charity, the True Venture Foundation, and he found it in an endless loop of 2.4 mile swims, 112-mile bike rides, and 26.2 mile runs. After completing 102 triathlons in 102 days to break Lawrence's record, he decided to keep going, completing three more to finish at a cool 105 days. In the process, Conway raised over 85,000 pounds for his foundation, which helps children and young athletes access opportunities through sport.
What many people might not know is that this was Conway's second time attempting the event. I'm sure he, his team, and his wife (who he thanked profusely for solo parenting their two children while he took on this stunt) will be glad he doesn't have to do this again.
Victoria backs out of hosting the 2026 Commonwealth Games
Victoria has backed out of hosting the Commonwealth Games in 2026. The Commonwealth Games Federation had apparently found it tough to find a host willing to take on the cost of hosting the event, until Victoria put up their hand in April of 2022. That was rescinded this month by the Premier of Victoria, Daniel Andrews, who cited exponentially rising costs: "I've made a lot of difficult calls, a lot of very difficult decisions in this job. This is not one of them," he said. Organizers had originally estimated the cost of hosting the games at around $2.6 billion, which then quickly turned into $6 billion.
Triathletes belonging to the Commonwealth nations see the event as an extremely prestigious honor, ranking just behind the Olympics. The event always generates a lot of attention for those athletes and brings plenty of new eyes to the sport. As of now, the event remains in limbo, and we'll have to wait and see if anyone steps in in time to save the competition.
Some good triathlon news: Triathlete reunites with man who saved his life at finish line
A heartwarming reunion and incredible story occurred at Ironman 70.3 Swansea when Nathan Ford, a 37-year-old triathlete, finished the race two years after a harrowing high-speed bike crash at the British National Championship triathlon almost ended his life.
Ford credits his life to Keir Greenhalg, a doctor who happened to be at the event and performed CPR on Nathan at the scene of the accident, which allowed him to survive long enough to make it to the hospital. Despite long odds of survival, then even longer odds of regaining the ability to walk and breathe, Ford was able to make a full recovery through measures such as a Halo neck brace, a tracheotomy, and intensive rehabilitation.
When Ford learned Greenhalg would be visiting his hometown to race 70.3 Swansea, Ford took on coaching his rescuer-turned-friend. And on race day, Ford was eagerly waiting at the finish line to give Greenhalg his medal. One can only imagine the weight of that moment shared by two remarkable men. Ford's life changed forever after the accident, he continues living life to the fullest inspiring thousands of triathletes with his remarkable mentality of perseverance.
Most-read Triathlete articles of July 2023
Travis Mundell is the founder of YouTube channel TheDailyTri and a self-proclaimed triathlon superfan. He is obsessed with covering professional triathlon in a comprehensive and engaging way.