Last Weekend Now: Stunners in St. George, Ibiza, and Oz
It was an action-packed weekend of racing around the globe. Columnist Brad Culp recaps the racing in St. George, Ibiza, and Port Macquarie.
Heading out the door? Read this article on the new Outside+ app available now on iOS devices for members! Download the app.
Last Weekend Now is your weekly commentary on what's happening in pro triathlon, brought to you by Brad Culp. (Ed note: So yell at him if you don't like the comments.)
There were big surprises at the most anticipated race of the year, with an unlikely victor for the men and an improbably dominant performance in the women's race. Those who didn't get the invite or weren't feeling up to racing in Ibiza had plenty of opportunity to exercise professionally this weekend, with racing all over Spain, as well as (where else?) St. George, Utah.
RELATED: The 2023 (Must-Watch) Pro Triathlon Calendar
Neumann pulls off Ibiza stunner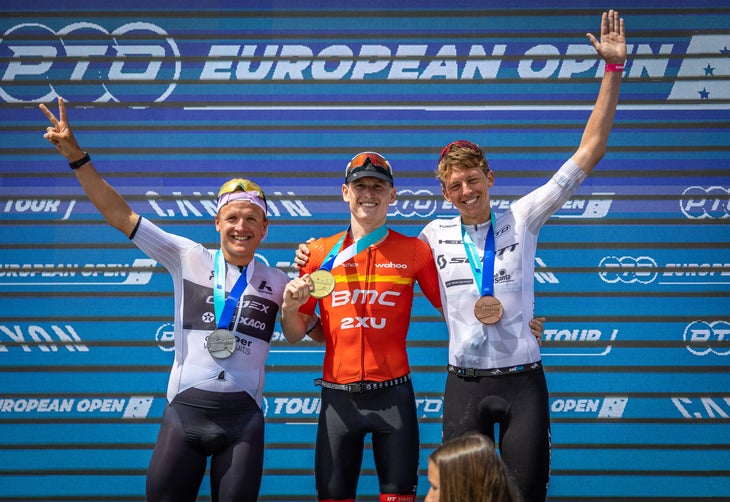 Absolutely no one picked Max Neumann to beat a field that included the owners of the last four Olympic triathlon gold medals, but perhaps we should've been paying more attention. He finished just one spot and 81 seconds behind Kristian Blummenfelt in Kona last year. A few weeks later, he won Ironman Western Australia by five minutes. Five weeks ago, he won the Hell of the West Triathlon by eight minutes after running 1:06:49 for an allegedly accurate 13.1 miles.
His "unscientific" training—as he referred to it in a post-race interview—is clearly working, and he and his coach/brother have proven that the fourth-place finish in Kona last year was a lot more than one really good day, and he's no one-distance pony.
In a victory for swimmers everywhere, the swim was actually the difference in his win, with the 49 seconds Neumann had on Blummenfelt out of the water ultimately being the difference in holding him off at the end. The two had even splits on the bike, which made the run 18 kilometers of wondering if the Norwegian Olympic champion could catch the upstart Australian, and that made for pretty good coverage.
In the end, Blummenfelt came up 27 seconds short and Neumann came away with $100 grand and the biggest win of his career. Magnus Ditlev was the only man who rode faster than Neumann and Blummenfelt and it earned him third—one spot ahead of Jan Frodeno, who finished a race for the first time in 681 days.
It's the first time Frodeno has finished a race in a position other than first since walking to a 35th place finish in Kona way back in 2017. From 2018 through 2021, Frodo raced 13 times and won 13 times. If Blummenfelt wants to take away the title of Greatest of All Time, he still has his work cut out for him.
Alistair Brownlee, the only other man with a claim to the title of GOAT, finished sixth after leading early. American Jason West finished one spot better than Brownlee, in fifth, after turning in by far the fastest run of the day.
Haug in a league of her own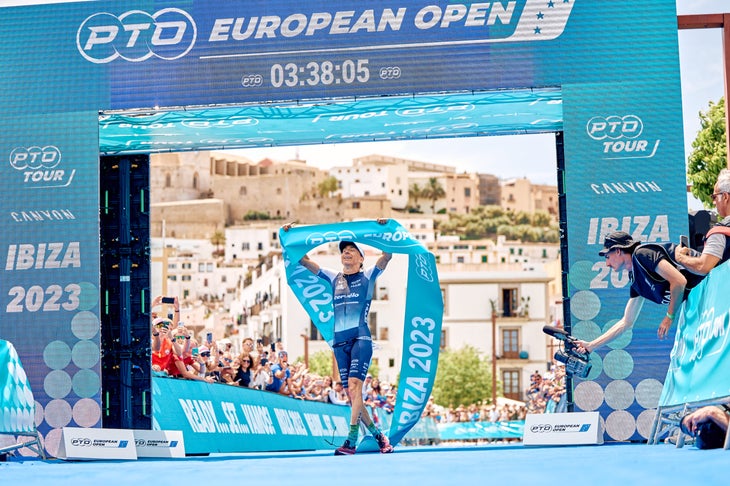 At 40 years young, Anne Haug is still getting faster and is poised to have the best year of her career. She's now three-for-three in 2023, with all three wins coming on different Spanish islands. (It's a nice job if you can get it.) Her run was three minutes faster than Ashleigh Gentle, who finished two-and-a-half minutes back in second. Gentle entered the weekend #1 in the PTO World Rankings—with Haug all the way back in fifth—but expect that to change when the rankings update later today.
Lucy Charles-Barclay finished third in her first race since last October, when she finished runner-up in Hawaii and fourth at 70.3 Worlds. The top American in the 30-woman field was Jocelyn McCauley in 18th, with reigning Kona winner Chelsea Sodaro dropping out after the swim.
RELATED: New 2023 PTO Rankings Revealed & Dissected
French take World Triathlon long distance titles 
From injury despair to the top of the world – Peerless display from Marjolaine Pierre delivers Long Distance world title in Ibiza on Sunday to close out #MultisportWCh2023 https://t.co/jXRqJh5hr0

— World Triathlon (@worldtriathlon) May 7, 2023
For those who didn't get an invite to the PTO race on Saturday, or those looking for something quite a bit longer, World Triathlon hosted its Long Distance Championship on Sunday in Ibiza, with athletes taking on a 3K swim, 116K bike, and 30K run. Frenchwoman Marjolaine Pierre just missed out on the PTO race with her #33 ranking, but she'll have an invite to the U.S. Open in August thanks to her second win in her last two races and her first world title.
Once again the swim was a big difference maker, with Pierre swimming more than four minutes better than the two women joining her on the podium after six hours of racing. Sweden's Sara Svensk was second and more than eight minutes behind Pierre, with Spain's Gurutze Frades Larralde in third.
Prime Mignon overcomes crash in transition to produce sparkling Long Distance world title in Ibiza #MultisportWCH2023 https://t.co/h3XMg424xX

— World Triathlon (@worldtriathlon) May 7, 2023
Pierre's partner, Clement Mignon, opted for the long-distance race even though he entered the weekend #23 in the PTO rankings. He made the right choice: Mignon took a lead of nearly two minutes onto the run and held off a relentless charge from Spain's Antonio Benito Lopez, who ended the day 32 seconds behind for second. It's by far the biggest win of Mignon's career, who finished ninth in Kona last year and 10th at 70.3 Worlds.
Long and Metzler win 70.3 St. George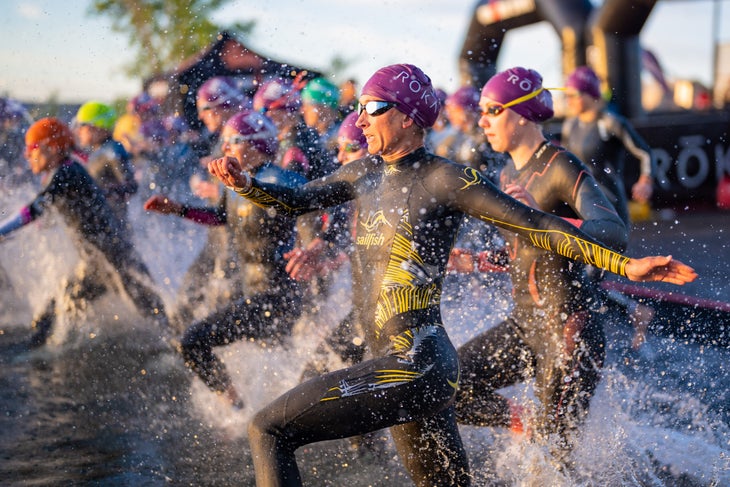 I think if Ironman asked St. George to host a race every other weekend, they'd do it. Last weekend's race was of the 70.3 variety, and it was redemption for Sam Long, who finished 22nd the last time there was a 70.3 in St. George. Long notched the first win of his 2023 season, and his first ever win in St. George—a place he's raced six times in his career. All Long needed to do it was for the rest of the men ranked ahead of him to be racing 5,000 miles away.
In all seriousness, given that a world-class field was racing a world away, there was still an impressive lineup in St. George—including four men who were ranked inside the PTO top 30 and could've raced in Ibiza. The surprise came from PTO #44 Trevor Foley, who actually managed to outride and outrun Long en route to finishing second. In words I never thought I'd write: Sam Long's swim proved to be the decisive factor in his victory.
Foley swam nearly two-and-a-half minutes slower than Long, who swam two-and-a-half minutes slower than the leaders. But Foley clawed his way back to take second in what is certainly the best result of his two-year pro career. Canadian Jackson Laundry was one of the four who turned down an Ibiza slot and finished third.
Jeanni Metzler won her first 70.3 since 2019 and kept with the weekend theme of winning a race in the water. Even the best ride of the day from eventual runner-up Skye Moench and the best run of the day from third-place finisher Danielle Lewis wasn't enough to reel back Metzler's advantage out of Sand Hollow Reservoir. Metzler was visibly emotional after the win, which she took in her first race back after taking a hiatus to focus on her mental health.
An emotional and well deserved finish for our Women's Champion, Jeanni Metzler ♥️👏🏼💯#IM703StGeorge #IRONMANtri #AnythingIsPossible pic.twitter.com/YlN8MVwdxB

— IRONMAN Triathlon (@IRONMANtri) May 6, 2023
Missed the action in St. George? Outside+ Members can replay the action on demand with Outside Watch. Become a member today!
Simpson and McKenna win IM OZ
Steve McKenna topped a mostly Aussie field in Port Macquarie, finishing just 46 seconds ahead of Tim Van Berkel. And guess what? The swim was the difference yet again, with the nearly three minutes McKenna had out of the water proving critical to his victory. His 2:45:15 marathon—the fastest of the day by more than a minute—didn't hurt either. Sam Appleton finished third, just 1:44 behind Van Berkel.
Kylie Simpson scored her first Ironman win since winning Cairns and Western Australia in 2021. She did not get the memo that the swim was supposed to matter this weekend. Her 1:06:16 swim was the slowest of the seven-women pro field, and was so bad that now she's going to Trevor Foley for swimming advice. But she posted the best ride of the day by nearly 20 minutes, going from last place to a four-minute lead in T2. From there, a 3:14 marathon put her more than eight minutes ahead of second-place finisher Radka Kahlefeldt. Ireland's Fiona Moriarty finished in third place.
RELATED: Outside Watch Announces 2023 Ironman 70.3 Livestream Schedule