Last Weekend Now: Challenge Wanaka and Oceania Cup, SLT Purchases Chicago and New York Tri, USAT for Kids, and PTO Heads to Ibiza
Jan Frodeno is back - and we might finally see him toe the line against the Norwegians.
Heading out the door? Read this article on the new Outside+ app available now on iOS devices for members! Download the app.
Last Weekend Now is your weekly commentary on what's happening in triathlon, brought to you by Brad Culp. (Ed note: So yell at him if you don't like the comments.)
Long-course legend Sebastian Kienle kicked off his retirement tour at what I'm constantly told is one of the greatest venues in the sport in Wanaka, New Zealand, which also hosted a World Triathlon Continental Cup last weekend. There were also a couple of seemingly small announcements that could have big implications for the future of professional racing in the United States. And we finally found out where we might see the race of the year for pro men.
Moody, Thek run away in Wanaka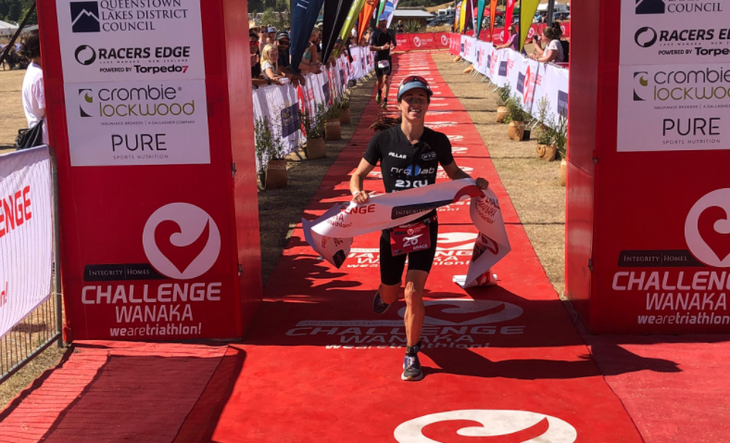 Some of the strongest cyclists from New Zealand and Australia were in the mix, along with one of the OG überbikers in Kienle, but it was Kiwi Jack Moody who stole the show on two feet, running six minutes faster than his closest competition. His 1:18:32 split may not look like much on paper, but on an undulating course with a lot of off-road sections, it was good enough to move him past the four men ahead at T2. That included countryman Mike Phillips, who turned in the best ride of the day to finish two minutes behind in second. Kienle moved from eighth out of the water to third at T2 and remained there on the run to grab a podium spot in this bucket-list race for him.
Aussie Grace Thek was one of the many to see her PTO world ranking get a significant boost from the revamped algorithm, and the new world #34 came through with the biggest win of her career. Thek found herself neck-and-neck with Dutchwoman Els Visser and Kiwi Rebecca Clarke headed out of T2, but quickly dispatched the pair and ran solo to a 2:30 margin of victory. Visser ended last season with a runner-up finish at Ironman Western Oz, and had to settle for another second-place showing in Wanaka. Clarke—the top-ranked athlete in the field at #30—faded on the run to finish five minutes later, in third.
Mcclusky and Van Der Kaay sprint to victory
The big news from the Continental Cup race in Wanaka — held over the sprint distance the following day — was that Aussie Jake Birtwhistle was in the field. Unfortunately, he was disqualified for reasons we're still trying to figure out, but he would've lost anyway to countryman Callum Mcclusky, who posted a very impressive 14:24 5K split. Ironman super swim-biker Kyle Smith was curiously in the mix as well—probably to work on his run speed—and he did just that with a 14:55 5K to take second.
Kiwi Nicole Van Der Kaay dusted the women's field on the run with a 16:34 split to take the win by 20 seconds. She has really shined at the sprint distance over the past two years, finishing second at WTCS Hamburg in 2021 and ninth at the Commonwealth Games last year. She's also been the co-ace of the very strong Kiwi mixed relay squad, which will be a dark horse for a medal in Paris.
RELATED: A Morning In The Minors
Super League buys Chicago and New York Tris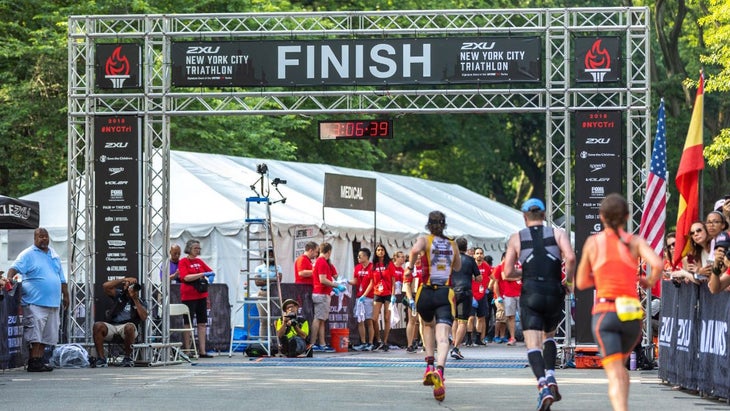 One of the big reasons I've become an advocate/zealot for professional triathlon goes back to an easy ride on the Chicago lakefront seven years ago. I was with former professional triathlete Ben Collins—winner of both the Chicago and NYC tris—and we were lamenting the fact that both races had just axed their professional fields. We spent two hours wondering how Life Time Fitness—which owned both races—couldn't see the value the pros bring to their events.
We solved nothing, and when I exited the lakefront trail at Navy Pier to head home, I saw a giant banner hanging from a street lamp advertising the upcoming amateur-only Chicago Tri. On that banner was a man in a Team USA kit looking fast as hell on two wheels. It was Collins. The value of pros was right there, hanging from a street lamp in front of one of the most visited places in America. I was furious, and I still haven't let go of it to this day (clearly).
Last week we got some long-awaited good news, as Life Time sold both events to Super League, which marks SLT's second foray into non-elite racing after buying Malibu Tri last year. Life Time will continue to produce both Chicago and NYC for 2023—and Malibu is already locked in on the Super League Championship schedule—but don't be surprised if the U.S. stop for the SLT Tour in 2024 is Chicago or NYC. (Obviously Chicago would be preferred, because it's better in every possible way.)
A sport will only ever be as big as its biggest professionals. Even pickleball is figuring this out (very quickly, I might add). Chicago and New York were once two of the most significant races on earth for pros and amateurs alike. Since the pros left, much of the interest from the amateurs has as well. Funny how that works. If any organizer can leverage pros to lift an event, it's Super League, and I can't wait to see what they have in store for these two iconic events.
RELATED: Recalled: Past Champions On The New York City Triathlon
USAT loves the kids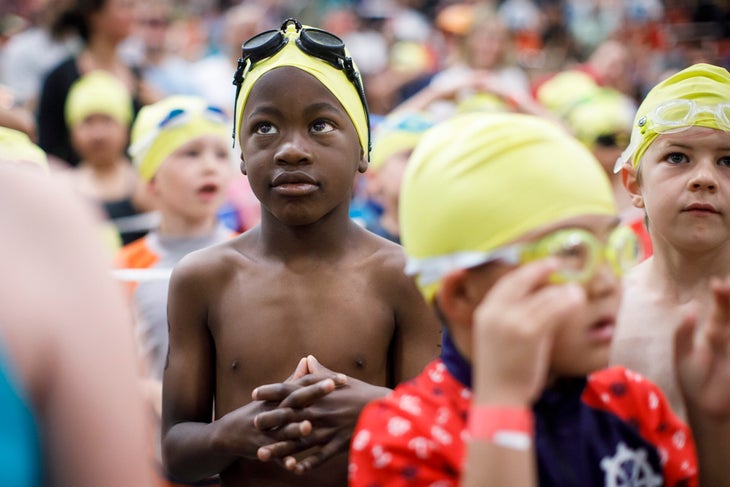 USAT has been knocking it out of the park lately. As far as governing bodies go, it's hard to find another one on earth that has been on as big of a heater as USAT for the past few years. From winning multiple medals in Tokyo, to securing NCAA status for women's tri, and now doing a small but very important thing to help bring in the next generation of triathlon talent.
The new Youth and Junior premier membership costs just $25 and it's good until an athlete turns 18. Not $25 per year—just a one-time fee that's good until you're ready to kick your kids out of the house. That means no more annual or one-day race fees for kids aged 7-17, and it gives them access to free training plans, as well as other freebies like magazines and Zoom calls with Olympians to keep them engaged in the sport.
We hear all the time that kids shouldn't specialize in a single sport at a young age. That's true for every sport except triathlon, because triathlon is the anti-specialization sport. (Shout out modern pentathlon.) The big reason those two Norwegians are kicking the crap out of everyone at the elite level isn't because they're better with science. It's because they've been logging tons of miles of swimming, biking and running since they were 13. As their bodies developed, they developed as triathletes.
I know USAT's goal here is to grow the sport at an amateur level. But making it easier to get kids into tri early will do wonders for the future of the sport at an elite level. And that will continue to grow the sport at the grassroots level. I'm signing my 3-year-old daughter up today. Unfortunately, doing triathlon will not help my 9-month-old son reach his goal of playing in the NFL. (His goal, not mine.)
RELATED: How To Help Your Child (Not) Train For a Triathlon
PTO Tour to open in Ibiza in May
Just this morning, PTO announced that the first of its three-race Tour will take place on the island of Ibiza on May 6. One of the Spanish Balearic Islands in the Mediterranean, it should offer an idyllic backdrop for live coverage. Let's just say it'll be a bit more intriguing than a wheat field in Slovakia.
Jan Frodeno has already announced that his season will open in Ibiza, and if we're ever going to see Frodo vs. the Norwegians, this is it. My sources tell me that everything possible is being done to make it happen.
World Triathlon announced that it will run an event in unison with the PTO European Open, so expect to see plenty of the world's best in Ibiza. Last year it hosted its Long Distance World Championship the day after the Collins Cup in Slovakia.
PTO also announced that the field size for the European and U.S. Open (Milwaukee) will be capped at 30, while the Asian Open (Singapore) will have 20 male and female pros. I'm all for the more concentrated fields and prize purses. Let's get the absolute best of the best racing as often as possible. The rest still have plenty of opportunities.
RELATED: 6 Reasons Milwaukee is the Perfect Pick for the U.S. Open