Interbike Report: Guru Debuts New Crono 2.0
Heading out the door? Read this article on the new Outside+ app available now on iOS devices for members! Download the app.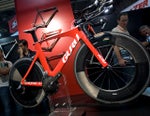 Guru answered its consumers and came to Las Vegas with a truly aero-engineered debut with the Crono 2.0 triathlon bike—and looks poised to steal the show in Vegas.
It's hard to knock a bike that stands amid rare air; a carbon fiber bike that (gasp) isn't made overseas. Can you guess off the top of your head the two big brands that are doing this in North America? If you guessed Madison, Wisc.-based Trek, well, that's the easy one. The second?
That'd be Guru, the Montreal-based manufacturer of high-end bikes fabricate their titanium, aluminum, and yes, carbon fiber creations in Montreal, from mold to paint bay to clear coat.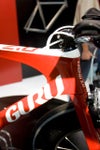 The Crono has stood for the last five or so years as the brand's hallmark bike, lauded for it's balance, attention to detail, ride quality and full custom carbon build capability. But the company faced a sea of wind tunnel-tested, wind-tunnel-proven designs (as well as consumers that have been making aero testing numbers a key component among their buying considerations), Guru was behind the curve.
No more. The new Crono 2.0 is on show in Las Vegas, and may well be the Vegas showstopper for triathletes this year. For all the sexiness that Guru has consistently delivered, the new revamp now answers that question? Has aerodynamics been not just considered, but focal? Then answer: yes. With its own uniquely designed frame, the Crono 2.0 will certainly be one of the finest debuts in 2010.
"Based on our preliminary testing, it's up there with some of the best in the business," said Guru marketing manager Rob Rossi. "We don't lose any of the ride that has been the hallmark of Guru bicycles, but we really wanted to check off the aerodynamics. Pound for pound, this is good as it gets. And because of the customization, we make folks not just ride faster, but run faster."
Here are the details:
•    Guru employed an engineer with a Ph.D in aerospace engineering to explore design and shape characteristics.
•    Tube shapes were considered only on a true wind direction basis, instead of in a relation of length to width. "We rendered the aerodynamic profile in the horizontal plane, in-line with the way the air flows," said Guru industrial designer Mike McGinn. "It's common sense aerodynamics, based on real speeds and race conditions."
•    The horizontal top tube is swept downward toward the downtube as it extends forward toward the headtube.
•    In order to maintain the purity that Guru requires of its bikes, the 2.0 replaces any aluminum bond points with high compression carbon fiber. That means the dropouts front and rear, as well (get this) the seat clamp and rear derailleur hanger. That's being thorough.
•    While many bikes are being slated for a late first or second quarter true release, the Crono 2.0 will hit stores in January of 2010.
•    Ride quality and stiffness still takes high billing on the Crono 2.0 as it did on the original. The bottom bracket is as chunky as its predecessor.
•    Guru uses a 70/30 fiber to resin ratio that the company says is an optimized blend to both cut weight and present a smooth ride.
•    Brake placement is standard; in front of the front fork and behind the chainstays. "We polled athletes and had an overwhelming feedback that most athletes just want to keep things simple for operation. The gains for
•    Cable routing is internal, with Teflon-coated cable guides throughout.
•    Frameset weight is estimated to be around 1,300 grams, but McGinn believes they can reduced it to about 1,100 grams.
•    Turnaround will be four weeks.
There won't be any pro athletes in Kona on the bike since it's still very early in production, but we can bet Joanna Zeiger will be in line for one of the first ones at the turn of the year. It will sell as a frameset only at this point.
"We're really happy with how it's being received," said Rossi. "People are saying 'finally, you guys are answering that aero bell.'" For our retailers, it's impossible to sell against.
McGinn, an industrial designer by trade with background in plastics and composites, began production on the 2.0 as soon as he was hired two years ago, but was intensely focused it on the. "We knew the original Crono was a great bike, but we could make it better. We wanted it to be an evolution of the Crono, and not just a new bike.
That meant retaining or integrating some of the organic stylizings like the scalloped headtube, as well as maintaining the bottom bracket and stay stiffness. One  look at the bottom bracket area reveals nearly true rectangular chainstays, as well as a beefy bottom bracket. "Power transfer had to be awesome on this bike," McGinn said.
While the bike has not been wind tunnel tested yet, it has been truly engineered with aerodynamics as a prime parameter. "We've done tons of simulations," McGinn said. "We went through dozens of profile and established the numbers for foils, to find the max aero profiles were. While fit and ride is parmount for us, we are so pleased to finally have a bike that stacks up in a category we've been missing on for a few years."