Cunningham, Haskins Highlight Start List For Longhorn Ironman 70.3 Austin
Heading out the door? Read this article on the new Outside+ app available now on iOS devices for members! Download the app.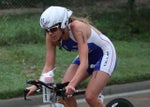 This weekend's second annual Longhorn Ironman 70.3 Austin will see a deep professional field on the both the men's and women's side. With race day taking place only two weeks after the Ironman World Championship, it would seem that the professional lineup would suffer, but this is not the case. Instead, over 50 professionals will make their way to Austin, Texas to compete on Sunday, October 25.
The men's race favorite is undoubtedly last year's winner, Richie Cunningham of Australia. Cunningham posted a blazing time of 3:49:45 in 2008. The Australian is using this race as a tune-up for November's Ironman Arizona. Last year's runner-up, Australian Joe Gambles, is not on the start list. Italian triathletes will have a strong presence at this weekend's race with last year's third place finisher Alberto Casadei and 2009 Ironman 70.3 Timberman third place finisher Massimo Cigana both racing. Other contenders for the men include Scotland's Craser Cartmell and Ukraine's Viktor Zyemtsev. With a lineup made largely of up and coming professionals, Cunningham could be in for a surprise from a lesser known athlete.
With 2008 winner Lisa Bentley taking time away from racing due to some health concerns, there will be a new name atop the women's podium. The women's race will be wide open with the top contenders each featuring unique stories. A quick glance at the start list would suggest reigning Ironman 70.3 world champ Joanna Zeiger as the favorite; however, the American has had a difficult year with several DNFs on the season. Within the last few days another American, Sarah Haskins, added her name to the start list. The Olympic-distance specialist may be taking a cue from Greg and Laura Bennett, who won the Ironman 70.3 Augusta last month in their half-Ironman distance debuts. Other contenders include Germany's Nina Kraft and American uber cyclist Heather Jackson. Canadian Tereza Macel is also on the start list, but after a fourth place finish at the Ironman World Championship her start is questionable.
Professional Men
Chris Bagg
Damon Barnett
Poulsen Brent
Dan Brown
Fraser Cartmell
Alberto Casadei
Andres Castillo Latorre
Mauro Cavaha
Massimo Cigana
James Cotter
Richie Cunningham
Allesandro Degasperi
Tony Delogne
Stephen Dyke
Patrick Evoe
Brian Fleischmnn
Charles Harrison
Jones Jordanavi
David Kahn
Philip Kozub
Maxim Kriat
J. Marsh
Luc Morin
Kirk Nelson
Timothy Newlin
Graham O'Grady
Jeff Symonds
Daniel Tigert
Derek Yorek
Viktor Zyemstsev
Professional Women
Angela Axmann
Terra Castro
Lianne Evans
Ali Fitch
Christine Fletcher
Margot Hair
Lauren Harrison
Sarah Haskins
Nicole Hofer
Malaika Homo
Heather Jackson
Heidi Jesberger
Annett Kamnz
Nina Kraft
Tereza Macel
Amy Marsh
Marcela Miramontes
Janelle Morrison
Angela Naeth
Kate Pallardy
Caroline Smith
Amanda Stevens
Kelly Williamson
Rebecca Witinok-Huber
Joanna Zeiger