10 Most Anticipated New Races Of 2010
Heading out the door? Read this article on the new Outside+ app available now on iOS devices for members! Download the app.
Apparently word has gotten out that triathletes like to travel to exotic locations to race. Literally hundreds of new triathlons will take place in 2010 and many will be staged at rather exotic locations. It doesn't get much more exotic (or rich) than Abu Dhabi, capital of the United Arab Emirates. That's why the Abu Dhabi International Triathlon is our most anticipated new race of 2010.
Abu Dhabi International Triathlon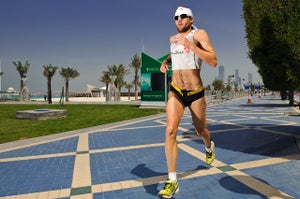 Location: Abu Dhabi, United Arab Emirates
2010 Date: March 13
Distance: 3K swim, 200K bike, 20K run
Website: Abudhabitriathlon.com

Best of the rest…
Challenge Copenhagen
Location: Copenhagen, Denmark
2010 Date: Aug. 15
Distance: 3.8K swim, 180K bike, 42K run
Website: Challengecopenhagen.com

Rev3 Cedar Point
Location: Sandusky, Ohio
2010 Date: Sept. 12
Distance: 2.4-mi swim, 112-mile bike, 26.2-mile run
Website: Rev3tri.com
Rev3 Knoxville
Location: Knoxville, Tenn.
2010 Date: May 9
Distance:
Olympic: .9-mi swim, 24.8-mile bike, 6.2-mile run
HalfRev: 1.2-mile swim, 56-mile bike, 13.1-mile run.
Website: Rev3tri.com

Ironman St. George
Location: St. George, Utah
2010 Date: May 1
Distance: 2.4-mile swim, 112-mile bike, 26.2-mile run
Website: Ironmanstgeorge.com

Ironman Regensburg
Location: Regensburg, Germany
2010 Date: Aug. 1
Distance: 2.4-mile swim, 112-mile bike, 26.2-mile run
Website: Ironman-regensburg.de

American TTT – North Carolina
Location: White Lake, N.C.
2010 Date: Oct. 8-10
Distance:
Super Sprint: 250-meter swim, 7-mile bike, 1-mile run
Olympic: 1500-meter swim, 40K bike, 10K run
Half-iron: 1.2-mile swim, 56-mile bike, 13.1-mile run
Website: Hfpracing.com
Subaru Banff Triathlon
Location: Banff National Park, Alberta, Canada
2010 Date: Sept. 11
Distance: 1.5K swim, 40K bike, 10K run
Website: Triseries.com/banff

Leon's World's Fastest Triathlon
Location: CITY, Ind.
2010 Date: June 6
Distance: 1.5K Swim, 40K bike, 10K run
Website: Leonstriathlon.com
Ironman 70.3 Miami
Location: Miami, Fla.
2010 Date: Oct. 30
Distance: 1.2-mile swim, 56-mile bike, 13.1-mile run
Website: Ironmanmiami.com