Enneagram for Triathletes: What Motivates You in Swim, Bike, and Run?
We've taken the popular personality test and given it a multisport makeover. What's your tri-type?
Heading out the door? Read this article on the new Outside+ app available now on iOS devices for members! Download the app.
Are you a Reformer or a Loyalist? How about an Investigator or Enthusiast? If these terms sound familiar, chances are you've encountered the Enneagram, the new-but-actually-super-old (like Greek-mythology old) personality test that describes nine basic human archetypes. Though free Enneagram tests abound on the internet, most can identify their personality type by simply looking at what motivates them. These archetypes explain the way people think, feel, and act in relation to the world – our strengths, weaknesses, instincts, and impulses that can drive us forward or hold us back. Knowing your triathlon personality type lets you set goals that fit your unique strengths and motivations. Enjoy these enneagram for triathletes breakdowns!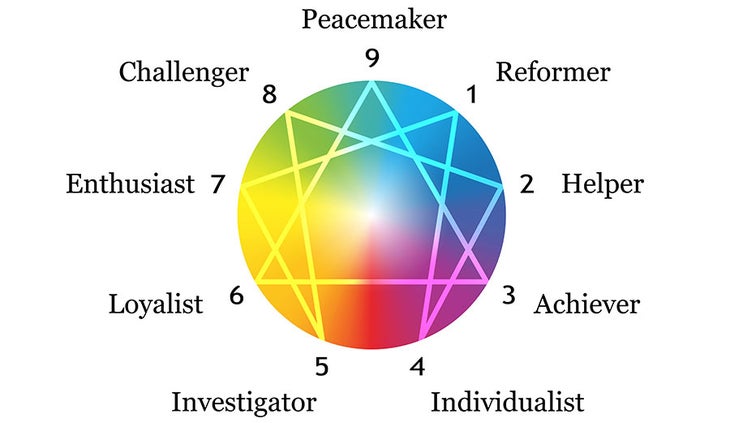 Type 1: The Half-Stepper (The Reformer)
Motivation: Improvement and confidence
The upside: "I strive to be better than yesterday."
The downside: "All of my training buddies are holding me back."
Goals
Add one mile per week to your total run mileage
Set a bedtime – and stick to it
Hold a plank for as long as you can each day
Organize your gear closet
Beware
Quick fixes in the name of marginal gains. Those $45 socks probably aren't going to make you faster, no matter what the packaging says.
Type 2: The Cowbell Ringer (The Helper)
Motivation: Being appreciated
The upside: "Let's focus on your goals. How can I help?"
The downside: "I love tri so much, why should I talk about anything else?"
Goals
Volunteer at a race aid station
Serve as a guide for a visually-impaired athlete
Send a thank-you note to a race director
Text your training buddy with an encouraging quote
Beware
Overstepping boundaries: Not everyone wants help, hugs, and high-fives.
Type 3: The Peacock (The Achiever)
Motivation: Gaining approval & prestige
The upside: "I nailed my goal at my very first race of the season."
The downside: "How dare you rack your bike near mine? It's been to Kona!"
Goals
Save up for a new bike
Get a coaching certification
Write a blog or book
Apply for sponsorship from your favorite brand
Beware
Know the line between "confident" and "cocky." No one likes cocky.
Type 4: The Insta-Inspiration (The Individualist)
Motivation: Feeling special and unique
The upside: "Crossing that finish line is going to change my life."
The downside: "The hill was harder for me than anyone else."
Goals
Try a new diet for 30 days, such as vegan, keto, or Whole30
Begin journaling after each workout
Design a custom race kit
Chronicle your training on Instagram
Beware
Snowflake Syndrome. Everyone's dealing with the same heat, headwinds, and challenges out there.
Type 5: The TriCyclopedia (The Investigator)
Motivation: Acquiring knowledge
The upside: "This year, I'm going to crack the PR code."
The downside: "I have my power, heart rate, blood ox, drag coefficient, and pedaling efficiency all beamed directly to my heads-up display sunglasses. Even at work."
Goals
Read one new training book a week
Take a week-long train-cation
Join a new Masters swim group
Attend fitness & nutrition lectures at your local college
Beware
Overthinking things. Sometimes the simplest way really is the best.
Type 6: The Old-Timer (The Loyalist)
Motivation: Avoiding hazards and discomfort
The upside: "I already know what works for me."
The downside: "Nothing else works."
Goals
Write out a detailed race-morning timeline  and to-do list
Mentor a new triathlete
Start a podcast
Share your know-how with a race planning committee
Beware
Starting any sentence with "Back in the day…" Triathlon has evolved over the years – that doesn't necessarily mean it's gotten worse.
Type 7: The WOOHOO! (The Enthusiast)
Motivation: Happiness and joy
The upside: "This is gonna be so much fun!"
The downside: "Yeah! Way to DNF!!!"
Goals
Do a new destination race each year
Pick a wild color for your bike, or don a silly swimsuit
Find recipes to make your own bars & bites for long rides
Have a dance party in transition on race morning
Beware
Read the room. For some silly antics are entertaining; for others, they're a distraction.
Type 8: (The Smack-Talker) The Challenger
Motivation: Power
The upside: "Game on, buddy. Let's do this."
The downside: "Oh it's no big deal, I just own the O'Hare Airport Strava KOM."
Goals
Try HIIT workouts at the local gym
Set up a Strava or Zwift profile
Run for president of your local tri club
Use your race to raise money and awareness for a cause
Beware
Please, stop bragging about beating grandma in the pool. She was doing water aerobics, not swimming laps.
Type 9: The Social Butterfly (The Peacemaker)
Motivation: Making others happy
The upside: "I'm up for anything."
The downside: "I'm late for everything."
Goals
Host a Kona viewing party
Volunteer to ride SAG on the next group ride
Sign up for a new race or training adventure
Pick the brains of other triathletes (especially Achiever and Investigator types)
Beware
Don't give so much of yourself that there's nothing left for you.