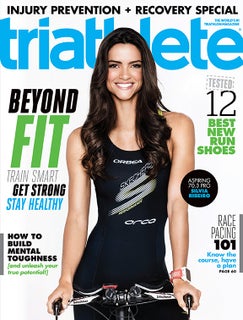 Questions about Your FREE 3-Month Subscription
Triathlete is the leading resource for triathletes of all ability levels, whether you're plotting your first Sprint race or taking on your next Ironman. Packed with training insights from the sport's top coaches and pros, nutrition tips from the experts, gear and tech reviews, race and athlete profiles and more, Triathlete is the ultimate guide to the multisport lifestyle.
Is this really free?
Yes, you will not be charged for your FREE 3-month subscription.
What Happens When I Say 'Yes' to the FREE 3- Month Subscription?

You will receive a 'Welcome Email' and your first issue will arrive shortly after!
Can I cancel my subscription?
Yes, you can cancel your subscription at any time.
To cancel your FREE subscription, simply contact us via phone or email at 800-336-5653 or Triathletemagazine@emailcustomerservice.com
How many issues will I receive?
Triathlete publishes 13 issues per year. You will receive the amount of issues that are published within the 3-month FREE Subscription window, which will vary depending on the date of registration.
What happens after my 3-Month FREE Subscription ends?
After you receive the final issue in your 3-Month Subscription, you will be billed for the next year at a rate of $2.30 an issue (big savings on cover price of $6.99!) via email and mail. If you choose to opt-out at this time (or any month before), that's fine too.
How can I contact customer service?
Reach us at 800-336-5653 or send an email Triathletemagazine@emailcustomerservice.com
What if I'm already a subscriber?

Thank you for subscribing! Unfortunately we cannot combine this offer with an existing subscription.
To learn more about our information practices, read our Privacy Policy.
©2015 COMPETITOR GROUP. All Rights Reserved.