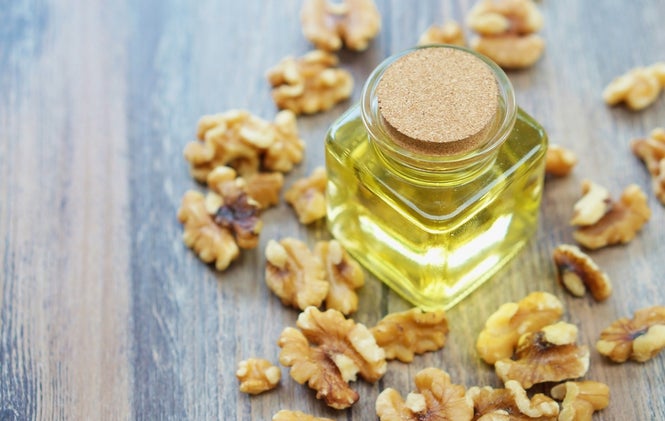 Walnut Oil
Fatty in a good way, toasty and slightly bittersweet-tasting walnut oil packs in about 13 times more omega-3 fat than olive oil. The type of omega-3 in walnut oil is alpha-linolenic acid (ALA), which has been shown to help in the fight against heart disease and diabetes when consumed on a regular basis. One way research suggests that walnut oil helps with the former is by improving endothelial functioning (the stuff that lines your blood vessels). A diet generous in omega-3 fats may also help runners by decreasing the muscle inflammation associated with spirited workouts.
What's more, a study in the journal Clinical Nutrition discovered that people who ate a meal high in walnut-derived polyunsaturated fats benefited from a 28 percent greater post-meal calorie-burning rate than when they consumed a meal with the same number of calories but with more of them coming from saturated fat. It's best not to heat up this delicate nut oil. Instead reserve walnut oil for dressings and dips or drizzle on soups, cooked grains, pasta, roasted vegetables and pizza. Many dietary oils like walnut have a shelf life of around 12 months from pressing (not purchasing). When oil starts to smell musty, throw it out.
Make: WALNUT HERB SAUCE 
Place ⅓ cup walnut oil, 11/2 cups parsley, 2 tablespoons fresh oregano, 1 chopped garlic clove, juice of 1/2 lemon, 1/2 teaspoon red chili flakes, 1/2 teaspoon salt and 1/4 teaspoon black pepper in a blender or food processor and blend until well combined. Serve over fish or chicken, or mix into pasta.