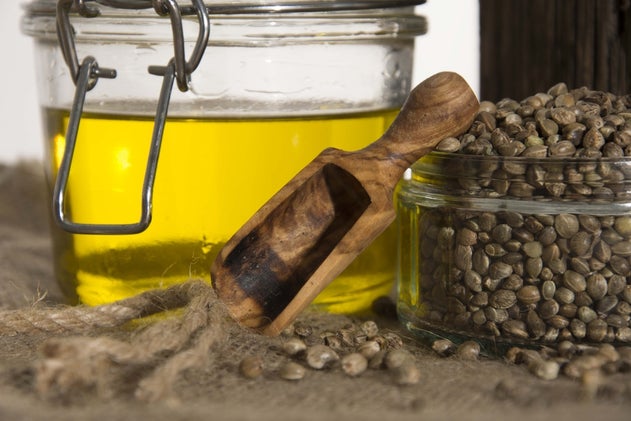 Hemp Oil
This verdant oil is pressed from ultra-healthy hemp seeds and possesses an earthy flavor with nutty overtones. Omega-3 and omega-6 fatty acids are two types of polyunsaturated fats found in each spoonful of hemp oil. But while the typical American diet includes far too many omega-6s (abundant in many processed foods) and far too few omega-3s—a skewed balance that can drive up inflammation in the body— hemp oil has a much healthier 3-to-1 omega-6 to omega-3 ratio.
And here is some news to take to heart. After reviewing numerous studies, the white coats at the Harvard School of Public Health stated that replacing some of the saturated fat in a diet from sources like red meat and cream with polyunsaturated fat like that in hemp can slash the risk of suffering coronary woes by 19 percent. Hemp may bring to mind peace, love and tie-dye. However the variety grown for oil production contains virtually none of the psychoactive ingredient found in marijuana. Along with walnut oil, store this one in the fridge; once opened it can go rancid—fast. Hemp oil is also too delicate to be heated. Save it for dips, pestos and dressings— anywhere you would use extra virgin olive oil.
Make: HEMPSEED OIL DRESSING
Whisk together zest of 1 orange, juice of 1 orange, 2 tablespoons maple syrup, 2 tablespoons balsamic vinegar, 2 teaspoons Dijon mustard, 2 teaspoons grated fresh ginger, 1 minced garlic clove, 1/2 teaspoon salt and 1/4 teaspoon black pepper. In a slow stream, whisk in ⅓ cup hemp oil. Use to add some zing to salads or steamed veggies, like broccoli.