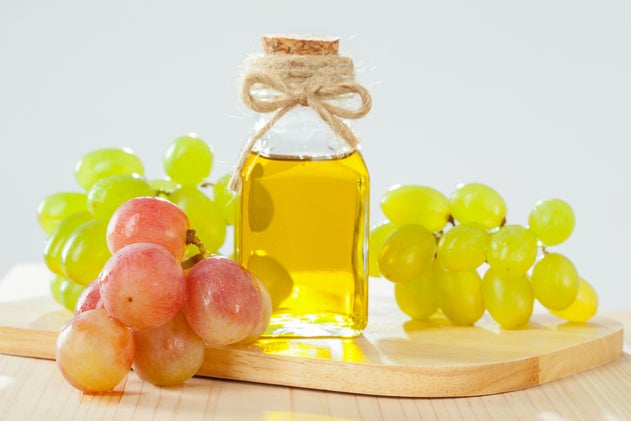 Grapeseed Oil
The more wine that's made, the more grapeseed oil hits store shelves. Squeezed out of the seeds that are leftover in the wine-making process, this budget-friendly oil has a fairly light flavor but lofty amounts of vitamin E. Infuse your diet with more vitamin E-plush foods like grapeseed oil, and you'll be in a better position to build stronger bones and fend off certain cancers. Yet surveys show that more than half of Americans aren't getting the vitamin E they need.
Oleic acid, an omega-9 fatty acid present in grapeseed oil, has been shown to help suppress hunger between meals. During digestion, oleic acid is converted into a hunger-fighting hormone that tells your brain to keep away from the vending machine.
More reason to stash grapeseed oil in your kitchen: British scientists reported that adding grapeseed oil to a meal with high-glycemic-index foods like refined breads, white rice and potatoes can slow the rise in post-meal blood sugar. Its neutral flavor and relatively high smoke point makes grapeseed oil a great all-purpose cooking oil for everything from sautéing meats to stir-frying vegetables. In baking, replace 1 cup solid fat such as butter or shortening with 3/4 cup grapeseed oil. Some also like using this oil in marinades, DIY mayo and salad dressings. Its unobtrusive taste won't bulldoze other flavors.
Make: MEDITERRANEAN CORNBREAD MUFFINS 
Preheat oven to 375 degrees F. In a large bowl, mix together 11/4 cups coarse cornmeal, 3/4 cup whole-wheat pastry flour, 11/2 tablespoons chopped rosemary, 1/2 teaspoon salt, 2 teaspoons baking powder and 1/2 teaspoon baking soda. In a separate bowl, lightly beat 2 eggs and whisk in 1 cup buttermilk, 1/4 cup grapeseed oil and 1 tablespoon honey. Stir wet ingredients into dry ingredients. Fold in 3/4 cup grated Parmesan cheese and 1/2 cup chopped Kalamata olives. Divide among 12 greased or paper-lined muffin cups and bake for 20 minutes.