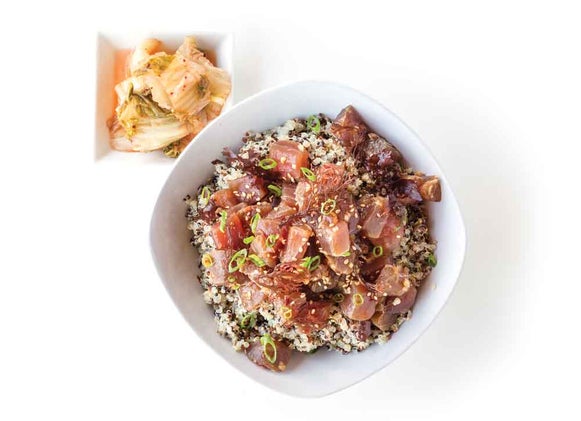 Seaweed Supreme Poke
Seaweed is not only full of vitamins A and C and calcium but also iodine—crucial for healthy thyroid function.
Ingredients
16–20 oz ahi tuna (sushi grade)
1 heaping cup ogo seaweed*
2 tsp wakame seaweed*
1 tsp hijiki seaweed*
2 T sweet yellow onion, finely diced
2 T low-sodium soy sauce or tamari
2 T sesame oil
1 T rice vinegar
1 T garlic-chili sauce
1 T honey
1 T sesame seeds
¼ cup scallions, finely sliced
1 cup kimchi
3 cups cooked quinoa
*Seaweed can be found in specialty Asian markets. Use one or all for this recipe. Ogo seaweed is larger and crispier, while wakame and hijiki are small and tender.
Directions
Whisk together the onion, soy sauce (or tamari), sesame oil, vinegar, garlic-chili sauce and honey in a large bowl. Dice the tuna into ¼–½-inch pieces, add to a large bowl, and toss to combine. Let chill in fridge for 20 minutes, up to overnight. To prepare the ogo seaweed, blanch for 2 minutes in boiling water, drain, and let sit in a bowl of ice water for 5 minutes. Pat dry, add to the bowl. To prepare wakame and hijiki, place each in a small bowl. Cover with boiling water and let sit for 5 minutes until tender. Drain, pat dry, finely chop and add to the bowl, and toss to combine. Divide the quinoa into 4 bowls ( 3/4 cup each) and then divide the poke over the top. Evenly sprinkle with sesame seeds and scallions, and serve each with ¼ cup kimchi.