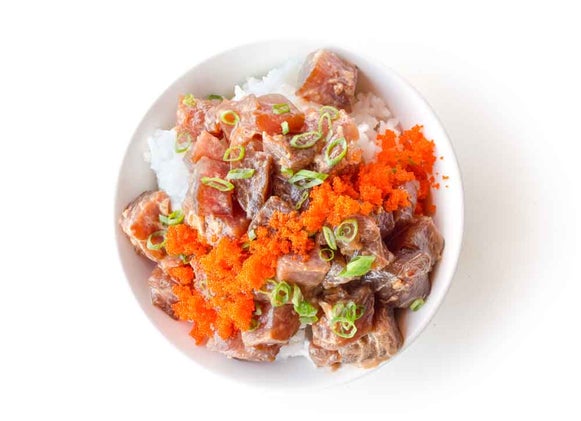 Spicy Poke
Bring on the heat! Spicy foods have been shown to improve heart health, increase metabolism and curb your appetite—not that you needed an excuse to whip up this flavorful poke.
Ingredients
16–20 oz yellowfin tuna (sushi grade)
1 T low-sodium soy sauce or tamari
1 T garlic-chili sauce
½ T crushed ginger
½ T toasted sesame oil
2 T Japanese mayo or craft-made mayo*
2 T Sriracha
3 cups cooked sushi rice
¼ cup scallions, finely chopped
2 T tobiko or masago roe*
*Japanese mayo, tobiko and masago can be found in specialty grocers or Asian markets. Craft-made mayo can be found in natural or specialty grocers and is a delicious, rich, "homemade" version of mayo that you must try.
Directions
In a bowl, whisk together the soy sauce (or tamari), garlic-chili sauce, ginger, sesame oil, mayo and Sriracha. Dice the tuna into ¼–½-inch pieces, add to the bowl and toss to combine. Let chill in fridge for 20 minutes, up to overnight. Divide the rice into 4 bowls (3/4 cup each) and then divide the poke over the rice. Sprinkle with the scallions and top each with ½ tablespoon of the roe.