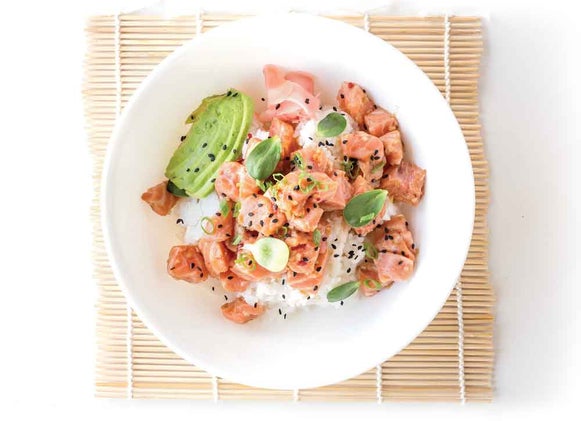 Salmon Poke
Try salmon as a substitute for tuna. Not only is salmon more cost effective, but it's loaded with omega-3 fatty acids, making it a great source of protein to decrease inflammation and boost recovery.
Ingredients
16–20 oz salmon (sushi grade)
1 shallot, finely chopped
2 T low-sodium soy sauce or tamari
2 T rice vinegar
2 T toasted sesame oil
1 T honey
1 tsp red pepper flakes
3 cups cooked short grain white or brown rice
½ cup microgreens
½ cup pickled ginger
1 avocado, diced
1 T black sesame seeds 
Directions
In a bowl, whisk together the shallots, soy sauce (or tamari), rice vinegar, sesame oil, honey and red pepper flakes. Dice the salmon into ¼–½-inch pieces, add to the bowl and toss to combine. Let chill in fridge for 20 minutes, up to overnight. Divide the rice into 4 bowls ( cup each), and then divide the poke over the rice. Evenly arrange the microgreens, pickled ginger and avocado in the bowl, and sprinkle sesame seeds over the poke in each bowl.