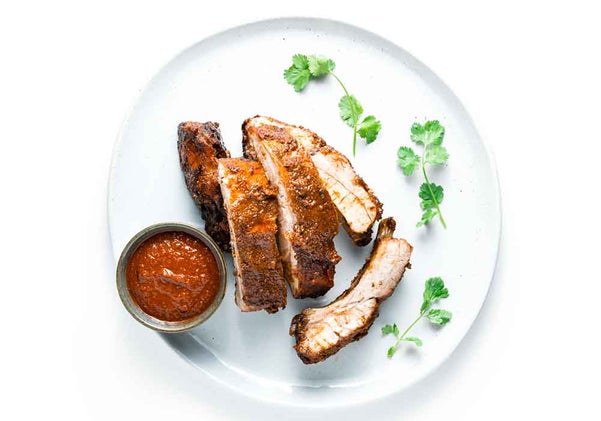 BBQ Ribs with Tart Cherry Sauce
Pork-loin ribs come from the leanest part of the pork, and tart cherry barbecue sauce gives a boost of powerful antioxidants shown to ease pain, bolster brain health and aid sleep.
Ingredients (for ribs)
2–3 pounds pork-loin ribs
1 T, each, salt, pepper, ground garlic, chili powder
Ingredients (for sauce):
2 T canola oil
1/2 sweet yellow onion, diced
3 garlic cloves, minced
1 T tomato paste
1/3 cup balsamic vinegar
1/3 cup tart cherry juice
2 T pure maple syrup
2 cups, fresh tart/sour cherries (pitted and minced)
Directions
Massage the ribs with the seasonings. Place in a large pot and cover with water. Bring to a boil and cook until ribs are tender, about 30 minutes. To make the sauce, in a large saucepan, heat oil over medium heat. Add onions and sauté for 10 minutes, until caramelized. Add garlic and cook for one minute. Add the rest of the ingredients, stirring to combine, and bring to a low boil. Reduce heat and simmer for 20 minutes, until thick. Remove from heat and use an immersion blender to smooth mixture, if desired. Preheat oven to 325 degrees. Remove ribs from pot and place in a large baking dish. Pour 1 cup of the barbecue sauce over the ribs. Cover with foil and bake for 90 minutes, until the pork reaches an internal temperature of 160 degrees. Serve with remaining sauce on side.