Farro, Apple and Pine Nut Chop with Grilled Pork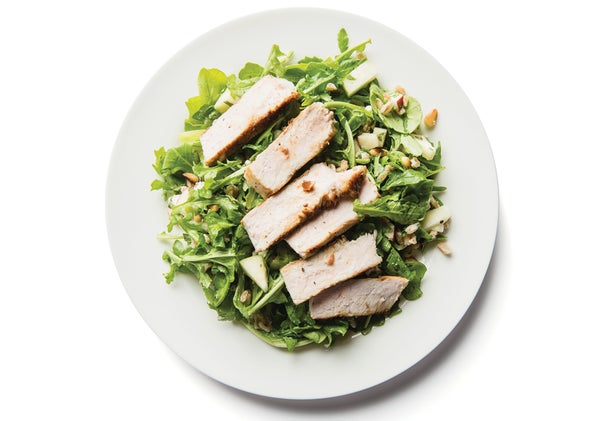 Farro is hearty, loaded with protein, and adds a nice texture to salads. Pair with juicy apples, fresh herbs and creamy goat cheese for a perfect balance of tart and sweet.  
Ingredients
2 T fresh lemon juice
3 T olive oil, divided
1 T honey
4 cups packed arugula
3 cups cooked farro
1 small Gala apple, finely diced
1 small Granny Smith apple, finely diced
½ cup fresh basil, finely chopped
¼ cup chives, finely chopped
¼ cup fresh mint, finely chopped
¼ cup dill, finely chopped
½ cup crumbled goat cheese
¼ cup toasted pine nuts
2 6–8-ounce boneless pork chops
Salt and pepper
Directions
In a small bowl, whisk together the lemon juice, 2 tablespoons olive oil, honey and a sprinkle of salt and pepper. Heat grill to medium high. Season pork chops with salt and pepper, rub with 1 tablespoon olive oil, grill 4–5 minutes per side, and let rest while finishing the salad. In a large bowl, toss the arugula, farro, apples and herbs with the lemon dressing. Gently toss in the goat cheese and pine nuts. Slice the pork on a diagonal and serve with the salad.