These salads won't leave you hungry!
Blueberry, Sunflower Sprout and Kale Salad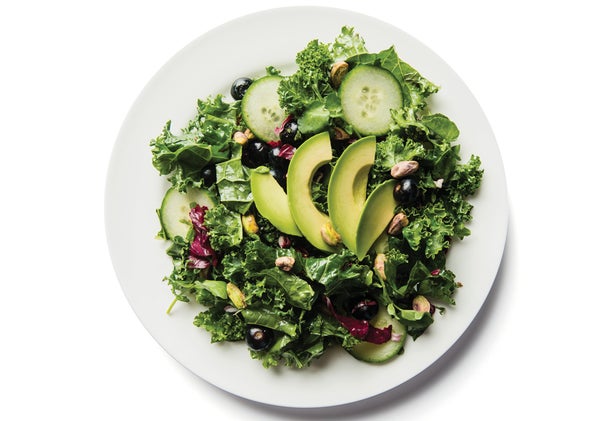 This citrus-marinated kale recipe is full of bright, fresh flavors. Plus, it packs a healthy dose of immunity-boosting antioxidants and vitamins A, C and K. For an extra hit of protein, steak is a tasty addition.  
Ingredients
1 10-ounce bag chopped kale (about 6 heaping cups)
Juice of 2 lemons
Juice of 1 orange
3 T olive oil
1 T pure maple syrup
Salt and pepper
1 3–4-ounce package sunflower sprouts
1 cup radicchio, thinly sliced
1 cup blueberries
1 cup thinly sliced English cucumber
¼ cup fresh mint, finely chopped
1 large avocado
¼ cup shelled pistachios
Directions
In a large bowl, toss the lemon and orange juice, olive oil and maple syrup with the kale. Season with salt and pepper. Let marinate for 20 minutes, up to 2 hours. Place the pistachios in a dry pan over medium heat and toast for 7–8 minutes. Set aside to cool. Toss the sunflower sprouts, radicchio, blueberries, cucumber and mint into the marinated kale. Sprinkle the pistachios and sliced avocado over the top.