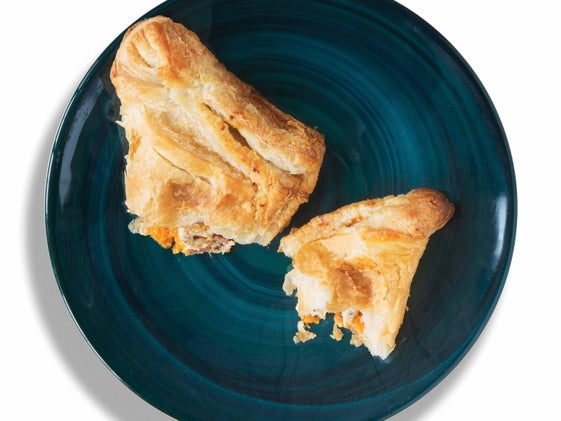 Savory Pie Pockets
These pockets are the counterbalance to too much sweetness on your long training days.
Ingredients
1 package pre-rolled pie dough sheets (2 sheets per package)
2 medium sweet potatoes
6 pieces turkey bacon, finely chopped
9 egg whites
3 eggs
2 tsp fresh thyme
1 tsp salt
½ tsp pepper
Directions
Preheat oven to 425 degrees. Line a large baking sheet with parchment paper. Poke holes with a fork in the sweet potatoes, and microwave until soft (start by cooking for 5 minutes, then rotate and cook another 5 minutes). Prepare a large skillet with non-stick spray, and heat over medium heat. Sauté the turkey bacon with the thyme for 5 minutes. Whisk together the eggs, egg whites, salt and pepper in a bowl. Add to the pan with the turkey bacon and scramble until eggs are soft and fluffy. Remove the flesh from the sweet potatoes into a bowl, add the egg mixture and stir together. Sprinkle flour on a large cutting board or counter top. Lay one pie sheet on the flour, and gently roll to thin out into a slightly rectangular shape. Cut into 6 equal segments. Repeat with the other pie sheet. Scoop equal amounts of egg-sweet potato mixture onto each of the 12 segments. Take one corner and gently fold over to another corner, creating a triangle pocket shape. Gently seal the edges by folding the bottom edge over the top edge. Place pockets on the baking sheet and bake for 20–25 minutes until dark golden brown on the top and bottom. Cool completely before wrapping in foil. Store in the fridge.