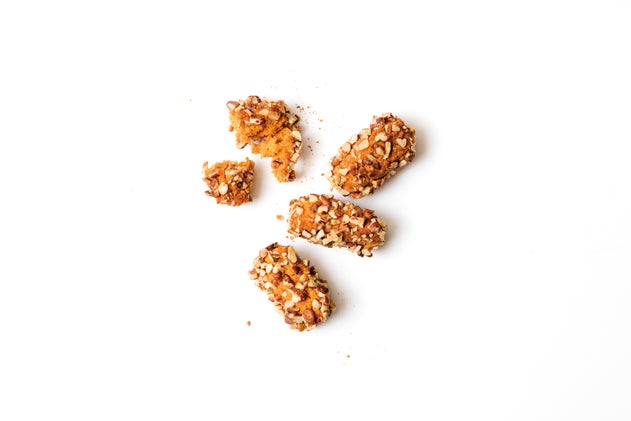 During
When out for the long haul, your body requires the right kind of fuel to perform its best. Here's how to get it done:
Watch the clock. Clearly, not all workouts require carrying a feedbag around your neck. Generally, if you're exercising for an hour or less, you should not require any supplemental calories to get you to the end of a workout. Push into the 60- to 90-minute time frame and some athletes can notice performance benefits from consuming a bit of extra energy. If you're exercising vigorously for 90-plus minutes, however, there is plenty of research demonstrating the need for consuming calories to keep blood sugar and muscle energy reserves from dipping too low.
Go hard for carbs. To keep up the pace, seek out carb-heavy foods and drinks. Carbohydrates (blood glucose and muscle glycogen) are the preferred fuel source for high-intensity exercise, since they can be converted to energy in your muscles more efficiently than fats or protein. Also, carbohydrates are the primary fuel for your brain, so when levels sink too low, you can end up with a serious case of exercise-induced brain fog.
Do the math. For exercise sessions lasting in excess of 90 minutes, you want to aim for anywhere between 30 to 90 grams of carbohydrates per hour of activity to avoid stumbling to the finish line. The exact amount needed depends on a number of factors, including individual tolerance, exercise intensity, and exercise duration.
Keep it real. Gels, chomps, sports drinks, and packaged energy bars have their place in helping to fuel your active pursuit. But there are plenty of benefits (less gut rot, better nutrition) of also bringing along some fuel that you created in your own kitchen. And as long as you're meeting your overall carbohydrate needs during exercise, it's acceptable if your DIY fuel of choice contains a small amount of protein and fat—but only a little bit, as these items can hinder digestion when consumed in greater quantities.
Liquid Assets. Dehydration can put the damper on what could have been a bragworthy workout or race. To stay on top of your hydration needs, make it a habit of drinking 400 to 1,000 milliliters of fluid for each hour of exercise. The exact amount of fluid you need will be dictated by a number of factors, including individual sweat rate, the ambient temperature, and the intensity of activity. If sweating buckets, also don't overlook the importance of taking in some electrolytes during a prolonged workout. Namely, sodium to the tune of 300 to 600 milligrams for each hour of activity.
Tender on the inside with a nutty crisp on the outside, these energy bombs flip a switch that tells your body to mover harder, faster, and longer. So grab a bunch and get out there. The secret ingredient is coconut flour, which works its magic to absorb some of the excess moisture from the mashed potato so the tots will firm up and better keep their shape during transport. To make these even more crave-worthy, mix a couple of tablespoons of molasses into the potato mash.
Recipe: Sweet Potato Tots
Dairy-free, Gluten-free, Paleo-friendly, Vegan or Vegetarian
Servings: 12
Active Time: 25 min.

1½ pounds sweet potatoes (about 2 medium-sized), peeled and cubed
¼ cup coconut flour
½ teaspoon cinnamon
¼ teaspoon salt
¾ cup finely chopped pecans
2 tablespoons coconut sugar or brown sugar
Steam or boil sweet potatoes until fork-tender. Place cooked sweet potato in a bowl and mash until smooth. Stir in coconut flour, cinnamon, and salt. In a separate small bowl, stir together pecans and sugar.
Preheat oven to 375°F and line a baking sheet with parchment paper or a silicone baking mat. Scoop out sweet potato mixture by the tablespoon and roll between hands into a cylindrical shape. Roll in pecan mixture and place on baking sheet. Chop more pecans if needed. You should have about 24 tots.
Bake for 40 minutes, flipping halfway, or until golden on the outside. They will firm up further upon cooling. Tots can be kept in the refrigerator for up to 5 days. If you want to enjoy them warm as a snack, simply microwave tots for about 30 seconds.
Game Changers: Season with allspice instead of cinnamon + Use finely chopped walnuts instead of pecans + Substitute date sugar for coconut or brown sugar