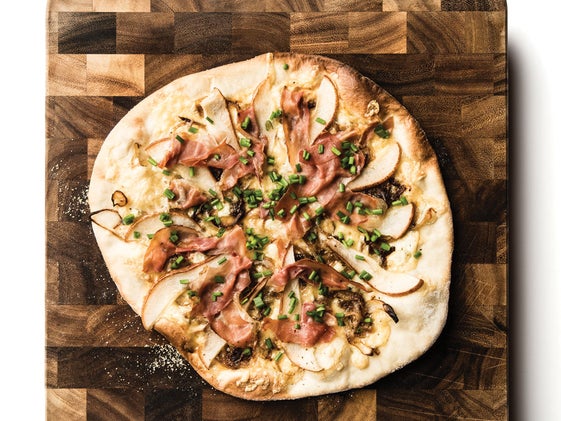 It's no pie-in-the-sky notion—pizza can be excellent, guilt-free fuel. You just have to make it right. These four recipes elevate America's favorite food to a workout-sustaining staple that'll tickle your taste buds. 
Quick Dough Recipe
Making fresh pizza dough is a cinch with this foolproof recipe. In a medium bowl, whisk 1 envelope rapid/quick-rise yeast, 1 teaspoon sugar and 1 cup warm water until dissolved. Let it sit 5–10 minutes, until it turns creamy. Stir in 2½ cups all-purpose or white whole-wheat flour, ¾ teaspoon salt and 2 tablespoons olive oil until smooth. Let it rest 5 minutes. Lightly flour a clean surface, turn dough onto it and roll into a round. Gently shape dough onto a lightly greased pizza sheet or pizza stone (recommended), dusted with cornmeal. All recipes will be baked at 450 degrees. Alternatively, many grocery stores have pre-made pizza dough in the refrigerated section.
Gorgonzola, Pear & Prosciutto pizza
Sweet, salty and with just enough edge from the gorgonzola cheese, this is not your ordinary pie.
Ingredients:
1 small yellow onion, thinly sliced
1 T olive oil
½ tsp, each, salt and pepper
¾ cup shredded Gouda cheese
¼ cup crumbled gorgonzola cheese
1 Bosch pear, thinly sliced
4 pieces prosciutto, sliced
2 T fresh chives, chopped
Pizza dough
Directions:
In a skillet, sauté the onion, olive oil, salt and pepper until caramelized, about 10 minutes. Sprinkle the cheeses across the pizza dough. Spread the onions over the cheese. Layer the pear and prosciutto slices over the onion. Bake for about 15 minutes until cheese is bubbling, and toppings and crust are golden. Sprinkle fresh chives over the top before serving.