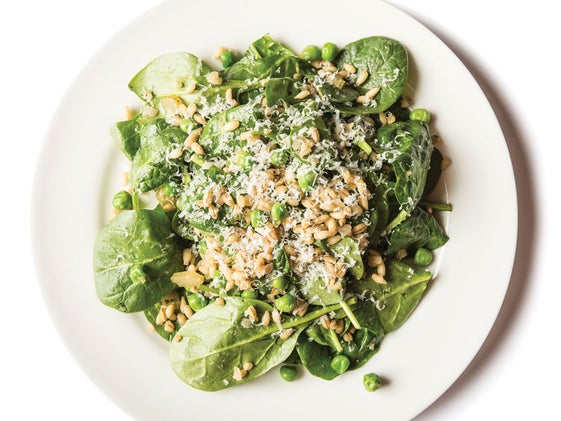 Asparagus, spinach and artichokes all hit their peak right now, filling up markets with fresh, vibrant shades of green. Add a powerful dose of cramp-busting magnesium to your diet with these four flavorful verdant recipes. By Jessica Cerra
Spinach Farro Risotto
Try farro, an Italian grain loaded with iron, fiber and protein, for a healthy twist on risotto.
Ingredients
2 T olive oil
1 shallot, finely diced
1 celery stalk, finely diced
1 cup farro*
½ tsp, each, salt and pepper
½ cup white wine
2–4 cups low-sodium chicken stock
1 5-ounce package spinach
2 cups fresh or frozen peas (removed from pod, if needed)
2 T fresh mint, finely chopped
1 T fresh lemon juice
½ T fresh lemon zest
2/3 cup freshly grated Parmesan
*Farro can found in the health-foods aisle or specialty store. Can substitute barley.
Directions
Heat oil in a large saucepan over medium heat. Add the shallot and celery, and sauté for 5 minutes. Add the farro, salt and pepper, and toss with the celery and shallot. Stir in the white wine, and let cook until it's absorbed. Add the chicken stock, ½ cup at a time, stirring consistently, until the farro is tender (the amount of chicken stock and cooking time will vary by farro brand, so reference the package instructions). Remove from heat and stir in the spinach, peas, mint, lemon and Parmesan. Let sit for 5 minutes before serving.