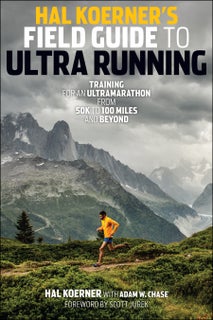 Planning on spending your off-season running on the trails, or have dreams of tackling an ultrarun someday? Take this advice from Hal Koerner, whose book on Ultrarunning is available now.
Adapted from Hal Koerner's Field Guide to Ultrarunning with permission of VeloPress. Preview Hal's book at Velopress.com/hal.
Few ultras are held in urban environments; the vast majority of routes run through natural settings where the scenery helps inspire you across the distance. Although many runners have a deep affection for wilderness, they are not necessarily versed in what it's like to be deep within it for many hours. Being prepared for wildlife encounters, knowing how to purify water, and getting comfortable on challenging terrain such as ice, snow, mud, and technical footing are crucial tools in your ultra toolbox. Similarly, it is invaluable to be able to handle running in cold conditions, to know how to deal with hot temperatures and how best to cope with running at higher elevations or at night, and, most important, to know how to stay found out there (that is, unless you are mastering the finer details of going to the bathroom in the woods).