We down Justin's Nut Butter by the spoonful on a daily basis, so it's no surprise that recipes from the company's new cookbook Justin My Kitchen ($20, Justins.com) make our mouths water. From the sweet (Peanut Butter Cup Oatmeal Skillet Cookie) to the savory (Spicy Peanut Soba Noodles), all 50 recipes creatively incorporate Justin's creamy nut butters. We love this super simple Nutty Overnight Oats recipe, which you can make and store in a repurposed Justin's jar.
Nutty Overnight Oats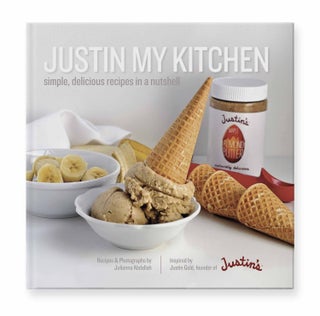 1/3 cup oats
1/3 cup almond milk (or favorite milk)
1 T Justin's Nut Butter (any flavor)
½ banana (sliced)
1 tsp chia seeds
1/8 tsp salt
Optional add-ins: Shredded coconut, berries, pumpkin, honey, cinnamon
Combine all ingredients in an empty Justin's jar or other airtight container. Allow oats to soak in the refrigerator at least two hours, or overnight. In the morning, give everything a good stir and enjoy!