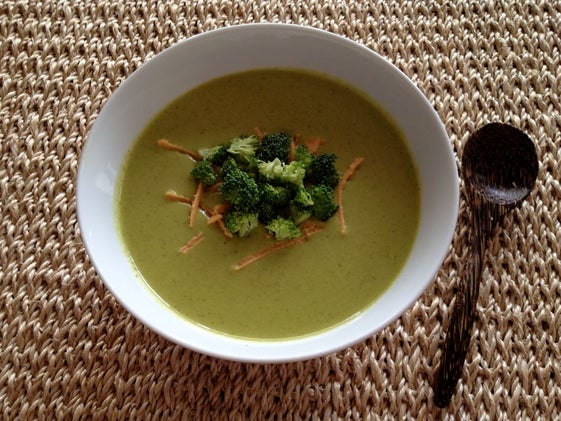 Few things are more satisfying than a hot, nourishing bowl of soup. These five nutritious soup recipes—all vegan and gluten-free—will warm up your fall and winter.
"Creamy" Broccoli Soup
Ingredients
1 T olive oil
½ medium onion, diced
4 cups broccoli florets (can substitute asparagus)
4 garlic cloves
2 T water
2 cups spinach leaves
3/4 cup cashews, soaked in water for 1 hour
1 tsp red or brown miso paste (optional)
2 cups water
¼ cup nutritional yeast
1 T lemon juice or vinegar
1 tsp each sea salt and pepper
Directions
In a lidded pot, cook onions, garlic and broccoli with oil and 2 T water until broccoli is bright green, about 6–8 minutes. Add spinach to the pot and cook for 2 additional minutes. Transfer to blender and blend with remaining ingredients. Adjust consistency with water if necessary. Adjust salt and pepper to taste. Garnish with fresh broccoli florets. For a non-vegan version, bacon and cheddar cheese make great additions. Makes 4–6 servings.