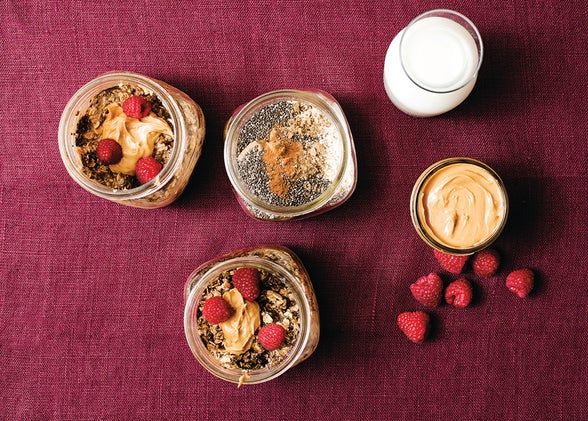 Peanut Butter and Berry Protein Oats
Soaking the oats removes the need to cook them, making this recipe a great option for transporting with you if you're going to be away from the kitchen after exercise and you don't want to delay refueling.
Servings: 1, Active time: 10 min.
½ cup rolled oats (substitute with spelt, kamut or quinoa flakes)
¼ cup plain or vanilla protein powder (substitute with plant-based protein powder)
2 teaspoons chia seeds
¼ teaspoon cinnamon
2/

3

 cup low-fat milk (substitute with nondairy milk)
¼ teaspoon vanilla extract (optional)
1 tablespoon peanut butter
¼ cup fresh or frozen raspberries
In a wide-mouth half-pint glass jar, layer in oats, protein powder, chia seeds and cinnamon. Stir in milk and vanilla if using. Top with peanut butter and raspberries. Seal shut and chill for 2 or more hours or up to 3 days.