Helmet options for triathletes have come a long way in the past few years. These three new options showcase unique features that will appeal to a variety of triathletes.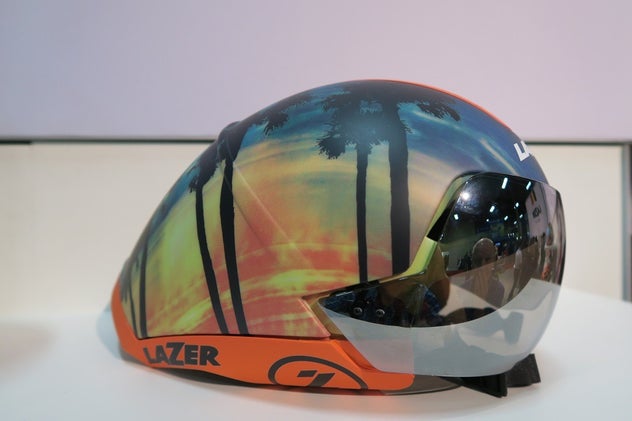 Lazer Wasp Air Tri
Who should check it out: Gearheads
Shown here in a special edition Kona paint job, Lazer's $350 Wasp Air Tri may be the ultimate in head protection.
The shell has two methods of heat relief. As expected, the vent on top provides air flow. When you need more relief, you can click out the two-position lens to create an air passage between the top of the lens and from rim of the helmet.
Want additional cooling? Lazer has what it calls an aquavent on top of the helmet. Water can be squirted into the port, channels inside send water around the head and out the back. Wet head, dry eyes.
This helmet does heart rate too with Lazer's LifeBEAM sensor. It's ANT+ and Bluetooth 4.0 and tested to withstand motion and moisture and will run you an extra $130.
The helmet also promises to help you maintain the optimal aero position with an inclination sensor that can sense as little as 2 degrees movement. Program it to vibrate when your head drops out of position, then clip it onto the back of your helmet. The sensor runs an extra $100.
Chose between four color combos, two of which let you change out the trim and the vent screen for a different look. Lazer's long tail can also be clipped on for a more aero advantage.