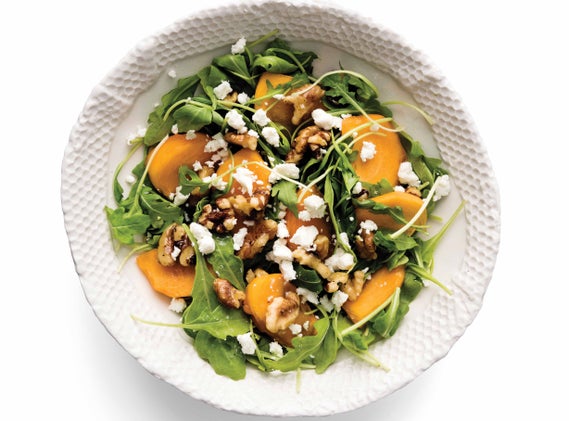 This crispy, sweet winter fruit comes in two hybrids: jiro (aka fuyu) and hachiya. The smaller jiro, resembling a tomato shape, is meant to be eaten before it turns soft. The hachiya, the longer heart-shaped version, should be enjoyed once ripe and soft. Persimmons contain powerful amounts of beta-carotene, helping to promote eye health, and they are also rich in vitamin C and phytochemicals, which boost the immune system and aid in recovery. Eating persimmons can also help maintain bone and blood health because they contain high levels of calcium and iron. Explore this seasonal fruit with these four recipes.
Persimmon, Walnut & Goat Cheese Salad
Unique enough to impress dinner party guests yet simple to make as a weeknight dish, this recipe yields a large, family-sized salad.
Add one 8-ounce bag arugula to a large salad bowl. Heat oven to 350 degrees. On a baking sheet toss 2/3 cup walnut halves with 1 tablespoon olive oil, 1 tablespoon agave or honey, ½ tablespoon cumin, ½ teaspoon sea salt and ¼ teaspoon fresh cracked pepper. Bake for about 8–10 minutes, tossing once, until lightly toasted. Set aside to cool. Peel, core and dice 2 jiro persimmons. In a small bowl, whisk together 2 tablespoons olive oil, 2 tablespoons champagne or white balsamic vinegar, 1 tablespoon agave or honey and ½ teaspoon sea salt. Toss the arugula with a conservative amount of the vinaigrette. Gently fold in the persimmons, walnuts and ½ cup goat cheese crumbles, and serve with the extra vinaigrette on the side.