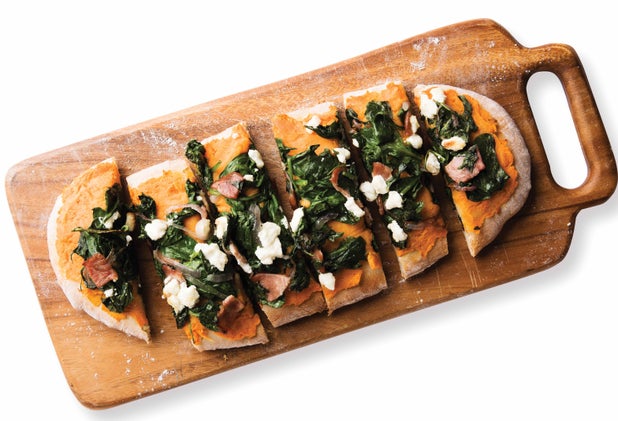 Sweet potatoes should have a place in any performance-focused diet. One medium sweet potato contains more than 100 percent of the daily recommendation for vitamin A, integral in eye health and immunity. They boast high vitamin C content, known for warding off cold and flu viruses. Sweet potatoes also provide a boost of iron, essential for keeping energy levels high, as well as potassium and magnesium, which both aid in healthy muscle and nerve function. Not only is this root veggie rich in vitamins and minerals, it tastes incredible with little preparation, stores well and is super affordable. Try these four recipes and discover just how satisfyingly versatile a sweet potato can be.
Sweet Potato Pizza Pie
Nutrient-rich comfort food? Yes, please.
Preheat oven to 400 degrees and prepare a pizza stone or round baking sheet with a light dusting of coarse ground cornmeal. Shape either homemade or fresh store-bought pizza dough around the stone or baking sheet. Poke holes in it with a fork, and bake for 10 minutes. Remove from the oven and immediately turn the dough over. In a large skillet, sauté half of a thinly sliced red onion, 2 tablespoons olive oil, 1 teaspoon sea salt, and ½ teaspoon pepper over medium-high heat for 5 minutes. Add 4 strips roughly diced turkey bacon and sauté another 3–4 minutes. Add 1 tablespoon minced garlic and sauté for 1 minute. Add 1 tablespoon olive oil to the pan along with an 8-ounce bag of fresh spinach, and sauté until the spinach is wilted, about 5 minutes. Spread 1 cup sweet potato purée (about 1 large roasted or microwave-cooked sweet potato, peeled and mashed) onto the over-turned pizza dough. Then spread the spinach mixture from the pan evenly across the sweet potato purée. Scatter about ½ cup (each) ricotta and goat cheese on the top, place back in the oven and bake 20–25 minutes longer, until the cheese becomes golden and the crust starts to crisp at the edges.