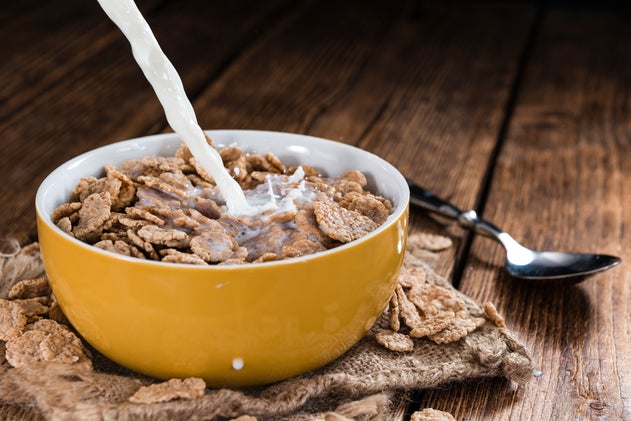 Cereal and Milk
While we don't advise rehashing your diet from your college days and calling a bowl of cereal and milk dinner, this dynamic duo can indeed help you bounce back after a hard workout. A study published in the Journal of the International Society of Sports Nutrition found that the breakfast staple can be even better than a sports drink at promoting the resynthesis of glycogen (the main fuel source for high-intensity exercise) and muscle protein growth following endurance exercise. The combination of carbs in cereal and high-quality protein in milk works to kickstart recovery after a sweat session. Studies also demonstrate that milk is an effective beverage at promoting rehydration in the period following a workout.
Need to know: In the aforementioned study, the researchers provided subjects with whole-grain cereal and non-fat milk. Don't reach for a sugary box of cereal adorned by a cartoon character and douse it in whole milk. Excellent whole grain cereal options include Erewhon, Peace Cereal, Barbara's and Seven Sunday's, which makes standout muesli. If you don't mind the splurge, data indicates that milk produced using organic farming methods delivers a bigger dose of beneficial nutrients.
Eat this, recover better: Place cereal in a bowl and top with fresh berries (or dried tart cherries!), chopped nuts and low-fat milk.