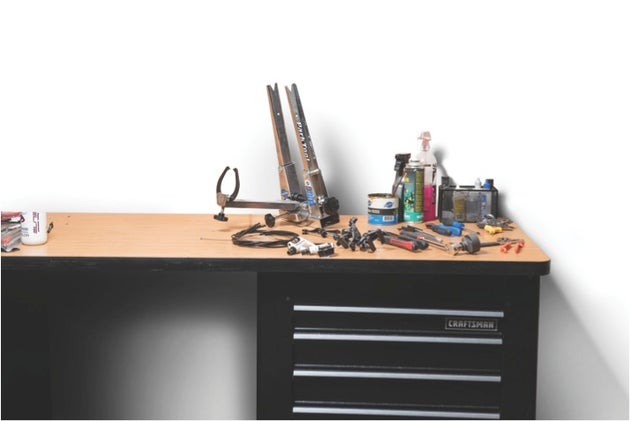 You've got your training and nutrition strategy dialed. But there's another element to being a successful triathlete: mechanical skills. As you prepare for your next season, work on improving your wrench skills in the following areas.
The Basics
Fix a flat. It's every novice (and sometimes experienced) triathlete's nightmare, but it doesn't need to be. Ask your local bike shop when they are offering their next flat-changing clinic, or tap an experienced fellow cyclist to show you how. Then practice in the comfort of your own garage before your luck runs out far from home or during an important race.
Adjust rear derailleur. Most bikes have a small barrel adjuster where the cable housing meets the rear derailleur. If your shifting is not spot-on, shift into the middle cog in the back, then try turning the barrel a quarter-click at a time in either direction until shifting improves. If you've tried a full rotation in both directions and shifting is still subpar, ask your go-to mechanic to fix it while you watch on.
Remove pedals. If you plan to travel for a triathlon, you should know how to do this. Many pedals can be removed with a simple Allen wrench, while others may require a specific pedal wrench (most cost about $20). Again, ask your local shop which tool will work best and to show you how to remove and reinstall your pedals. Be sure to use grease on the axle and don't over-tighten them.
Change bar tape. This simple upgrade should be done regularly so that your sweaty hands do not lose grip during sharp cornering or when hitting a bump in the road. New tape is also one of the cheapest ways to keep your bike looking spiffy and new, and clean is fast!
Tune brakes. Triathletes who use different wheelsets for training and racing should learn how to adjust their bike's brake calipers to account for different rim widths. Although some newer tri bike frames hide the brakes from plain view, you should still be able to access them and simply turn the barrel adjuster to widen or tighten the brake pads.