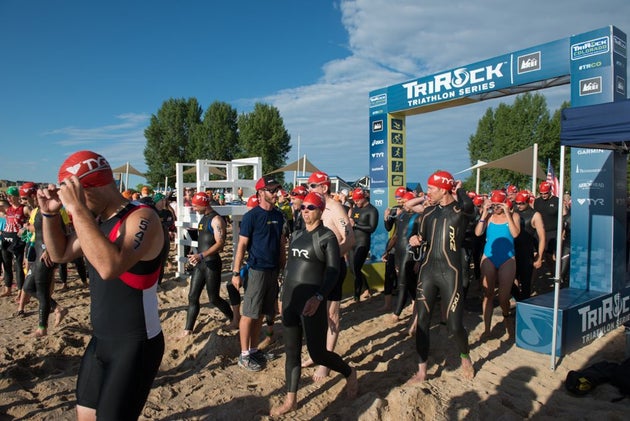 Triathlon's first discipline is often the scariest and the biggest barrier to entry. Take our advice—starting from square one—on how to get swim-ready for your first race.
You are… New to the water
Hi. Welcome to the pool. Let's get you started.

"Seek professional help
You'll get a lot more bang for your buck—and speed up the learning curve—if you hire a coach or sign up for a local swim program. If you plan to teach yourself, stick to one method's progression. Don't try to use multiple, likely conflicting, sources of information (including your helpful friends) to try to build your own program.

"Breathing 101
Follow this sequence from Dave Sheanin, a Boulder, Colo.-based coach for D3 Multisport, to learn how to inhale and exhale at the right time.
Start with bobs. Face the wall (hold on if necessary) and take a normal breath in through your mouth. Submerge your whole head as you exhale through your nose and mouth. Come back to the surface and inhale through your mouth. Link five to 10 bobs together. "There should be no pausing between breaths and you shouldn't feel lightheaded," Sheanin says. "This is normal breathing—inhale when your face is above the surface and exhale when it's underwater."
Transition to kicking. Hold a kickboard in front of you (Superman position) with your hands on the bottom sides of the board. Kick and breathe. Exhale when your face is in the water, inhale when you pick your face up.
Move on to swimming. Do this six-beat switch drill to learn timing: Start by kicking on your side then take three arm strokes and balance on your other side (still kicking). This keeps your hips moving from side to side so you can keep your body in line, and your mouth will roll to the surface on your third stroke. You should begin turning your head as your hand passes your chin. Once this is mastered, practice breathing in a 3-2-3-2 arm stroke pattern and begin reducing the time you spend kicking on your side.
RELATED – Beginner Triathlete Case Study: Struggling With The Swim