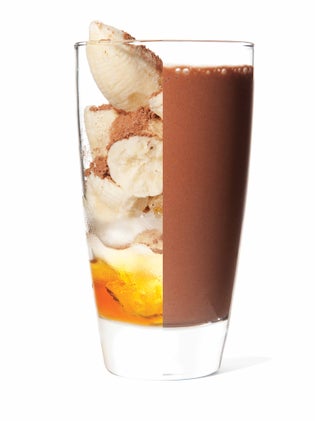 These five power-packed smoothie recipes will add more easy-to-digest nutrients to your diet.
Did you know that your body spends about 80 percent of its energy digesting what you put into it? By using the blender to purée ingredients, energy normally used in the digestion process can be channeled toward the body's other needs, such as dealing with an injury or disease prevention.
All five of these smoothies take only five minutes to prepare. Just place all the ingredients in a blender and process until smooth, using water to thin to desired consistency.
Chocolate Maca Antioxidant Smoothie
Chocolate is a good thing. Raw cocoa powder adds a punch of vitamins, enzymes and minerals. Maca root powder has a nutty, caramel flavor and is said to treat stress, anemia, lack of libido, stress, fertility issues and memory loss.
Ingredients
1 cup unsweetened almond milk
1 ripe banana plus 8 ice cubes (or one frozen banana)
1 T cocoa powder (raw if possible)
1 tsp vanilla extract
1 tsp maca powder (can be purchased at health food stores)
1 T ground flaxseed
Pinch of sea salt
2 T raw agave nectar