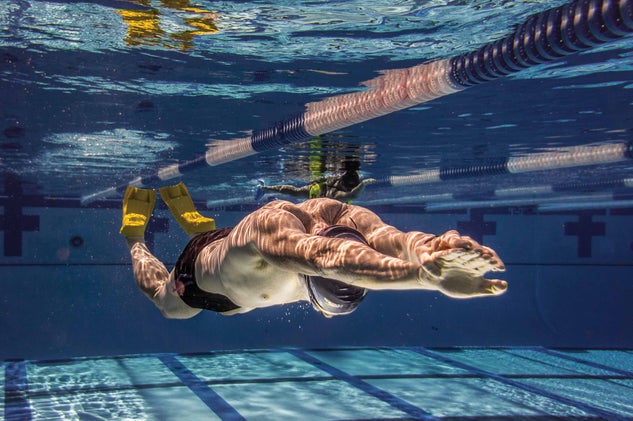 Improve your technique by doing drills catered to your weaknesses in the water.
Drills are most effective when they target your specific stroke limitations. Instead of aimlessly lollygagging through another Fist Drill, identify your problem first then do the drills that focus on your weakness.
Your problem: "I don't move forward when I kick."
Vertical kick: Focus on a small and quick kicking cadence that originates at your hips.
– Novice: Keep arms underwater and use a small sculling motion with your hands for added buoyancy.
– Intermediate: Lock arms at sides and do not use hands.
– Advanced: Hold hands above surface of the water.
Kick with fins: Use long, pliable rubber fins. Fins will allow you to feel the correct kicking motion and help you build muscle memory.

RELATED – Sara's Slam: Are Kicking Sets That Important?