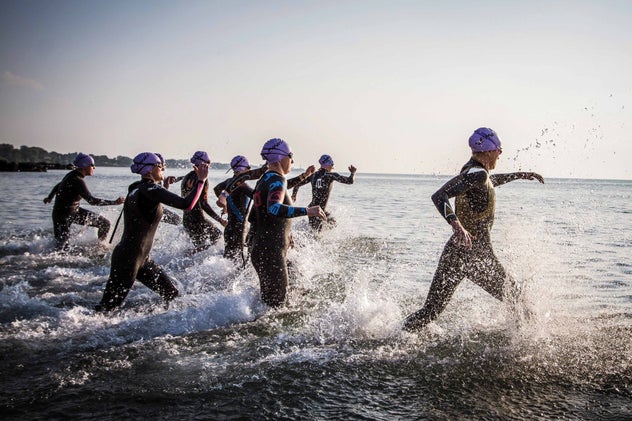 You didn't become a triathlete just to log yardage in the pool. It's time to start thinking—and racing—like an open-water swimmer.
Half the battle of swimming in open water is simply becoming comfortable in an uncomfortable situation. With hundreds of arms flailing around you and unpredictable water conditions, you may never feel right at home. But you can reduce fear by "becoming familiar with discomfort," says renowned coach Gerry Rodrigues of the Tower 26 aquatics program in Los Angeles. In addition to pool sessions, Rodrigues coaches a popular weekly open-water workout in nearby Santa Monica, Calif., where hundreds of swimmers (including a rotating roster of high-level pro triathletes) come to sharpen their ocean skills.
"You need to learn how to do things in the pool, but the open water part is the specific skills," Rodrigues says. "Once you've made the decision to become a triathlete, you are no longer someone who swims in a Masters program; you are an open-water swimmer."
Here's advice from the sport's top swim experts for building your open-water skillset so that you're confident and prepared on race day.