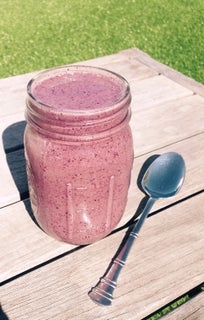 This smoothie packs a powerful punch of nutrition that is ideal for a quick recovery drink or breakfast. Berries and acai are loaded with antioxidants, detoxifiers and anti-inflammatory properties to help repair muscle damage and boost the immune system. Chia seeds add protein, fiber and Omega 3's, while almond butter gives another dose of protein and adds a creamy texture. Cinnamon is the surprise ingredient that makes the flavor really stand out.
Ingredients
For 1 large serving. Duplicate as necessary.
1- 100 gram pack frozen acai
1 cup berries (frozen or fresh)
1 cup vanilla almond milk
2 TBSP almond butter
2 tsp grade A or B maple syrup
½ TBSP chia seeds
¼ tsp pure vanilla extract
¼ tsp ground cinnamon
A pinch of salt
RELATED: 5 Smoothie Recipes For Summer
Preparation
Combine all the ingredients in a blender for about 30 seconds, until smooth and creamy.
More recipes from Jessica Cerra.
Jessica Cerra is the owner of Fit Food by Jess, a private chef and catering company in Encinitas, Calif., and the co-founder of Harmony Bar. A former professional XTERRA triathlete, Cerra now races for Twenty16 Women's Professional Cycling Team.
Get the latest in triathlon training, gear, nutrition and news sent straight to your inbox. Sign up for Triathlete's newsletter.