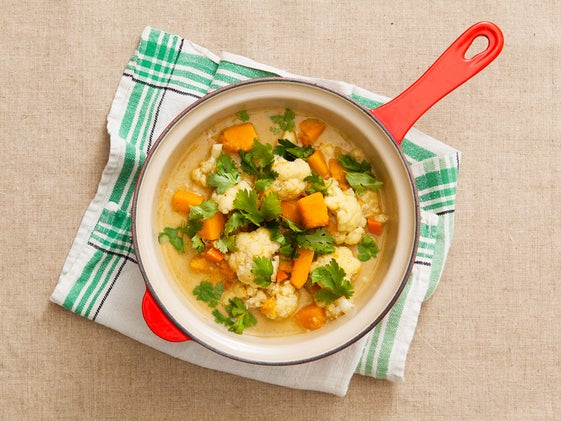 There's something special about a satisfying meal made in a solitary pot — all the ingredients marrying together, bursting with rich, deep flavors. Plus, what's not to love about the practicality and ease of cleanup when creating dinner using just one pot? Try one of these lick-your-bowl-clean recipes tonight.
Butternut Squash And Cauliflower Curry
Satisfy your craving for a creamy and decadent meal with this lightened up curry recipe loaded with veggies that are full of vitamins and fiber.
Heat 2 teaspoons canola oil in a large French/Dutch oven or stockpot over medium-high heat. Add 1/4 finely diced sweet yellow onion and 1 finely diced carrot, and sauté for 5 minutes. Add 3 cups cauliflower florets and sauté for another 5 minutes until the cauliflower starts to turn golden. Add 3 cups butternut squash (cut into 1-inch cubes), 1 heaping tablespoon yellow curry powder, 1 teaspoon salt and ½ teaspoon pepper and toss together for 1 minute, so the curry powder coats the cauliflower and squash and becomes fragrant in the pan.
In a small bowl, whisk together 1 15-ounce can light coconut milk, 1/2 cup low-sodium vegetable stock, 2 tablespoons almond butter, 1 tablespoon chili-garlic sauce, 2 teaspoons freshly minced ginger and 2 teaspoons agave. Optional step: Add 1 1/2 cups cubed tofu or pulled rotisserie chicken to the pan with the vegetables and curry, and toss. Add the mixture from the bowl to the pan and stir all the ingredients together. Turn the heat to medium-low, cover and let cook for 20–30 minutes until the butternut squash softens.
Optional: Top with fresh cilantro and toasted almonds for a fun garnish.